---
NYT 'House Conservative' Comes Close to Endorsing Obama
NewsBusters ^ | October 18, 2008 | P.J. Gladnick


Posted on 10/18/2008 9:02:19 AM PDT by PJ-Comix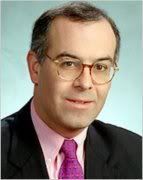 David Brooks, the "House Conservative" of the New York Times, should seriously consider putting his self-description as "conservative" in quotes at all times in order to comply with truth in packaging. I mean how conservative can you be when liberal sources are quoting you favorably, especially when you sound like, without quite saying so, you are endorsing Barack Obama? The liberal New Republic cites Brooks favorably for his almost endorsement of The One:
Has David Brooks Endorsed Obama?
Not in so many words, but please continue:
Well, not exactly. After all, he has one paragraph in his column in Friday's Times in which he speculates that Obama might be reticent, stand-offish, ineffectual.

The rest is a well thought-out and (as usual) elegantly written argument for Obama's character as a portend of an intelligent and considered presidency. It's not only that the economy will protect against wild supplemental spending. Obama, Brooks argues, is not a crusader. He measures ideas by the likeliness of their progressive effect.
Here is the David Brooks Obama acclamation column that The New Republic Editor, Marty Peretz, cites so favorably (emphasis):
We've been watching Barack Obama for two years now, and in all that time there hasn't been a moment in which he has publicly lost his self-control. This has been a period of tumult, combat, exhaustion and crisis. And yet there hasn't been a moment when he has displayed rage, resentment, fear, anxiety, bitterness, tears, ecstasy, self-pity or impulsiveness.
(Excerpt) Read more at newsbusters.org ...
---
TOPICS: Politics/Elections
KEYWORDS: 2008endorsements; barackobama; davidbrooks; elitists; nyt; peretz; tnr
---
Navigation: use the links below to view more comments.
first 1-20, 21-32 next last
---
---
---
---
---
---
---
---
---
---
---
---
---
---
---
---
---
---
---
---
---
Navigation: use the links below to view more comments.
first 1-20, 21-32 next last
---
---