---
To: Perdogg; Frantzie; GOP_Lady; kesg; LS; perfect_rovian_storm; Chet 99; impeachedrapist; ...
---
To: XHogPilot
ACORN: Voter Fraud Incorporated.
---
To: XHogPilot
Obama has declared war on honest US voters. It's time to let him know what you think of this disgusting assault!

Obama, Barack- (D - IL)
713 HART SENATE OFFICE BUILDING WASHINGTON DC 20510
(202) 224-2854
Web Form: obama.senate.gov/contact/

Or the Entire Office (scroll down to Illinois) Staff: http://www.conservativeusa.org/mega-cong.htm

46
posted on
10/19/2008 6:50:22 AM PDT
by
HighlyOpinionated
(All You Need is Money [Soros] and a Candidate Who Can Be Coached to Look Sincere [Obama]. A. Huxley)
---
To: XHogPilot; devolve
Thanks for the ping.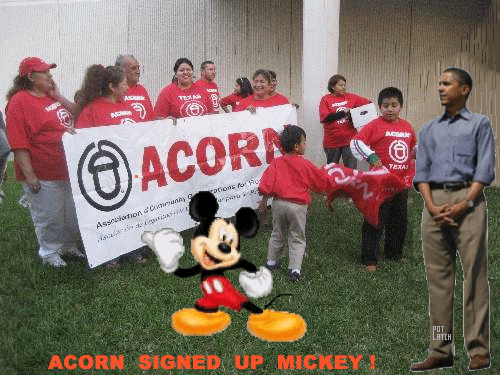 ---
To: XHogPilot
In all of my life, I've not seen an election such as this.
Fraud is rampant, and the judiciary seems to be reluctant, at best, to stem it.
It started in earnest with Motor Voter, and has accelerated since.
It's hard to remember the time when vote fraud wasn't the norm.
With all of the publicity ACORN is getting, I hope the voters are fed up.
I'm rooting for the Silent Majority.
Thank you for the ping!
---
FreeRepublic.com is powered by software copyright 2000-2008 John Robinson