---
Malcolm-X lawyer claims Black radical, Kalid Al-Mansour, helped finance Obama to Harvard: VIDEO
several sources | several authors


Posted on 11/01/2008 8:19:33 PM PDT by ETL

August 27, 2008
"Percy Sutton, NYC political icon in the African American community, tells a news reporter that Dr. Khalid al Mansour solicited favor and recommendation on behalf of Barack Hussein Obama in order to secure Barack's entry into Harvard"
http://atlasshrugs2000.typepad.com/atlas_shrugs/2008/08/obamas-benefact.html
________________________________________________________

Percy Sutton [middle] with Malcolm X [front] at a Harlem
rally on Seventh Avenue between 125th and 126th streets (1963).
________________________________________________________
Video! "Percy Sutton (Malcom X's Lawyer) Says Barack Obama Knows And Was Financed By The Racist Radical Muslim And Saudi Advisor Dr. Khalid Al-Mansour, Part II"
http://www.youtube.com/watch?v=MIVO8MZYXo8
________________________________________________________
VIDEO: From a special edition of Hannity's America, October 5, 2008
Episode title: "Obama & Friends: History of Radicalism"
YouTube: "Another Obama Mentor [Khalid Abdullah Tariq al-Mansour] Caught Ranting Against Whitey":
"whatever you do to [white people], they deserve it, God wants you to do it and that's when you cut out the nose, cut out the ears, take flesh out of their body, don't worry because God wants you to do it."
http://www.youtube.com/watch?v=j4DsaWLrJoY
________________________________________________________
Complete playlist from Hannity's America, 10/5/08:
"Obama & Friends: History of Radicalism":
http://www.youtube.com/view_play_list?p=9F8A48061A962CDD
________________________________________________________
From David Horowitz's FrontPageMag.com/DiscoverTheNetworks.org:
Profile: Khalid Abdullah Tariq al-Mansour
"Khalid Abdullah Tariq al-Mansour is a Muslim lawyer and a black nationalist who made news in 2008 when it was revealed that he had been a patron of Barack Obama and had recommended the latter for admission to Harvard Law School in 1988.
Before becoming a Muslim, al-Mansour in the 1960s was named Don Warden. He was deeply involved in San Francisco Bay Area racial politics as founder of a group called the African American Association. A close personal adviser to Huey Newton and Bobby Seale, al-Mansour helped the pair establish the Black Panther Party but later broke with them when they entered coalitions with white radical groups."
...
Al-Mansour is an outspoken hater of the United States, Israel, and white people generally. In recent years he has accused the U.S. of plotting a "genocide" designed "to remove 15 million black people, considered disposable, of no relevance, value or benefit to the American society." He has told fellow blacks that "whatever you do to [white people], they deserve it, God wants you to do it and that's when you cut out the nose, cut out the ears, take flesh out of their body, don't worry because God wants you to do it." Alleging further that Palestinians in Israel "are being brutalized like savages," he accuses the Jews of "stealing the land the same way the Christians stole the land from the Indians in America."
http://www.discoverthenetworks.org/Articles/katalm.html

---
TOPICS: Front Page News; News/Current Events; Politics/Elections
KEYWORDS: almansour; alwaleedbintalal; blackpanthers; khalidalmansour; obama; percysutton

"A close personal adviser to Huey Newton and Bobby Seale,

al-Mansour helped the pair establish the Black Panther Party but later broke with them when they entered coalitions with white radical groups

"

________________________________________________________

"Their founding document [the Weather Underground's] called for the establishment of a "white fighting force" to be allied with the "Black Liberation Movement" and other "anti-colonial" movements[1] to achieve "the destruction of US imperialism and the achievement of a classless world: world communism."..."-Berger, Dan (2006). Outlaws of America: The Weather Underground and the Politics of Solidarity. AK Press, 95.
http://en.wikipedia.org/wiki/Weatherman_Underground#cite_ref-Berger_0-0
Outlaws of America: The Weather Underground and the Politics of Solidarity (Paperback) by Dan Berger
http://www.amazon.com/Outlaws-America-Underground-Politics-Solidarity/dp/1904859410
________________________________________________________
From the New York Times, August 24, 2003
"they [the Weather Underground] employed revolutionary jargon, advocated armed struggle and black liberation and began bombing buildings, taking responsibility for at least 20 attacks. Estimates of their number ranged at times from several dozen to several hundred."
Article: Quieter Lives for 60's Militants, but Intensity of Beliefs Hasn't Faded
http://query.nytimes.com/gst/fullpage.html?res=9F04E4DE1539F937A1575BC0A9659C8B63&sec=&spon=&pagewanted=2
________________________________________________________
From the Maoist Internationist Movement:
[1960s] Black Panther Party [BPP] Archives
From the article: REVOLUTIONARY HEROES
"On May 1st, May Day [1969], the day of the gigantic Free Huey rally, two of Alioto's top executioners vamped on the brothers from the Brown Community who were attending to their own affairs. These brothers, who are endowed with the revolutionary spirit of the Black Panther Party defended themselves from the racist pig gestapo.
Pig Joseph Brodnik received his just reward with a big hole in the chest. Pig Paul McGoran got his in the mouth which was not quite enough to off him.
The revolutionary brothers escaped the huge swarm of pigs with dogs, mace, tanks and helicopters, proving once again that "the spirit of the people is greater than the man's technology."
To these brothers the revolutionary people of racist America want to say, by your revolutionary deed you are heroes, and that you are always welcome to our camp."
Source: Maoist Internationist Movement
Article: REVOLUTIONARY HEROS (May 11, 1969):
http://www.etext.org/Politics/MIM/bpp/index.html
________________________________________________________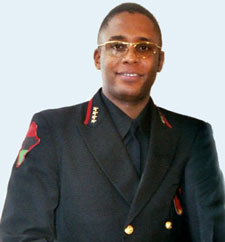 From the Louis Farrakhan, Nation of Islam website, FinalCall.com...
Malik Zulu Shabazz, chairman of the New Black Panther Party for Self-Defense (NBPP):
"We are happy today to be standing side by side with the Nation of Islam. We believe, like the Nation of Islam and the Honorable Elijah Muhammad believe, in a nation of our own. We believe in a Black first philosophy and a Black Liberation Theology. We don't worry about the criticism. We love all of those who labored in the Panther Party from the '60s. Many are with us today."
http://www.finalcall.com/artman/publish/article_1858.shtml
________________________________________________________
Excerpt from The American Thinker
Article: Obama, Black Liberation Theology, and Karl Marx
May 28, 2008
Just one nugget from the Sacred Congregation for the Doctrine of the Faith, "Instruction on Certain Aspects of the 'Theology of Liberation': "...it would be illusory and dangerous to ignore the intimate bond which radically unites them (liberation theologies), and to accept elements of the marxist analysis without recognizing its connections with the (Marxist) ideology, or to enter into the practice of the class-struggle and of its marxist interpretation while failing to see the kind of totalitarian society to which this process slowly leads."
- (Author: Joseph Cardinal Ratzinger, Prefect, now Pope Benedict XVI; written in 1984)
Understanding that black liberation theology is Marxism dressed up to look like Christianity helps explain why there is no conflict between Cone's "Christianity" and Farrakhan's "Nation of Islam." They are two prophets in the same philosophical (Marxist) pod, merely using different religions as backdrops for their black-power aims.
http://www.americanthinker.com/2008/05/obama_black_liberation_theolog.html
________________________________________________________

---
To: ETL
2
posted on
11/01/2008 10:00:21 PM PDT
by
kitkat
(THE DAY WE LOSE OUR WILL TO FIGHT IS THE DAY WE LOSE OUR FREEDOM.)
---
To: ETL
BTTT
Back in the news now with the death of Percy Sutton.
Video! "Percy Sutton (Malcom X's Lawyer) Says Barack Obama Knows And Was Financed By The Racist Radical Muslim And Saudi Advisor Dr. Khalid Al-Mansour, Part II"
http://www.youtube.com/watch?v=MIVO8MZYXo8


---
FreeRepublic.com is powered by software copyright 2000-2008 John Robinson