---
Al Gore Reviews "Quantum of Solace"
Examiner.Com ^ | November 25, 2008 | P.J. Gladnick


Posted on 11/25/2008 4:17:42 AM PST by PJ-Comix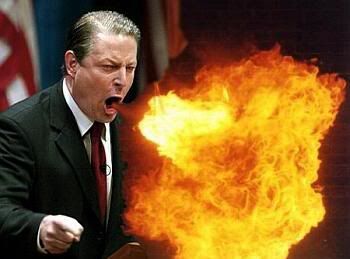 I'm baaaaack! Yes, after five long years I, Al Gore, am back to reviewing movies again. To get up to speed on my movie reviewing career, check out this explanation of how I got into the movie review business along with my very first review of a flick, "2001: A Space Odyssey."
So why am I writing movie reviews again? Because my Global Warming shtick is going absolutely nowhere. The only reason why I started it in the first place was so that I could be nominated for president without having to actually run followed by being declared president by acclamation. Unfortunately one Barack Obama ruined my plans. And speaking of Obama, why am I not now the outgoing president handing over the keys to the White House to him? I'll tell you why: LOUSY TENNESSEE TRAILER TRASH!!!
Yeah, Florida kept me from becoming president by just 537 stinkin' votes but I'm not obsessed over that fact any more even though I wake up almost every night screaming "537 LOUSY MISERABLE STINKIN' VOTES!!!" But guess what? I could still have been elected president if my own state of Tennessee had voted for me. In fact, I thought that Tennessee was such a slam dunk that I took it for granted when I tried to toss a couple of rednecks out of a trailer on one of my properties in that state in the summer of 2000. Miserable trailer trash who had the nerve to complain about the plumbing. Toilet backs up? Tough luck! Get the hell off my property NOW!!! Well, the bad publicity caused by that attempted eviction lost me enough votes to lose my VERY OWN STATE! Yeah, trailer trash Tennessee rednecks also haunt my sleep along with those 537 lousy stinkin' Florida votes.

(Excerpt) Read more at examiner.com ...
---
TOPICS: Culture/Society
KEYWORDS: algore; hollywood; jamesbond; moviereview

Al Gore is back! Reviews of movies mixed with his political analysis. These reviews are completely different than any other movie review out there.

---
To: PJ-Comix; Little Bill; IrishCatholic; Normandy; Delacon; According2RecentPollsAirIsGood; ...
---
To: steelyourfaith
Thanx for the PING. BTW, you won't believe how completely pathetic the payoff is in this movie. The most mundane motivation by a Bond villain ever.
3
posted on
11/25/2008 4:33:06 AM PST
by
PJ-Comix
(The Tide Turned Just a Half Year After Pearl Harbor)
---
To: PJ-Comix
Yeah, I agree. However, I think this Bond film is like the second
Back To The Future
movie, nothing more than a setup for the third one. I think all we saw in this movie was the setup for the evil empire SPECTRE.
However, I'm sure Algore was thrilled to see all those Ford Hydrogen logoed cars in the movie. I know I was...
---
FreeRepublic.com is powered by software copyright 2000-2008 John Robinson