---
Sources: Emanuel not target of Illinois probe
The Associated Press. ^ | NEDRA PICKLER and LARA JAKES JORDAN Associated Press Writers


Posted on 12/12/2008 2:25:16 PM PST by RatsDawg
---
Navigation: use the links below to view more comments.
first previous 1-20, 21-40, 41-60, 61-65 last
---
To: jersey117
Fitz opened this can of worms. He has a responsibility to expose ALL of the players, including Obama and/or his people. If he doesn't, he's as corrupt as they are.
Well he is as corrupt as the rest and you will understand that after this case runs it's course. Fitz works for Fitz and the law always takes a back seat.
I'm sure you remember the Valerie Plame case where Fitzgerald was tasked with finding out who leaked the fact that she was "an operative" working for the CIA. Well the answer to that question was Richard Armitage, Colin Powell's assistant at the State Department. That fact was known to Fitzgerald on the very day that he took over as special prosecutor on that "case". He knew because Armitage told him so. Were he actually honest he would have called a press conference and announced that fact and either declared that Armitage would be prosecuted or state that there was no crime, which in fact was the case. Instead he conducts a huge investigation of the Bush Administration senior staff, prosecutes and convicts Lewis Libby, Cheney's Chief of Staff and comes within a eyelash of indicting Karl Rove. The investigation lasted two years and that's how long it took us find out about Armitage who was never charged.
If this isn't corrupt what is? This was simply prosecuting political enemies for personal gain, sending people to jail to advance your career. That is the worst form of political corruption. Much worse than the petty and common stuff the current and about to be former Governor of Illinois is charged with.

---
To: jrooney
"He is neck deep in it and his allies in the press are trying to spin this one off. Take it to the bank that Blago is going to tell all against the democrats for calling his head and trying to force his resignation. He will turn on Rahm and Obama. Obama mocked him yesterday and I do not think ole big brass balls Blago will let that slide when the press is calling him crazy and hi wife a slut. Mrs. Blago handled Obama's shady land deal and the purchase of his home. She knows what happened there and will the beans. If Fitzgerald tries to cover for the Obama's the Blagos will go to the press via interviews. There is no way the will walk into prison and let the other dirty hands remain free. Bank on it."
I hope you are right!
---
To: RatsDawg
Maybe not but he damn well should be. Amen
63
posted on
12/12/2008 5:05:07 PM PST
by
gakrak
("A wise man's heart is his right hand, But a fool's heart is at his left" Eccl 10:2)
---
To: gakrak
One idea I have had is this. Even if they don't have enough to bring Obama down, there are still a couple of "wins" in this for us:
- indictments might remove some of the thugs like Rahmbo, Axelrod, et al from the team
- the federal government could be sending a message to Obama saying "we are going to keep you safe this time, but if you think you are bringing Chi-town politics to DC, you better wake up"
We don't have all the facts, and everything at this point is pure speculation by all of us. But is sure if fun watching these guys squirm a little!
64
posted on
12/12/2008 8:19:54 PM PST
by
Free America52
(I just want it to be the way it always has been.)
---
To: RatsDawg
Rahm, "I never had sex with, er, talked to the Illinois Governor. Hell, I don't even know him."
Hey Zer0, How are you hanging in there with the big boys? How's your smoking and facial tics coming along? Enjoy your ride. The fun is just beginning.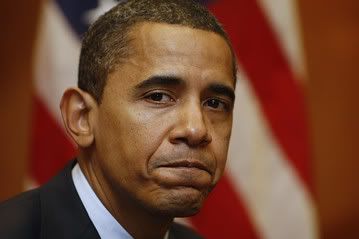 65
posted on
12/13/2008 9:58:20 AM PST
by
Grampa Dave
(Does Zer0 have any friends, who are not criminals or foriegn or domestic terrorists or both?)
---
Navigation: use the links below to view more comments.
first previous 1-20, 21-40, 41-60, 61-65 last
---
---
FreeRepublic.com is powered by software copyright 2000-2008 John Robinson