---
FReepers Stand Their Ground, Charged By Hamas Radicals, Wash. D.C. Jan. 10,2009 --- PIC HEAVY
Jan. 12,2009


Posted on 01/12/2009 6:12:45 PM PST by trooprally

FReepers in attendance to witness this Pro-Hamas obamination were: BufordP, Clinton's A Liar, Cindy_True_Supporter, Fraxinus, FrPr; stratman1969, Tolarance Sucks Rocks, and myself, along with "Infidel". Infidel will soon be joining our FR family.

Showing up as we were breaking up were Concretebob, Just A Nobody, and Chris Hill (GoE). OlgaEsq01 who was walking by on the way to work, stopped and said "HI"..

Blogger Jonn Lilyea of This Ain't Hell was there. You really need to check out his blog for some great videos and pics. His 2nd video is especially telling. At time 5:17 an officer tells Jonn to move back. When he informed the police that he was with us, the officer told him to get back with us. At time 7:00 the blond is about to get arrested for not obeying the officer.

You can see all the media around the two groups when we went face to face with the terrorist supporters. It was almost like the y waited for the media before they surged across the street.

Also blogger/FReeper Stratman1969's blog, Marooned In Marin , has some great pics.

And SD Baxter has 6 different neat YouTube videos of the day's events. Not sure who he is affiliated with.

Thanks to all three bloggers for being there and showing different perspectives.

HERE is all of Infidel's pics.

HERE are the pics I took.

The sayings on the signs were taken from Patriotgal1787's thread. Pro-Israel Rally in Melbourne FL this Sunday

Highlights of our Support Israel/counter Hamas Supporters are below.

Three of us arrived around 12:15. A not so quick pit stop at Starbucks put us behind schedule. The Lafayette Park restrooms were closed for security and Starbuck's one restroom had a link of Hamas supporters.

From our position at the corner of H Street and Madison Place, we could see a lot of structures for the inauguration in the area of our original permitted area, on Pennsylvania Avenue in front of the White House. While Cindy_True_Supporter (CTS) and Fraxinus watched our stuff, I took a quick walk down to Pennsylvania Avenue. Bleachers and fences were every where, on both sides of Pennsylvania Avenue. I could barely see the terrorist supporters. Obviously I made a bad choice this close to the messiah's inauguration. A command decision was made to stay where we were for visibility by the terrorists supporters.

The below pics were by me.

BELOW LEFT: While scooping out Pennsylvania Avenue, I did come upon Lurker E. She was with us as we set. Up. Shown is (L-R) CTS, Fraxinus and Infidel. BELOW RIGHT: It took a while for the terrorist supporters to find us as the empty corner shows. Those who have been in front of the White House have seen the lady in her tent, Consuala (sp?) aka Connie, protesting against nuclear bombs. The Park police even moved her for the messiah.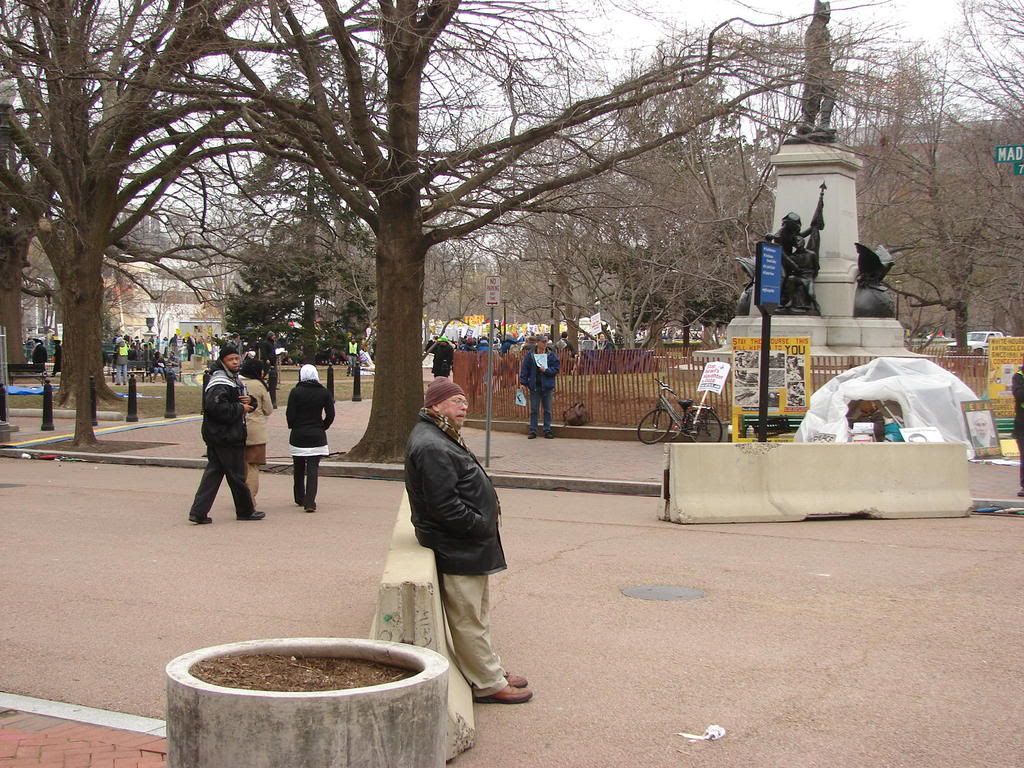 BELOW LEFT: Secret Service blocking H Street. In talking to them, we were informed that they could not leave their positions if things got dicey. BELOW RIGHT: It didn't take long for the Hamas supporters to find us.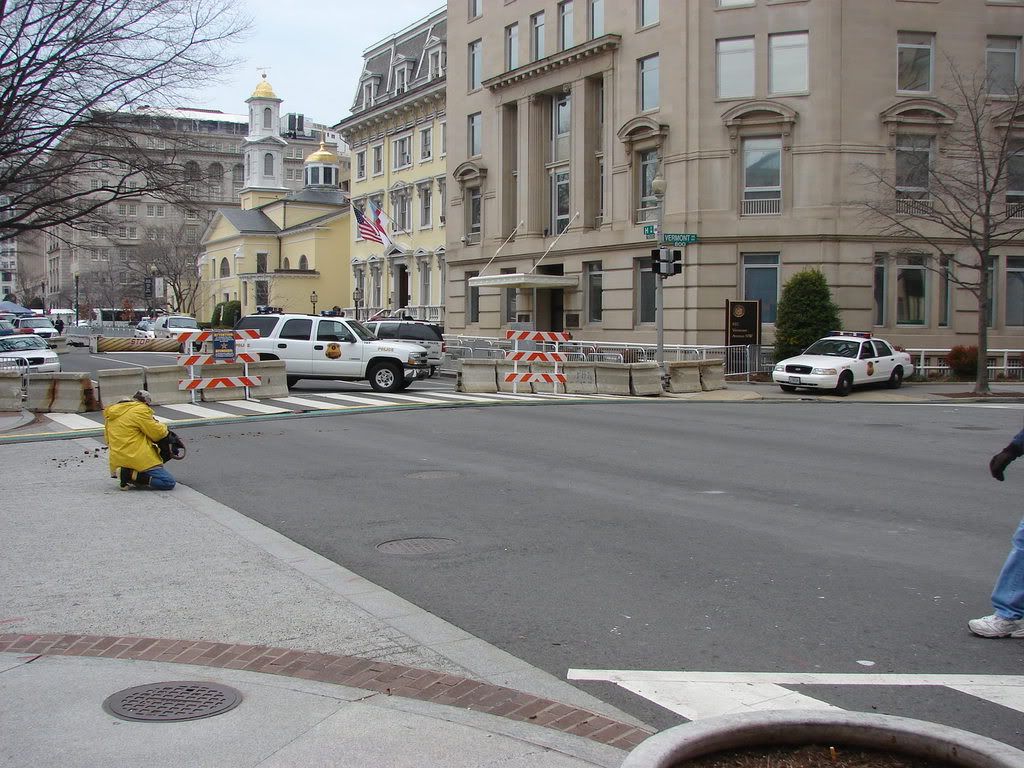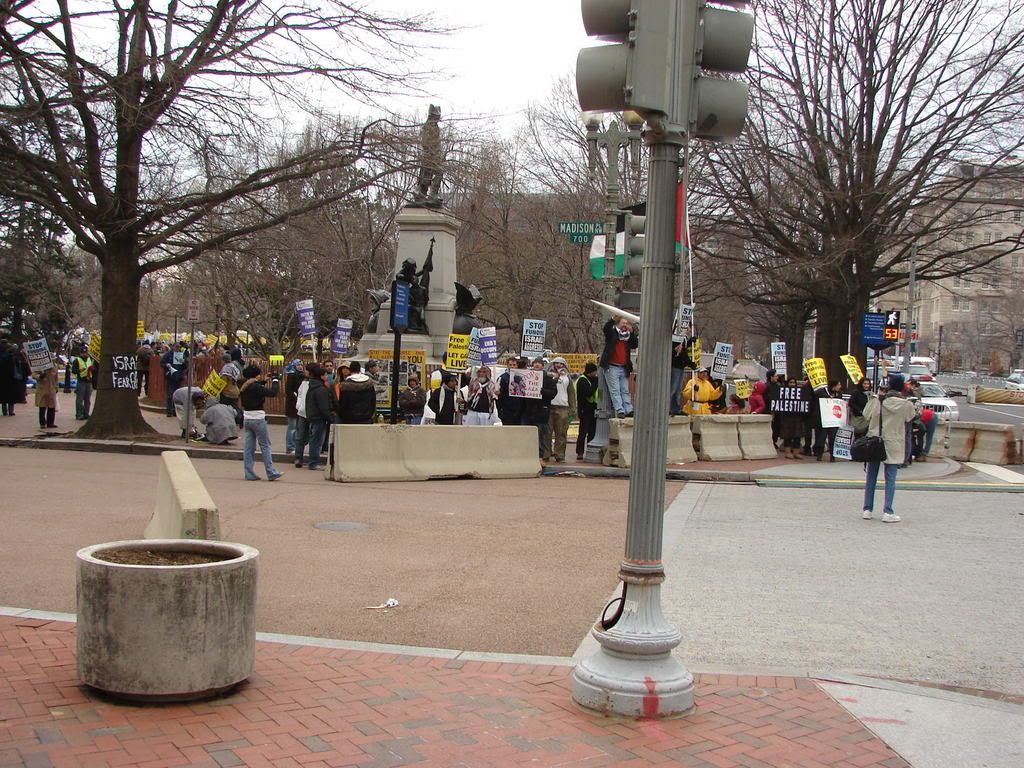 BELOW LEFT: And we slowly gathered our people. Fraxinus in back ground, with FrPR and Clinton's A Liar and part of Tolarance Sucks Rocks. The fence behind us was our small safety net. If things got uncontrollable and we couldn't get out, we were going to back up to it. BELOW RIGHT: Clinton's A liar, 3DJoy, Tolarance Sucks Rocks and BufordP. During the terrorists' chants, Buford would dance to their cadence.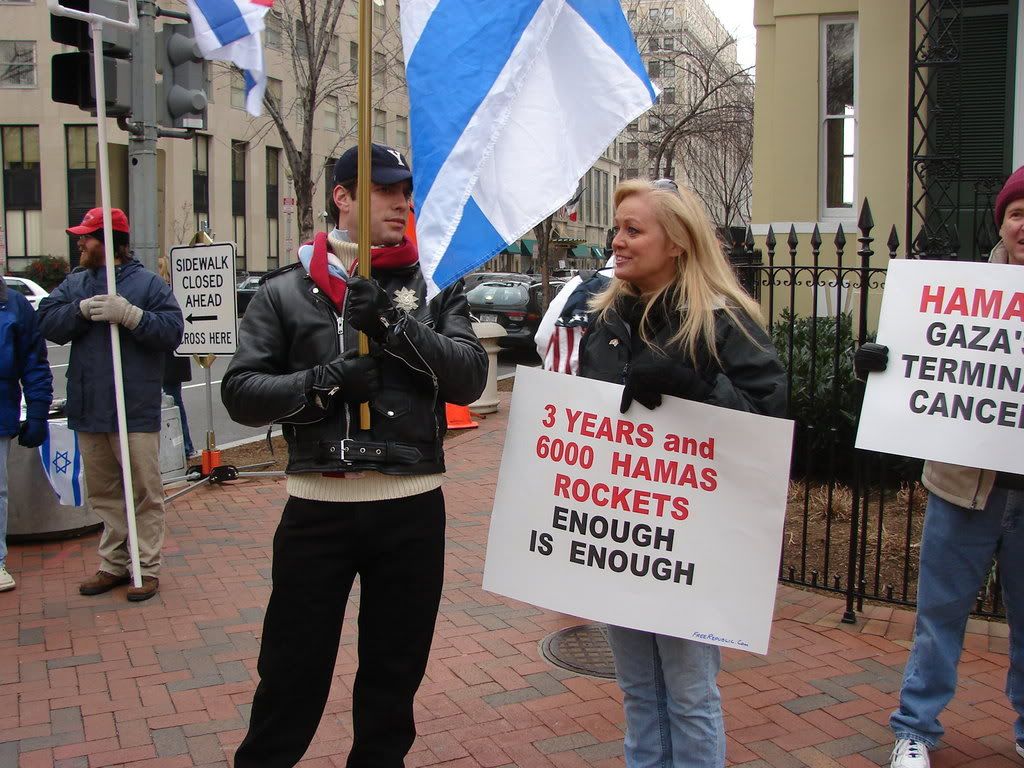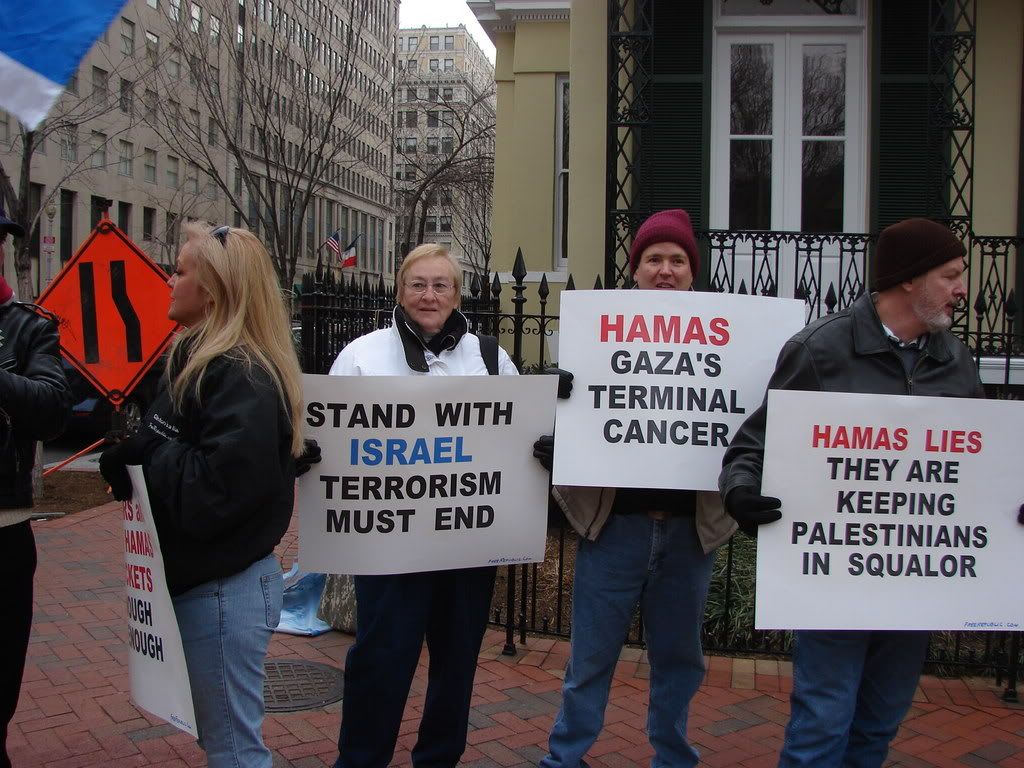 BELOW: Our flags. No hidding our location. FYI, there were several "maroons" who had their face covered except for their eyes.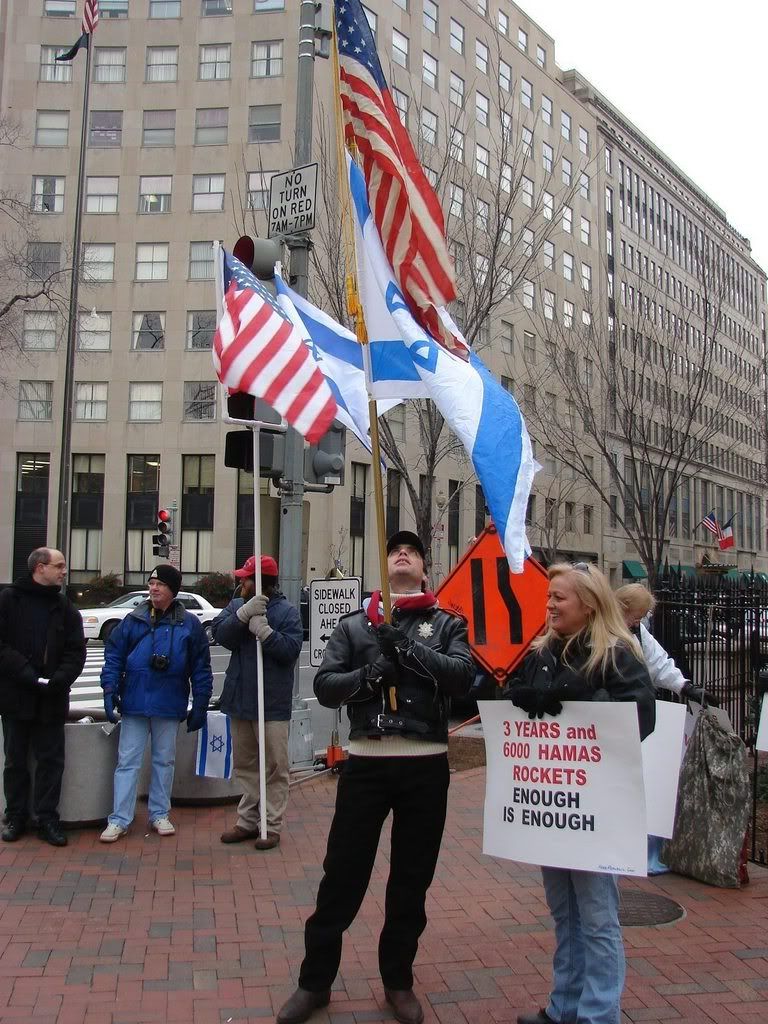 BELOW: Surprise guest arrives, Chris Plante, with BufordP.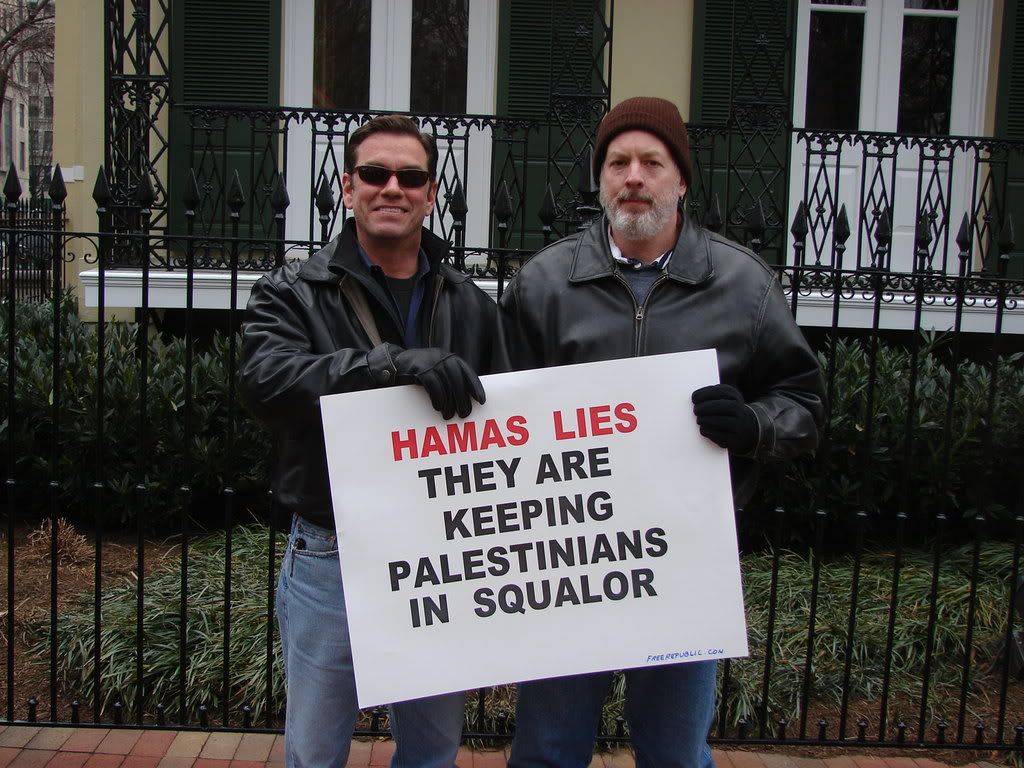 The below pics are by Infidel. In her file, the pics are in order of the event, starting at the last pic and coming forward. She has labeled most pics and a "slide show" works nicely.
BELOW LEFT: CTS, Fraxinus and me. BELOW RIGHT: "Jews" joining Hamas.
BELOW LEFT: Some "pity" signs held by me, CTS, Stratman1969, Fraxinus and Tolarance Sucks Rocks. BELOW RIGHT: Protestors Gathering.
BELOW LEFT: The protesters slowly start growing the manhood and move closer to us. BELOW RIGHT: And more manhood as they get even closer.
(BELOW) About this time BufordP asks me for a cigar. As I was reaching for one, they were upon us. I guess they didn't like Buford smoking another cigar. I backed off to an area where I could here in order to call 911. Before I finished the call, Metro police, park police and several Secret Service officers had arrived and were working their way between our two groups.
(BELOW) Police pushing the terrorist supporters back across the street.
BELOW LEFT: We did not retreat. I'm in the back ground watching our backs. BELOW RIGHT: We are still strong in spirit.
BELOW LEFT: Lunatic "launching" his rocket at us at left side of pic. BELOW RIGHT: There are sure a lot of them for just the 9 of us.
BELOW LEFT: FrPR bantering with protestor. BELOW RIGHT: CTS and Infidel also did some bantering. (Pic by me)
Just about everyone gave interviews to the media. Did any one see us on TV? ** chirping crickets ** Thought so.
Some personal narratives:
By FrPR: I joined the FReepers a little late. I had walked alone into the den of lions and for a time was standing alone amidst the pro-Hamas crowd wielding his American and Israeli flags. They screamed at me, poked and spat on me (notably I was spat upon by children) for a time. Just about when I thought the situation was about to break into a pile-on rumble, Police arrived and surrounded me, then informed me that it was - quote - "illegal to counter-protest," and furthermore my large flagpole constituted a "safety violation." They ordered me out of the area but did not provide an escort. My retreat at the order of the police was cheered by the pro-Hamas crowd. I was followed out and around 17th Street by some shady characters and called Kristinn on his cell phone to try and find our gang. I found them, thanks to Kristinn, and arrived VERY relieved to be among friends!
By Infidel: We weren't in the Middle East, or Paris or London, where we've unfortunately become accustomed to seeing this brand of display. In D.C., of all places, the Captial of this Country we love--Land of the Free and Home of the Brave, feral lunatics went through the motions of launching missiles at us. They defied direct commands from the police to move, in order to continue screaming threats and vicious lies at us for what we believe in. Posing as victims, while perpetrating crimes. Meet the new face of Fascism!
I still cannot believe what I saw. How much more obvious will this need to get, for Americans wake up and see reality?
There were sharpshooters/plain clothes cops all over the place, on roof-tops and in the crowd, ready to mow them down if they crossed the line. That's why they didn't. But the day is coming. They have no fear of the police, and were bred on violence.
It's said that religion is basically, "the search for God". Islam (imo) is the search for God through submission to the point of degradation of the human spirit, where Christianity is the search through Freedom of the human spirit. "The good news will set you free", Jesus Christ. The God of Isreal created man to be His image. That can only occur when and where freedom is secure. I don't know what else there is to say. Sorry to rant, see how I get! LOL
Fraxnus's Report from the Sunday's Rally supported by the D.C. Jewish Community: I arrived near the beginning of the rally, which started at the northeast corner of Eye and 16 Streets. After assembling the dual US/Israel flagpole, I handed out many of the posters, and all of the Israeli flags I had brought with me (uncertain if I got all of them back). The speakers talked about the tactics and immorality of Hamas, showed the remains of a Kassam rocket that had hit a house in Israel.
The increasing numbers of people showing up caused the police to ask US to move to the North west corner of the intersection, beside the 3rd Church of Christ Scientist, where there was enough room for all who showed up to stand without people ending up in the street. Things broke up around 1:00 PM, I received many complements for my flags, along with requests for instructions on how to make more, I referred those who asked to free republic and gave them the name trooprally.
I got most of the flags (and signs) back, I think. The crowd by mid rally was large enough to use every sign that was brought, by both me and the organizers.
And continuing with other comments heard and read in the last several days::
Hamas and thier ilk claim they want peace but commit hate crimes. See Sjackson's thread: Chicago synagogues hit by hate crime spree
Doctor Raoul saw a cartoon with the following:
H = Hiding
A = Around
M = Mosques
A = and
S = Schools
After showing our colors for two hours, and an hour after the swarming of the great unwashed, an officer came over to our group. His message: we have made our point, as a favor to them, could we break up soon? The police were stretched thin watching rolling groups of Hamas supporters and with the messiah's inauguration around the corner. About 2:45PM, Stratman1969 and I made a quick trip to Pennsylvania Avenue to look several supporters who we knew were coming by. When we got back, they had already met our group. As we were breaking up, it started to snow, then quickly turned to rain. Good timing.
Afterwards, 3D-Joy, Clinton's a Liar, FrPR, Tolerance Sucks Rocks and BufordP retired for some R&R at Luigi's. BufordP says that FrPR is hilarious and had him laughing most of the time. Stratman1969 and Infidel walked with Just a Nobody to her car, then went to their cars, which were close by each other.
Final note, I would like apologize to those several FReepers who had a hard time finding us. We shifted our location for the reasons as noted. All I can say in my defense is that in the original thread I asked for everyone to let me know if they were coming. This was so I can give you my cell number in case our plans changed, which did change.

---
TOPICS: Activism/Chapters; Free Republic; US: District of Columbia; US: Maryland; US: Virginia
KEYWORDS: aar; chrisplante; hamasfreep; proisrael; rally
---
Navigation: use the links below to view more comments.
first 1-20, 21-40, 41-60, 61-80, 81-83 next last
---
---
---
---
---
---
---
---
---
---
---
---
---
---
---
---
---
Comment #17 Removed by Moderator
---
---
---
---
Navigation: use the links below to view more comments.
first 1-20, 21-40, 41-60, 61-80, 81-83 next last
---
---