---
Verizon Robocalls Customers Urging Them to Watch Obama Inauguration
NewsBusters ^ | January 18, 2009 | P.J. Gladnick


Posted on 01/18/2009 6:14:48 AM PST by PJ-Comix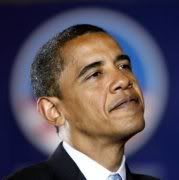 Have you remembered to pay heed to Barack Obama worship services at his inauguration this Tuesday? If you are a Verizon customer you just might be getting an urgent reminder of this sacred duty in the form of a robocall as related by Brian Maloney of the Radio Equalizer:
Yesterday, I was all set to write a smug, self-congratulatory post regarding my tremendous wisdom in finally dumping Comcast a few weeks ago for the complete Verizon Fios package, including cable. With Comcrap now establishing an all-Obama channel, isn't it finally time to make the switch?

Sadly, however, Verizon did something yesterday that I think is far worse: it left a rambling, pre-recorded message on my home answering machine imploring me to watch his "historic" inaugural, using a tone that assumed we are all liberal Democrats and Obamists.
(Excerpt) Read more at newsbusters.org ...
---
TOPICS: Culture/Society; Government; News/Current Events; Politics/Elections
KEYWORDS: americans; barackobama; bhoinauguration; business; cabletv; cellphone; channel; comcast; communist; community; corruption; cult; democrats; elect; election; fios; fraud; government; illegal; inaugural; inauguration; kenya; king; liberals; marxist; obama; organizer; politics; president; robocall; ruler; senator; socialism; taxes; taxpayers; tv; unitedstates; usurper; verizon; whitehouse
---
Navigation: use the links below to view more comments.
first 1-20, 21-24 next last
---
---
---
---
---
---
---
---
---
---
---
Comment #11 Removed by Moderator
---
---
---
---
---
---
---
---
---
---
Navigation: use the links below to view more comments.
first 1-20, 21-24 next last
---
---