---
A FReepful of Hearts and Snow on Valentine's Day: FReep/Rally 41 - Westminster, MD 2-14-09
Posted on 02/21/2009 9:31:14 AM PST by RockerMom2MyHero
Lurker Bill joined Anomoly99, My Hero (Chris) and me on Valentine's Day. Lurker Bill gave me a special sign on loan from [Mr] T. Being a girl, of course I loved the hearts and message! I was proud to hold the sign. After reading [Mr] T's Olney AAR, I would like to thank Legionnaire Dave's lady friend for the request. A special thanks to [Mr] T for obliging a lady's request and sharing the love! When not present, his spirit is still with us.
BELOW LEFT: RockerMom holding awesome signs
BELOW RIGHT: My Hero (Chris) being the typical trooper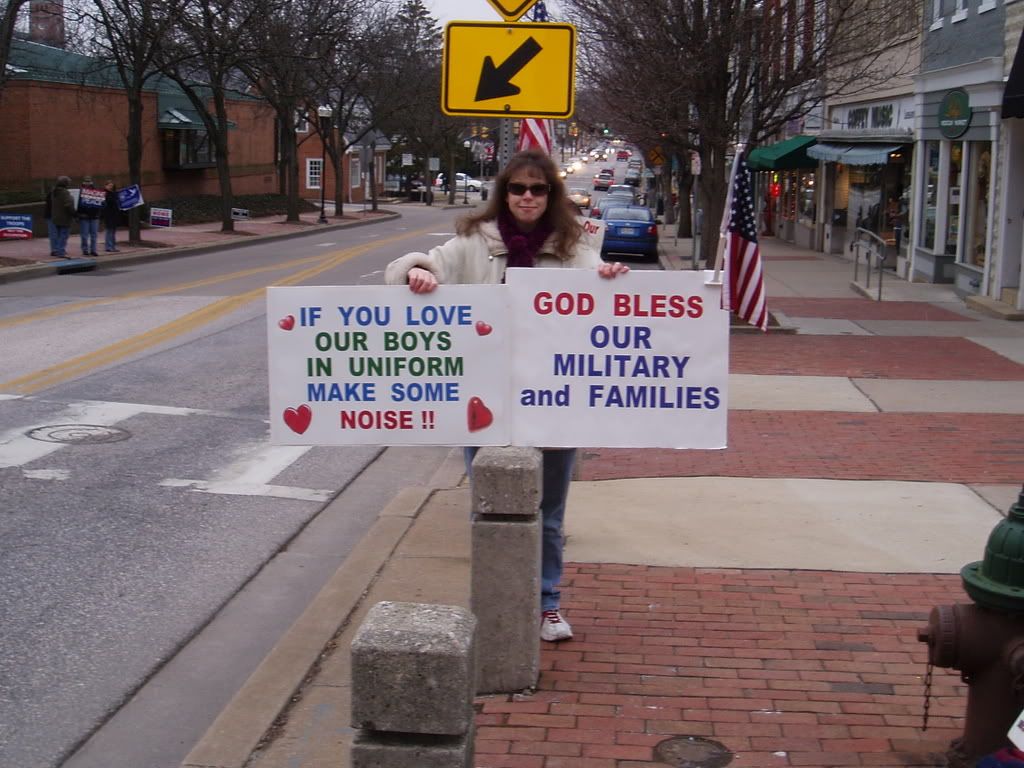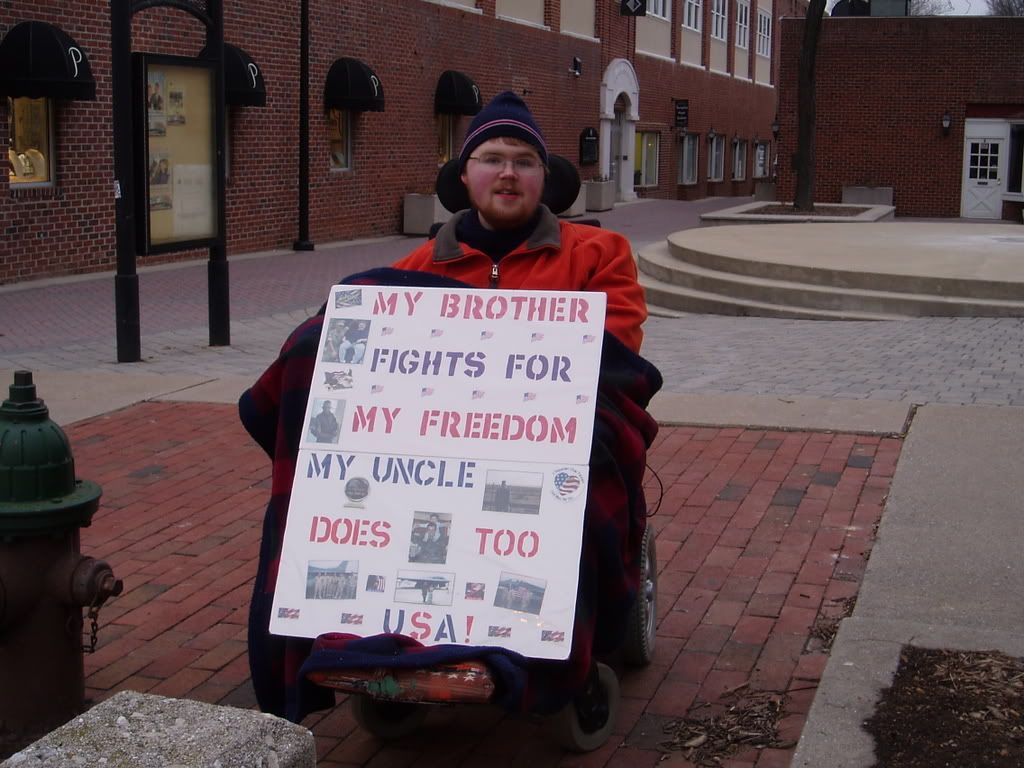 BELOW LEFT: My Hubby (Anomoly99) with USA and Air Force Flag
BELOW RIGHT: Lurker Bill standing tall as always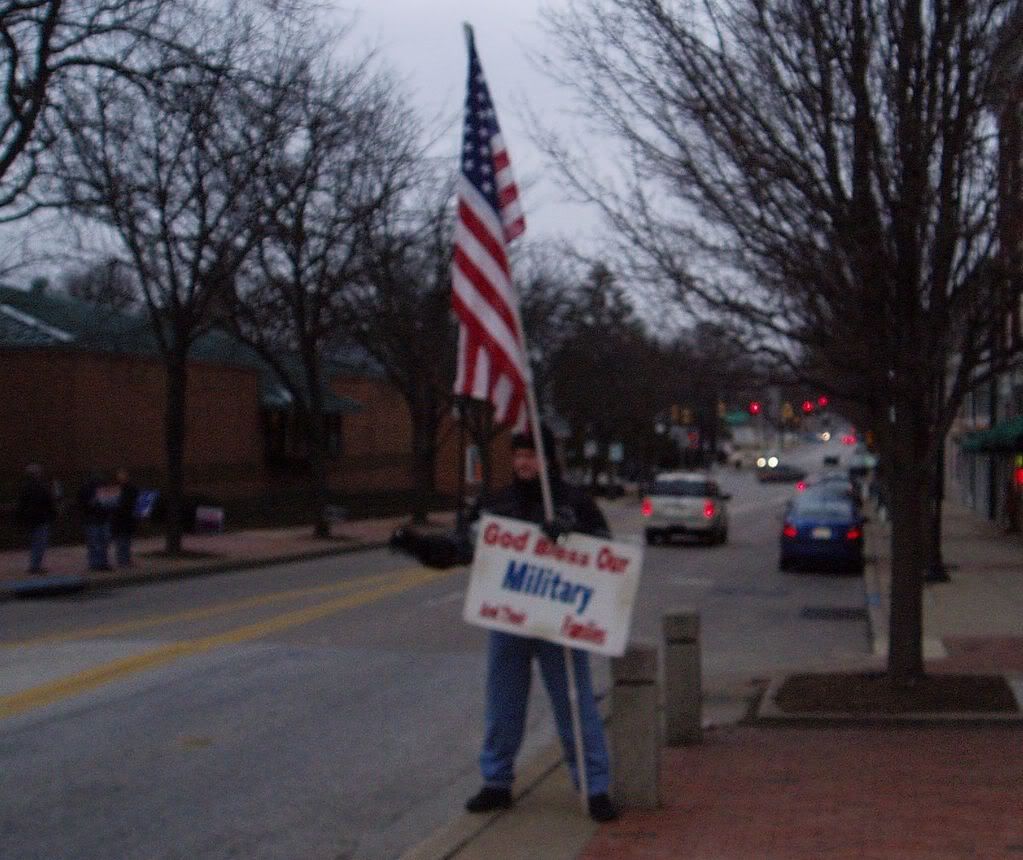 Although we have no trouble getting positive responses, the sign gave extra incentive for supporters to make more noise for our boys in uniform! The moonbats showed up with their peace signs and signs supporting our Troops, but with a catch. They still call it an occupation. Hmmm, Obama is in office and they are protesting their chosen one. Guess it isn't exactly the hope and change they were promised. Big surprise. We are doing what needs to be done to truly support our Troops. They know who really have their backs at home. VICTORY will be ours! There was one more sign that the moonbats pulled out of their bag of tricks, but it wasn't as magical as the sign I was holding. Honk for Peace produced maybe a few more than their usual few. Not that people don't want peace, just not unconditional peace. Peace follows freedom. We hung around at the end, as snow flakes started to fall. The moonbats cut and run 10 minutes early.
Moonbats


We will not go down without fighting socialism. This is our country and we have to take it back. God Bless America, our Troops and their Families. On a personal note, please keep my brother-in-law, his wife and 2 young sons in your thoughts and prayers. Joe is in the Air Force and currently serving in Iraq. In the meantime, we will stand tall and proud until the very end, no matter what! GO GLENN! We surround them!
2ND AND LAST SATURDAY 3-5pm
Please join us if you can. We especially need extra boots on the corner, on the 2nd and last Saturday of each month, when we counter protest the moonbats. The Westminster Gathering/FReep is located on the east side of E. Main Street opposite the library at 50 East Main Street. There is public parking on Winters Street. Follow the signs.

---
TOPICS: Activism/Chapters; US: Maryland
KEYWORDS: aar; maryland; rally; supportourtroops; valentinesday; westminster
---
---
---
---
---
---
---
---
---
---
---
---