---
DC Tea Party – What Now?
self inflicter | 28 February 2009 | Jimmy Valentine's brother


Posted on 02/28/2009 10:52:11 AM PST by Jimmy Valentine's brother

DC Tea Party – What Now?

27 February 2008 Lafayette Park, Washington, DC

Reports on the DC Tea Party have been filed at Hot Air Joe the Plumber at D.C. Tea Party: No one on the Hill gives a rip about you, and Michelle Malkin Scenes from the D.C. Tea Party.

But what the hay I'll add my two cents and a couple of pictures to boot. Early on there was a general milling about and DC Chapter folks were tough to spot. Once the "organizers" figured out where their permit authorized them to have a 2nd Amendment activity the speechifying got underway with a bullhorn providing the audio amplification.. It wasn't exactly clear who was going to speak. I think Michelle Malkin was surprised to be called to address the crowd. As usual, she was concise and to the point as opposed to the usual left wing rants that we've witnessed during cA.N.S.W.E.R. anti-American rallys.

Trooprally had made up some excellent signs that I hauled down to the rally. I did pass them out but didn't get any pics of them. I of course had a great sign too but alas you'll have to take my word for it. I also attempted to pass out OBAMA SUCKAs but the little tags on the lollipops (Dum Dum brand from WALMART) didn't stick to well. I'll have to work on the execution a little more. Eventually DC Chapter folks came into my sight. They included Concrete Bob, cindy-true supporter, Tolerance Sucks Rocks, USN Retired and 2nd class citizen. I also ran into Captain Larry Bailey, USN (ret.) of GOE – don't forget to mark 13 June on your calendar, and Beverly Perlson of The Band Of Mothers, both in town for CPAC. Beverly is looking for Chicago area contacts as she is plotting something The rally size (~250) was very satisfactory for DC on a Friday afternoon. People were ready to go but we didn't charge the Monica gate. Code Pink was having fun with some hooded orange jump suit folks. Cindy-true-supporter thought that they were work release folks from the DC Jail there to clean up after the rally. But she realized that it would be tough to spot trash with a hood on. Besides conservative always clean up after themselves. There was another group rallying down where the ban the bomb folks normally camp out on the edge of Pennsylvania Ave. I didn't go over but I think they were Palestinians protesting the paucity of Zero's latest reward to Hamas and how unjust it was.

Now for the pics:

Those who have had enough :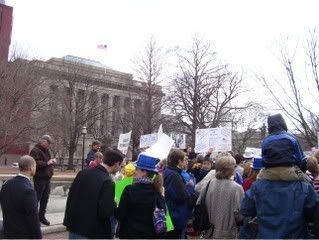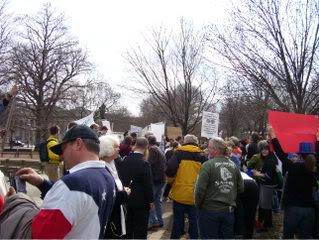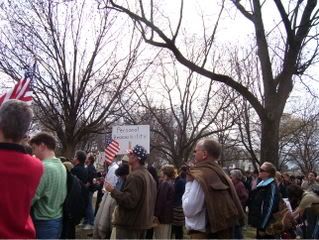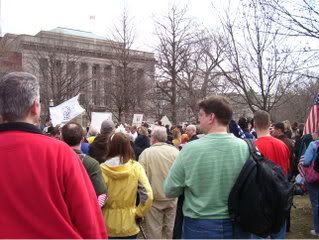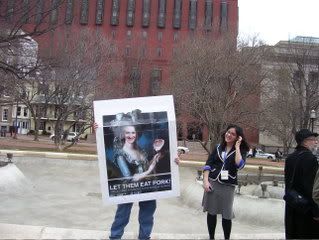 Victims of Nancy, Harry, Schmuckie and Barry the Zero.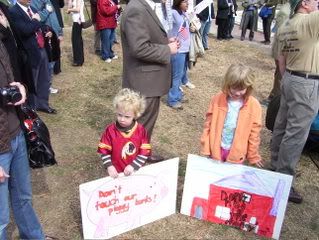 A well known national media personality :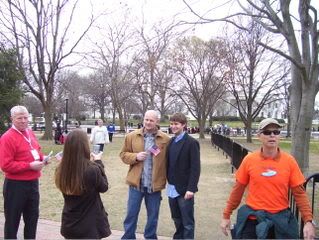 On the job:
Tolerance Sucks Rocks: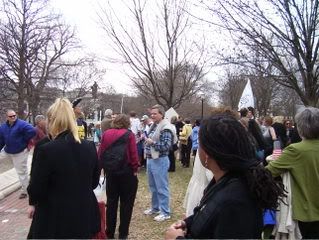 2nd Class Citizen in disguise as 1st Class
---
TOPICS: Activism/Chapters; US: District of Columbia; US: Maryland; US: Virginia
KEYWORDS: aar; bailout; dcchapter; teaparty; teapartyporkulus; theft
---
---
---
---
---
---
---
---
---
---
---
---
---
---
---
---