KATHMANDU (Reuters) - A former Maoist rebel commander said on Tuesday the group plans to recruit thousands of fighters, a move seen as a blow to peace that underlined serious tensions between Nepal's army and the Maoists.
Nanda Kishore Pun, chief of the Maoist fighters, told Reuters it was the ex-rebel group's turn to fill vacancies in their ranks after Nepal's national army recruited 2,800 personnel last year.
The move could endanger a 2006 peace pact that ended a decades-long civil war and saw the Maoists joining the political process, winning an election last year, analysts said.
"It is a severe threat to the peace process and the comprehensive peace agreement, which said no additional recruitments in the armies of the two sides," said Yubaraj Ghimire, editor of the weekly "Newsfront".
"It opens the possibility of the two armies inching towards armed confrontation."
The Maoist-led government has not commented on Pun's remarks so far, and analysts said it was not immediately clear if he had taken Maoist Prime Minister Prachanda into confidence.
Pun said applications for recruitment of more than 11,000 personnel had been called from Tuesday and the government had been informed of the move.
"Nepal army has violated the peace agreement by recruiting in the past," he said. "The agreement must apply to both parties equally and not bind the Maoist army alone."
The United Nations Mission in Nepal (UNMIN), which monitors the peace deal, said the move violated the pact.
"UNMIN stands by its earlier statement that new recruitments by either side, Nepal army or the Maoist army, is against the Comprehensive Peace Agreement," UNMIN's senior media officer, Kosmos Biswokarma, said.

Just glad to live in the good ol USA.
We've got our share of Maoists right here...
Endorsers of the [World Can't Wait] Call to Drive Out the Bush Regime Include:
James Abourezk, Aris Anagnos, Rocky Anderson, Anti-Flag, Edward Asner, Russell Banks, Ed Begley Jr., Harry Belafonte, St. Clair Bourne, Gabriel Byrne, Margaret Cho, Ward Churchill, Paulette Cole, US Rep John Conyers Jr., John Densmore, Jesse Diaz Jr., Michael Eric Dyson, Steve Earle, Niles Eldredge, Daniel Ellsberg, Eve Ensler, Laura Flanders, Jane Fonda, Martin Garbus, Senator Mike Gravel, Andre Gregory, Sam Hamill, Suheir Hammad, Rev. Jesse L. Jackson Jr., Mumia Abu-Jamal, Rickie Lee Jones, Sarah Jones, Brig. Gen. (Ret) Janis Karpinski, Jonathan Kozol, Rabbi Michael Lerner, US Rep. Cynthia McKinney, Robin Meyers, Mark Crispin Miller, Tom Morello, Viggo Mortensen, John Nichols, US Rep. Major Owens, Grace Paley, Harvey Pekar, Sean Penn, Michelle Phillips, Harold Pinter, Michael Ratner, Mark Ruffalo, US Rep. Bobby Rush, Susan Sarandon, Richard Serra, Jeff Sharlet, Rev. Al Sharpton, Cindy Sheehan, Martin Sheen, Nancy Spero, Gloria Steinem, Lynne Stewart, Serj Tankian, Sunsara Taylor, Studs Terkel, Gore Vidal, Kurt Vonnegut, Alice Walker, Naomi Wallace, US Rep. Maxine Waters, Cornel West, Ann Wright, Howard Zinn, and thousands more who have already joined us.
http://worldcantwait.net/index.php?option=com_content&task=view&id=2538&Itemid=2
_________________________________________________
World Can't Wait--Drive Out the Bush Regime is a Maoist-revolutionary movement organized by the Revolutionary Communist Party. Scroll down the list that appears (after clicking link) to find the World Can't Wait organization (rwor.org is the website of the Revolutionary Communist Party):
http://rwor.org/a/rwlink/links.htm
_________________________________________________
From David Horowitz's FrontpageMag.com /DiscoverTheNetworks.org:
Profile: World Can't Wait (WCW)
*Revolutionary communist movement that stages protests against the Bush administration
*Organizes college and high-school students
*Founded in June 2005 by Charles Clark Kissinger, a longtime leader of the Revolutionary Communist Party
http://www.discoverthenetworks.org/groupProfile.asp?grpid=7213
_________________________________________________
The RCP calls for the armed overthrow of the U.S. government...
From the website of the Revolutionary Communist Party (revcom.us or rwor.org) :
"Create Public Opinion, Seize Power: We are preparing minds and organizing forces for the time when there is a major crack in the system, whenever it comes and wherever it comes from: an opening that makes it possible to bring the future Revolutionary Army of the Proletariat (R.A.P.) into the field and wage a revolutionary armed struggle that actually has a chance of winning.
And we have said that building our party itself is the most important part of organizing forces for revolution. This is true now, and it is true looking forward to the creation of that future R.A.P. and the waging of that armed struggle.":
http://revcom.us/a/v20/1000-1009/1000/barw.htm
_________________________________________________
From David Horowitz's FrontpageMag.com /DiscoverTheNetworks.org:
"Throughout its history, one of RCP's [Revolutionary Communist Party] principal objectives has been to foment civil unrest in the United States. The most notable example of such efforts occurred on April 29, 1992, when RCP members looted and trashed the downtown and government districts of Los Angeles, triggering the infamous Rodney King riots. During the days immediately preceding the violence, RCP -- which maintained close ties to the L.A. gangs known as the Crips and the Bloods -- had circulated throughout South Central Los Angeles a leaflet featuring a statement by RCP National Spokesman Carl Dix, titled 'It's Right To Rebel' -- a quote popularized by Mao Zedong.
Encouraged by Dix, RCP activists helped lead the riots that would leave 58 people dead, more than 2,300 people injured, some 5,300 buildings burned, and $1 billion in property damaged or destroyed. On the ten-year anniversary of the rioting, RCP member Joseph Veale fondly recalled the violence as 'the most beautiful, the most heroic civil action in the history of the United States.'"
http://www.discoverthenetworks.org/groupProfile.asp?grpid=6197
_________________________________________________
"The RCP upheld the 1992 sometimes-violent unrest in Los Angeles and nationally as a 'rebellion' in the aftermath of the Rodney King verdicts. Then-LAPD chief Daryl Gates alleged that the RCP was involved in the 'riots'. Los Angeles has long been one of the RCP's larger and more active branches. William 'Mobile' Shaw was a local leader who recently passed and received public commendation from the party."
http://en.wikipedia.org/wiki/Revolutionary_Communist_Party%2C_USA
_________________________________________________
Maxine Waters on the Los Angeles riots of 1992/Rodney King riots
(Maxine AGREES with the Revolutionary Communist Party: it was an "acceptable rebellion":
"[Maxine] Waters has been criticized for her comments regarding the Los Angeles riots of 1992. In defense of the people that looted stores and damaged property, Waters said 'If you call it a riot it sounds like it was just a bunch of crazy people who went out and did bad things for no reason. I maintain it was somewhat understandable, if not acceptable. So I call it a rebellion.'[5] She also said it was 'a spontaneous reaction to a lot of injustice' and 'The anger in my district is righteous. I'm just as angry as they are.' She responded to the mass looting of Korean-owned stores by saying: 'There were mothers who took this as an opportunity to take some milk, to take some bread, to take some shoes. They are not crooks. Everybody in the street was not a thug or a hood.'"
http://en.wikipedia.org/wiki/Maxine_Waters#Los_Angeles_riots_of_1992
_________________________________________________

Voice of the Revolutionary Communist Party, USA [Maoist]
Revolution interview with ["Peace Mom"] Cindy Sheehan: October 29, 2005:
['Revolution' is the newspaper of the Revolutionary Communist Party]
http://rwor.org/a/021/cindy-sheehan-interview.htm
_________________________________________________
[Revolution] Interview with Bill Ayers, Revolution #63, October 1, 2006:
"On Progressive Education, Critical Thinking and the Cowardice of Some in Dangerous Times"
http://rwor.org/a/063/ayers-en.html
_________________________________________________
"This is a guy who lives in my neighborhood, who's a professor of English..."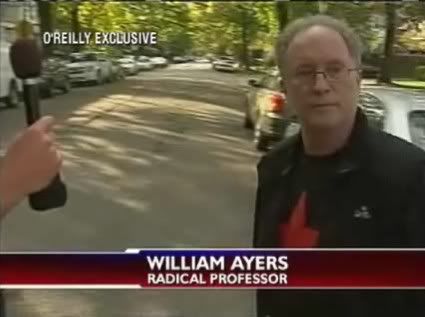 _________________________________________________
Millions More Movement rally
Washington D.C., October 15, 2005
Louis Farrakhan speech
Louis Farrakhan, at the Millions More Movement rally in DC, Oct 15, 2005: "...what Mao Tse Tung did was, he went to the cultural community, and they [Farrakhan spreads his arms beneficently] accepted his idea."... "Mao Tse Tung ... had a billion people whose lives he had to transform."..."the idea of Mao Tse Tung became the idea of a billion people, and China became a world power on the base of the culture and the arts community. If we had a ministry of art and culture in every city we'd create this movement [in the U.S.]."
Source: http://thedrunkablog.blogspot.com/2005/10/communist-plot-noted.html
_________________________________________________
From Louis Farrakhan's "Nation Of Islam" website, FinalCall.com...
Re: Millions More Movement rally, Oct 15, 2005:
Unity generates power to change reality
By the Honorable Minister Louis Farrakhan
"The time has never been more ripe for a strategic relationship between the Black, Brown, Native American and the poor of this nation and the world."
"We need a Ministry of Defense. Our young men are born soldiers, but they are in the wrong war. They are fighting a war in the streets of America against each other, or they are fighting an unjust war overseas in Afghanistan and Iraq. We need to bring our boys home and put them into the Ministry of Defense, so we can defend our communities, rather than destroy our communities.
We need a Ministry of Art and Culture. We applaud the hip hop community, the leaders of young people all over the world, but I want the young generation of artists to know there is a bigger purpose for art and culture than popping our fingers and shaking our backsides. Mao Tse Tung, throughout his long march to conquer China, had a billion people whose lives he had to transform. Many of them were victims of opium, drugs and prostitution, like we are. But Mao Tse Tung went to the cultural community and they accepted his idea. Then, through song, dance, poetry, drama, documentaries, movies and books, the idea of Mao Tse Tung became the idea of a billion people. China became a world power on the base of culture and the artistic community. If we had a Ministry of Art and Culture in every city, as we create this movement, we could say to our young people, "What is the idea of the Time and are you reflecting that idea in your songs, dance and music?
We need a Ministry of Trade and Commerce. Do you think that a Millions More Movement should not be involved in the development of Africa, the Caribbean and Central America? ... we need a Ministry of Trade and Commerce that can link the struggle here with Africa and the Caribbean, Central and South America.

Source: FinalCall.com (Farrakhan's own "Nation Of Islam" website):
http://74.6.239.67/search/cache?ei=UTF-8&p=%22We+need+a+Ministry+of+Defense.+Our+young+men+are+born+soldiers%2C+but+they+are+in+the+wrong+war.%22%22mao%22&fr=moz2&u=www.finalcall.com/artman/publish/article_4328.shtml&w=%22we+need+a+ministry+of+defense+our+young+men+are+born+soldiers+but+they+are+in+the+wrong+war%22+mao&d=A4xrG52uSSxU&icp=1&.intl=us
_________________________________________________
Louis Farrakhan, Santiago de Cuba, February, 1998: "There is not a member of the black masses in the United States who is not proud of the example set by Cuba and its revolution, with Comandante Fidel at its head"
Source: http://www.fiu.edu/~fcf/farakhan21898.html#says
_________________________________________________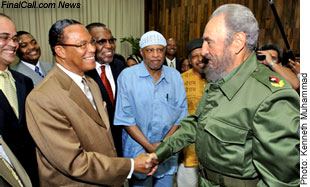 "Minister Farrakhan and his delegation met privately with President Fidel Castro of Cuba."
http://www.finalcall.com/media/cuba/