---
Walter Reed FReep 205 - March 20, 2009 - A Trip to The Zoo
March 25, 2009 | Tom the Redhunter


Posted on 03/25/2009 6:22:28 PM PDT by Tom the Redhunter

Those of us who've done this for several years, and attended many of the rallies and counterprotests in Washington DC or elsewhere have become used to the inanity of the commies, Pinkos, and other assorted lefties. We forget I think how it is for newcomers who've never seen them.

A few times at some of the downtown FReeps I've observed people who are obviously tourists who'd accidentally stumbled upon a leftie protest march. Their deer-in-the-headlights gives them away, as they're obviously perplexed as to what they've come upon. FReepers are a little more used to this as even those who've never had the displeasure of running into Pinkos have seen pictures and read the commentary, but even so you'll never forget your first run in with them.

Honor Roll of Attendees
Local regulars were your author Tom the Redhunter, Cindy-True-Supporter, Lurker Bill, RonGKirby, Mr Trooprally, GunsAreOK, JoyJoyfromNJ, and Pascquale. Jimmy Valentine's Brother stopped by very briefly but as he was fighting a cold couldn't stay but to drop off some flags.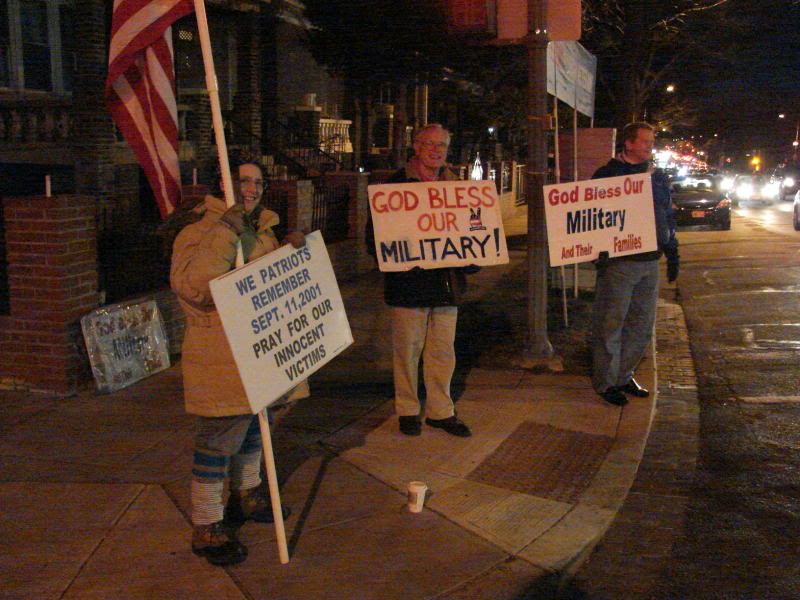 There were several Special Guest Freepers who came from afar to join us. They had come into town for Saturday's FReep counterprotesting ANSWER near the Pentagon but since they were there were good enough to join us. The dynamic duo father and son team YorkTown Patriot and Darth Yorktown came from... guess where. From farther were Veeram and RL Morel from Massachusetts. FReeper FLid "former liberal" came from South Carolina, which like Massachusetts is quite a hike.
FReeper FLid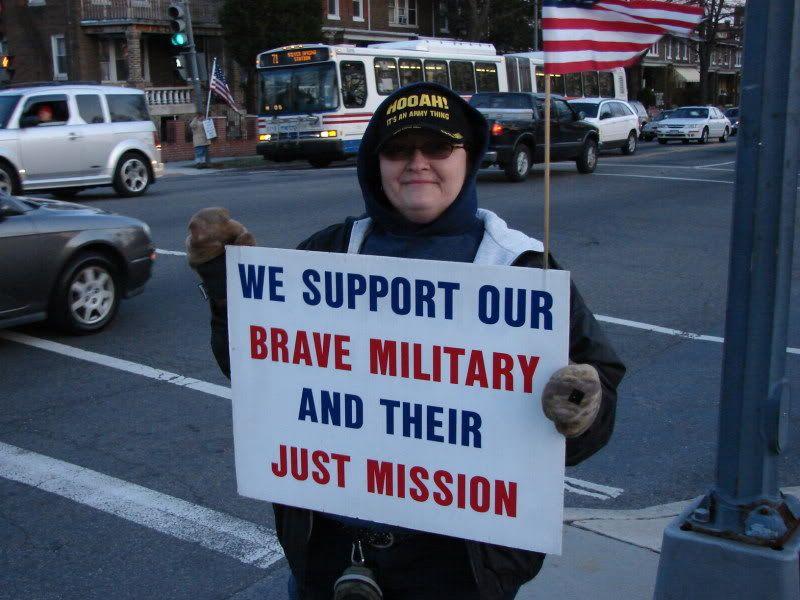 YorkTown Patriot and ... apologies but I'm not sure.
Finally, we had a special special guest appearance from PrezUSA, who as you may know is now in the U.S. Army and in a few months will be off to Iraq! He will be in our prayers.
Calling Out the Commies
Most of the time we regulars don't bother the Pinkos much, because we've seen and heard their schtick so many times that frankly it's boring. But newcomers usually like to go down and pay them a visit, and the group in town for Saturday's FReep at the Pentagon was no exception. Think of it as kind of like...a trip to the zoo.
FLid, the dynamic duo from where we won the Revolution, Veeram and myself headed down to visit the Pinkos. At this point I could have just about told them what would happen, but why spoil their fun.
Our FReepers tried to engage the Pinkos in debate while I mostly stood on the sidelines and watched. After all this was their show, so I figured let them have the fun.
The FReepers tried to engage the Pinkos in debate and conversation and they mostly ignored us. We were not rude or abusive, but asked honest if forthright questions. Their leader, Bruce, flat out told us "were not here for discussion." When they did talk it was to push the party line that they were not there to protest the war but to raise awareness as to the needs of the soldiers inside and how more money was needed for their care... right.
What a load of bullcrap.
Message to Pinkos, Commies, and other assorted nutjobs on the left: If you're going to protest a war have the decency to say so. Don't hide behind the lie that you're there to get money for warrior care.
Some of the sad Pinkos before we paid them a visit.
What It's All About
Here is the troop bus, bringing our wounded warriors and their families back from a fine dinner somewhere in Washington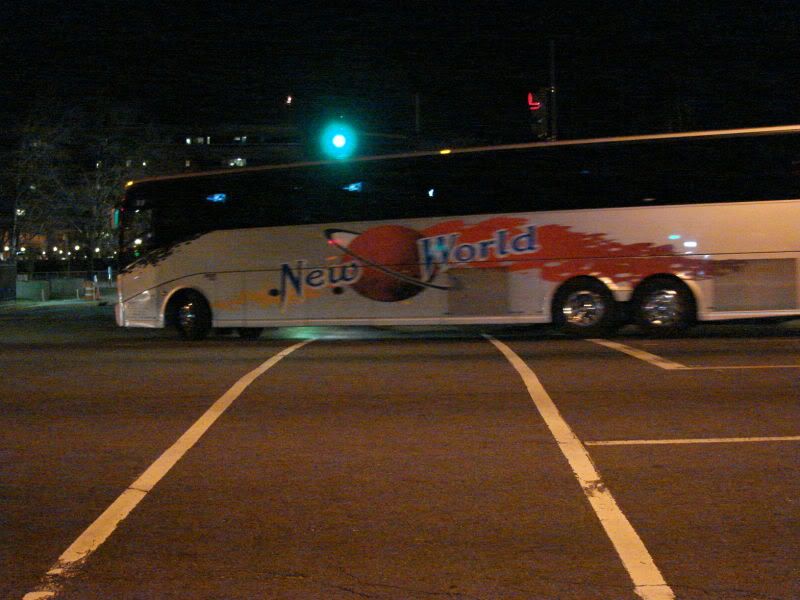 ---

If you can't get to D.C. to join us but would like to do something for the wounded, you can find a wealth of ideas by FReepmailing Tom the Redhunter, Cindy-True-Supporter, VAFlagwaver, or PleaDeal.

Please also FReepmail them or any of us if you would like to join us at Walter Reed and would like additional information about parking, directions, what to bring, etc.

Come join us every Friday night between the hours of 6:30pm to approx 9:30pm.

Directions to our Walter Reed freep location from the Takoma Metro station

* You can find all of Mr Trooprally's photos for this Freep on her Photobucket site.

* Thank you to BufordP for maintaining the BIG LIST of all Walter Reed FReeps.

* Thank you to all FReepers who transport and store our many signs and banners every week.

* Tom the Redhunter blogs at The Redhunter

* Plea Deal blogs at Semper Gratis

---
TOPICS: Activism/Chapters
KEYWORDS: freep; reed; walter; walterreed
---
---
---
---
---
---
---
---
---
---
---
---
---
---
---
---
---