---
Moonbats back in force from Peace Conference: Wk 170, Olney, MD 04-18-09: Op. Infinite FReep
April 24,2009


Posted on 04/24/2009 9:23:10 AM PDT by trooprally

Besides the warm weather, the 10 fair-weather moonbats were in force in Olney this Saturday, energized after attending the 24th Annual Peace, Justice & Environmental Conference. They learned by watching the actions of our current, possible illegal, POTUS. The learned that "peace" is bowing in submission to a Muslim sheik, justice is releasing CIA papers in anticipations of a political trial of those who protected America from terrorists, and that the environmental "global warming" is now "global weather change", worthy of taking the CO2 from the trees that the need it to grow and create the oxygen that we need to breathe.

Just the titles of the seminars are eye opening: "How to help the president rein in the generals"; "Failure of Free-Market Capitalism"; "Make peace with fear"; "Challenge to our Civil Liberties". And the conference had "Environmental Concerns". Smoke free of course, but also "scent-free", no perfume, cologne of after-shave.

BELOW: Moonbats - They must have also learned to have American flags during their protests, even though this group, Quakers, are forbidden to pay allegiance to any Country. One more hypocrisy of the "peace" protests.
But the true patriots, those patriots who supported our troops during good time (pre-Election Day 2008), are now supporting our troops as right-wing extremists. The "dissent is patriotic" ironically pertains to us.
The 9 Patriots this Saturday included Legionnaires Francis (Army - WWII), Dave (Army - WWII) with lady friend, Carl (Army - WWII), Frank (Army- Korea), along with Lurker Bill and FReepers Cindy_True_Supporter, [Mts] Trooprally (aka [Mts] T) and myself.
Pics are by [Mrs] T
The other Legionnaires were busy today with their Lions Club's "Christmas in April" Project. Funny, well disappointing, that the leftist have even eliminated the "Christmas in April" name. It is now called "Rebuilding Together". The house they are working on needs two weekends of work so they will be missing again this Saturday.
BELOW LEFT: Carl - he doesn't make it out here very often but is always good to see him. BELOW RIGHT: Frank - one of our regulars.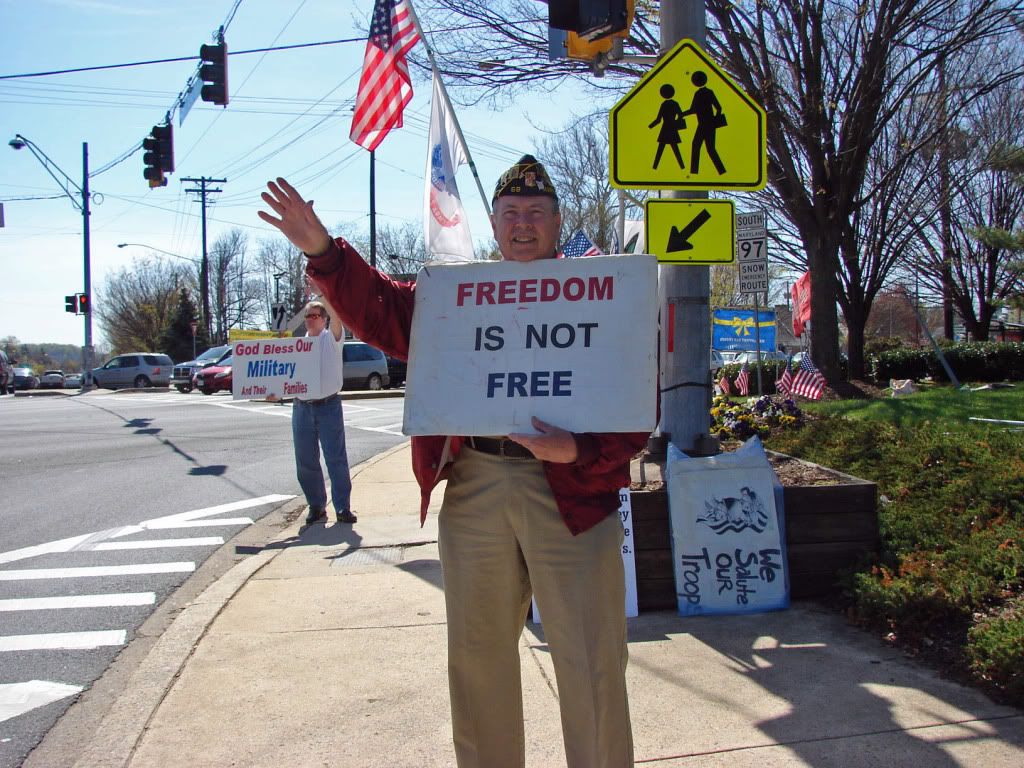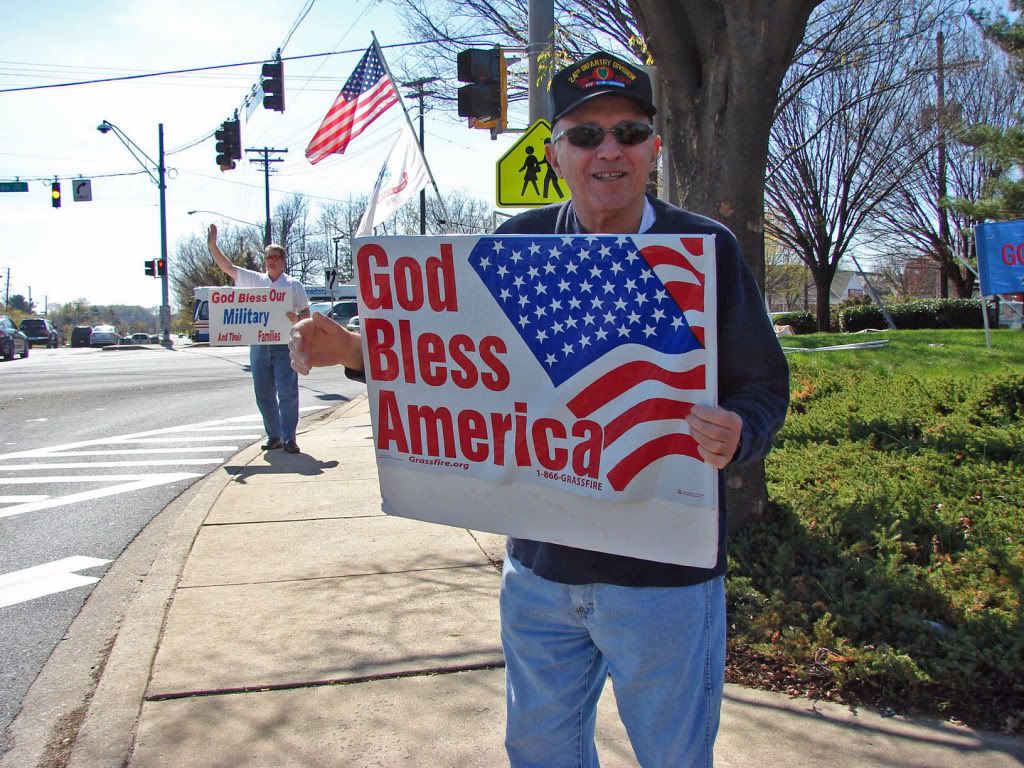 BELOW LEFT: Dave BELOW RIGHT: and lady friend.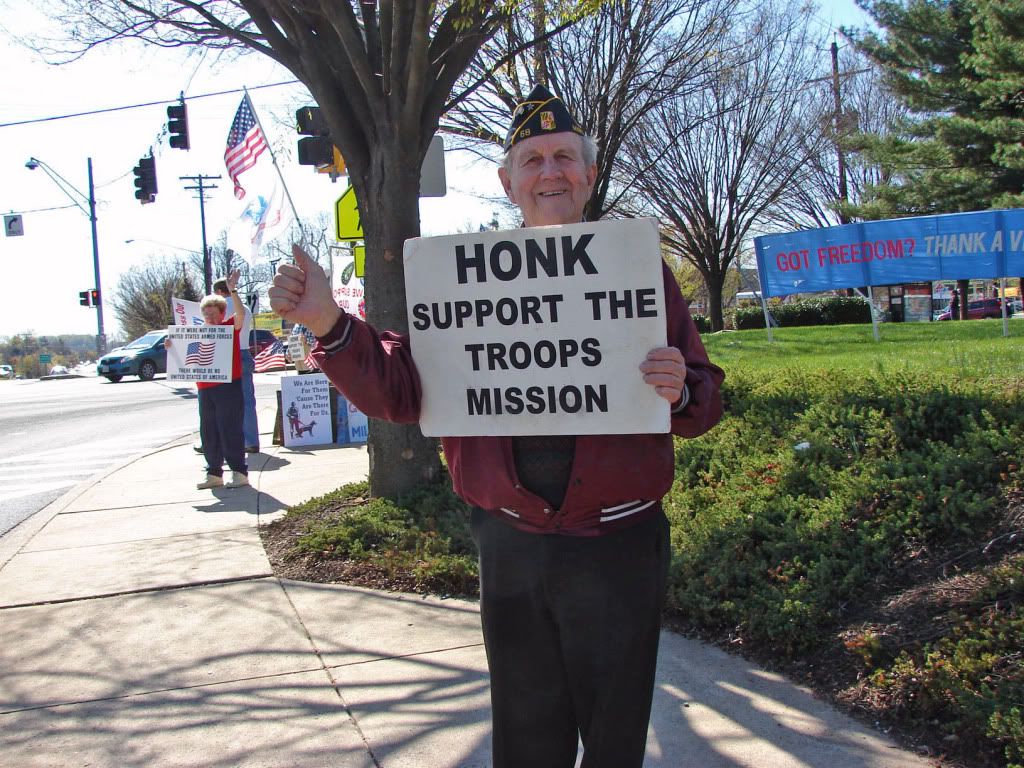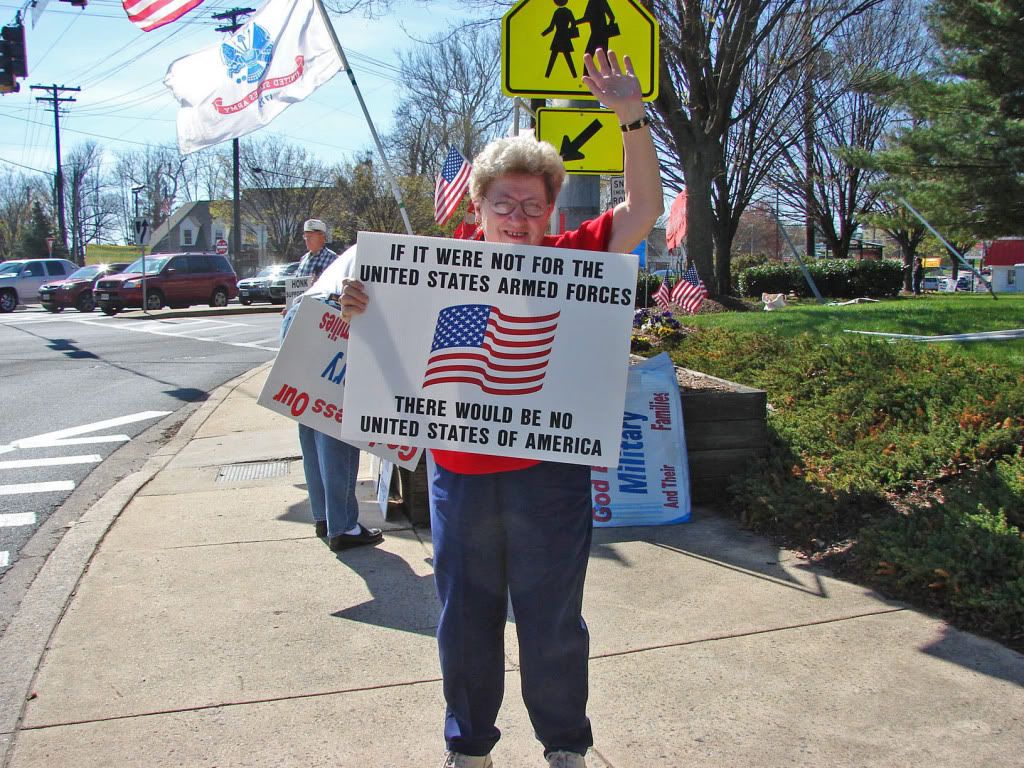 BELOW LEFT: Lurker Bill BELOW RIGHT: and Francis.
BELOW LEFT: Cindy_True_Supporter and myself. BELOW RIGHT: Our left flank is covered by the Legionnaires.
Some great pice of our passing supporters. [Mrs] T also got a lot of us in the pics, waving back.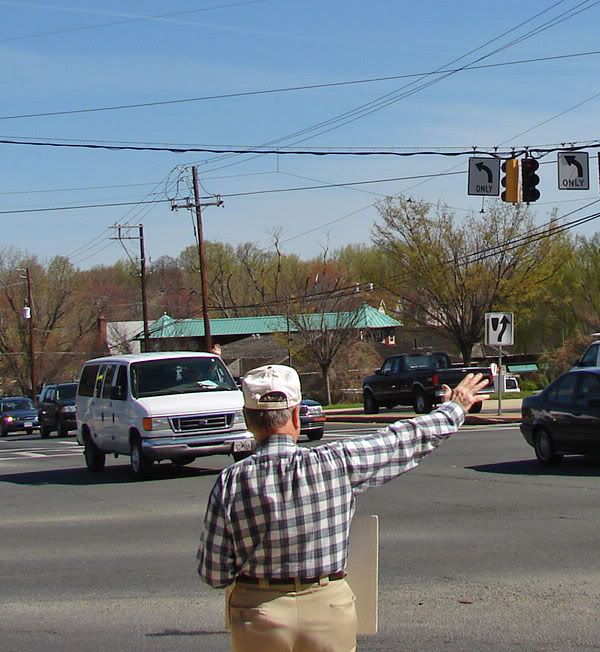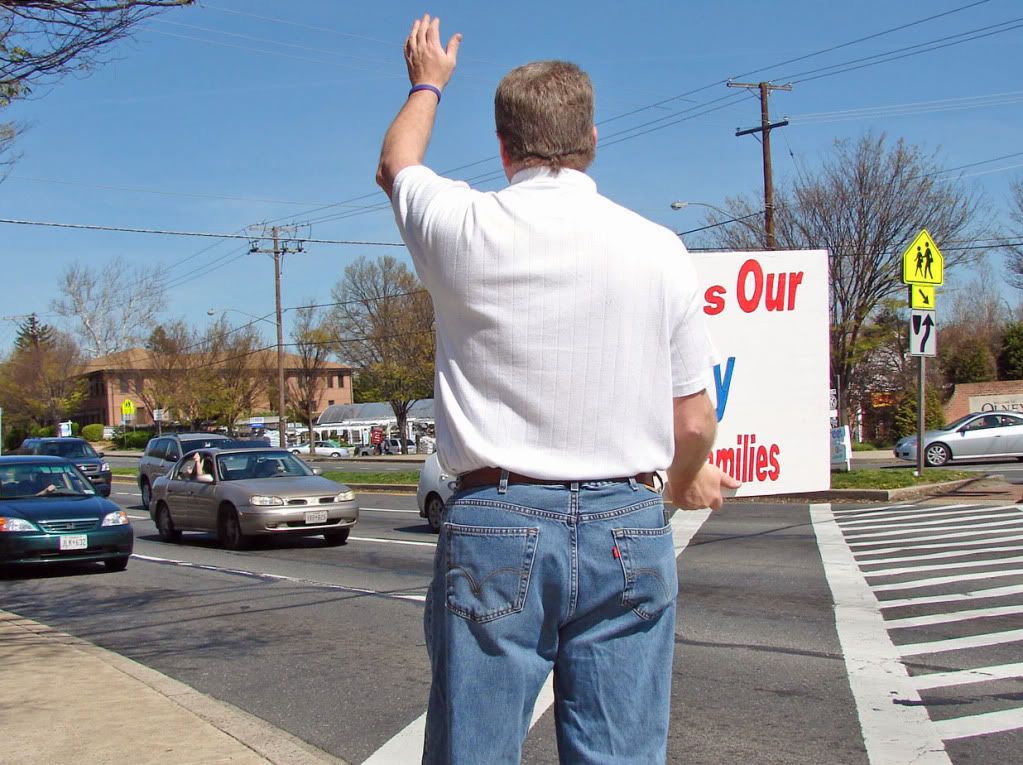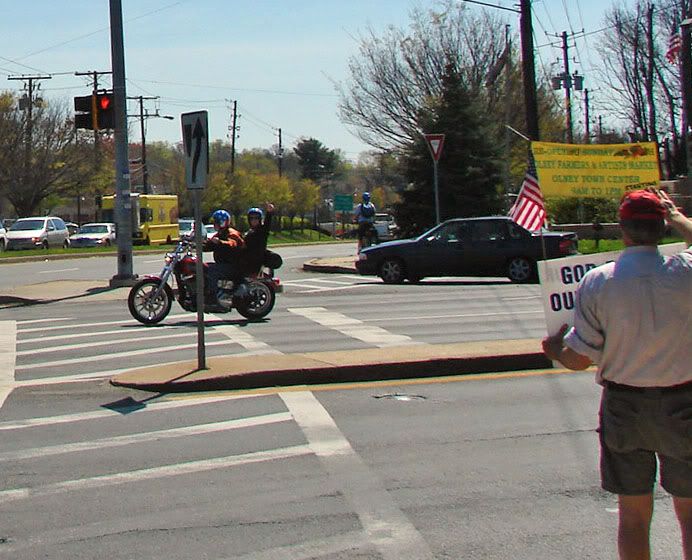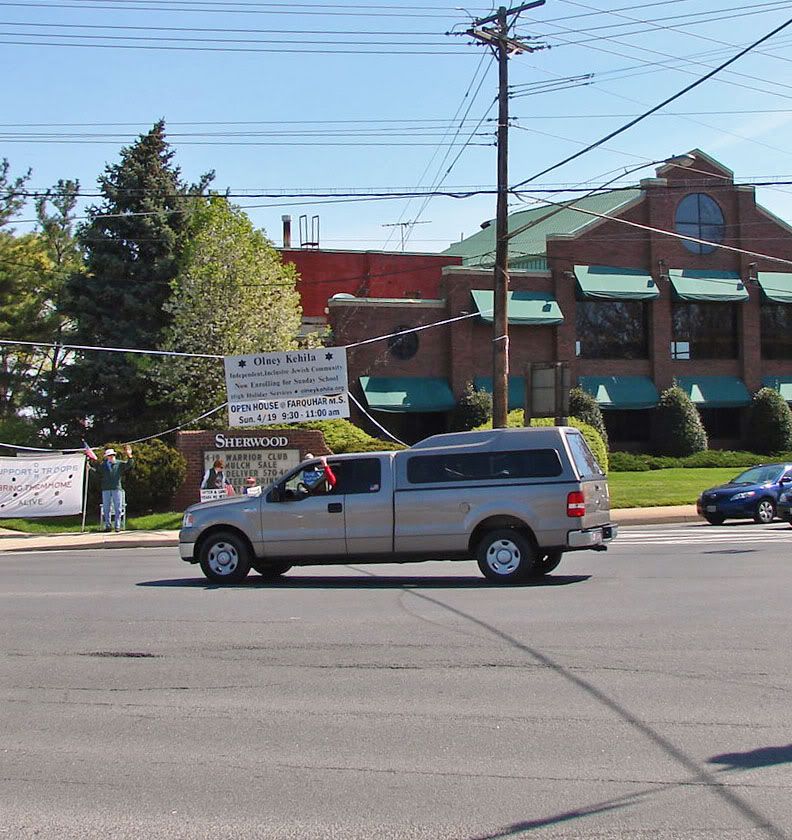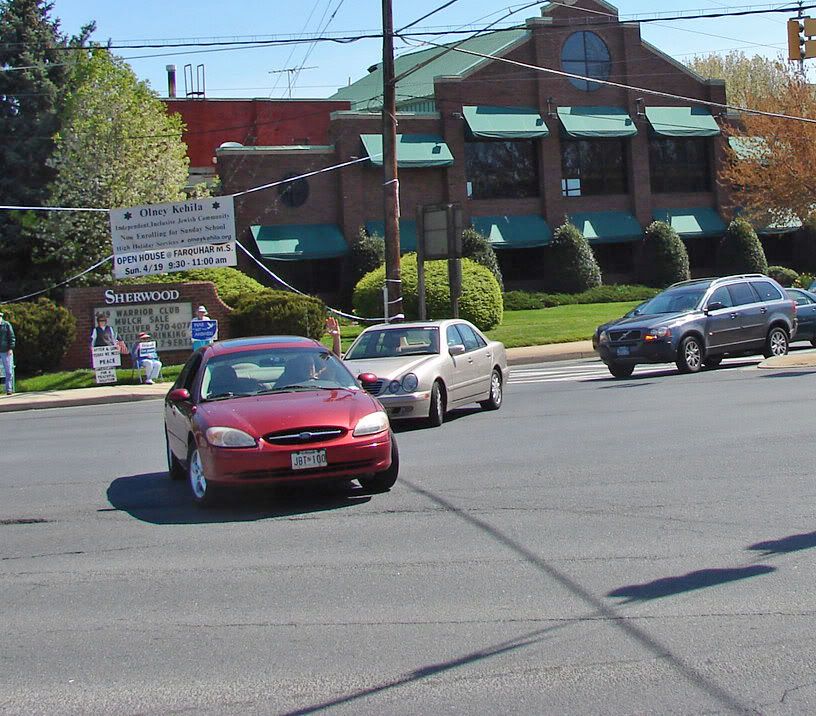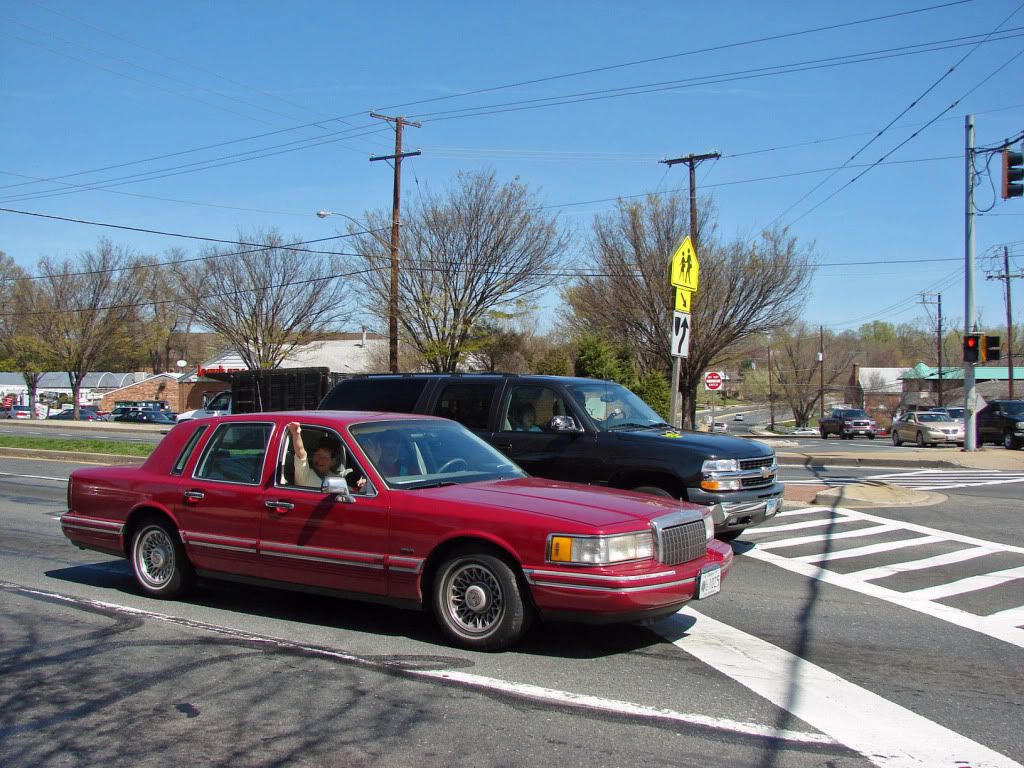 WARNING TO FREEPERS ATTENDING OLNEY
Some new money making have been installed on north bound Georgia Avenue right before you enter the main business district. Slow your speed after the light at King William Drive.
And a new one has been placed just south of Brookeville, between Brookeville and the Longwood Community Center.




REMEMBER
Next Saturday, same place, Georgia Avenue, MD Rte. 97 and MD Rte. 108 in Olney
NEW TIME - 10:15 AM to 11:45 AM


As always, the D.C. Chapter's rules for protesting will be in effect. Briefly, they are: No violence, no profanity, no racism, no provocations, obey the law and treat all law enforcement officers with respect.
But a lot of verbal engagement in Olney is always welcome.

---
TOPICS: Activism/Chapters; Free Republic; US: Maryland; US: Virginia
KEYWORDS: mobilizingmothers; opinfinitefreep; peaceactionmc; quakers
---
---
---
---
---
---
---
---
---
---
---
---
---
---
---