---
Walter Reed FReep 213 - May 15, 2009 - My FReeper Challenge
May 20, 2009 | Tom the Redhunter


Posted on 05/20/2009 6:11:31 PM PDT by Tom the Redhunter

We had 10 people, the Pinkos 9. This is about how it's been for the past half year or so.

We need your help.

My challenge is that if you live within driving distance of Washington DC you make one trip this year to Walter Reed. That is not asking too much.

If all FReepers reading this who live near Washington DC do this it would help tremendously. See below for directions and details, or you can just FReepmail me.

On With the AAR

It was a beautiful evening; not to hot, not too cold... ok sorry, I used the Three Bears line last year. But it was nice out. Here I am with Cindy-True-Supporter
Another nice thing about summer is that the MOAB looks very nice in the light. As you can see it's on the eastern side of the street. A few months ago FReeper tgslTakoma made us a new one, and the contrast with the old one (which had gotten kind of dirty) really shows
Now think; every troop, their family members, and the workers at Walter Reed see this every Friday evening as they leave for home. This is, recall, the main entrance to the hospital compound. Since 9-11 they've blocked off most of the other entrances, so this is it for most traffic. And I don't know if we've made this clear, but Walter Reed is a huge complex. The whole thing is about the size of a mid-sized college complex, and on the grounds have got to be several dozen buildings. So a lot of people see our banner.
Not to mention the residents of Washington DC. George Avenue is one of the main north-south thoroughfares in and out of the city.
Here we are setting up the MOAB. I don't think we've posted one of us carrying it before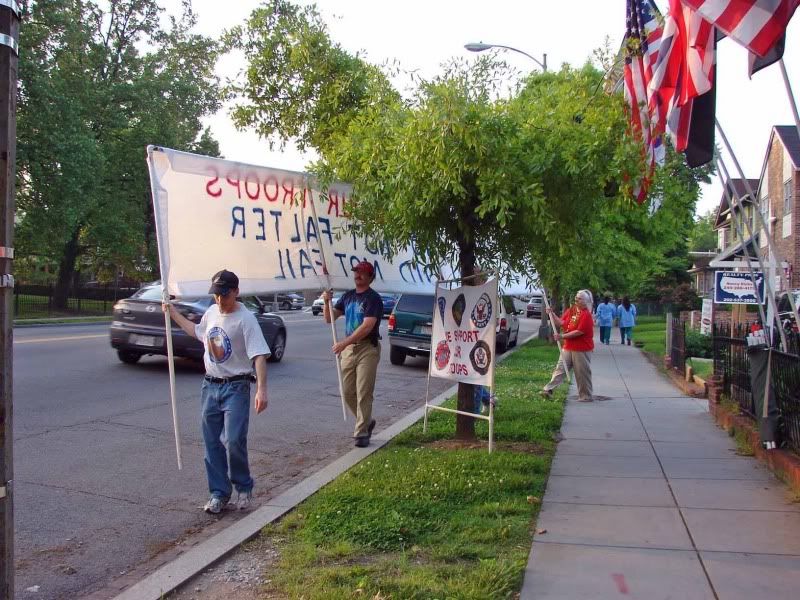 This is one of the new very large medical transports that they use to bring our wounded warriors from Andrews Air Force Base, where they are brought in from Ramstein Air Base in Germany.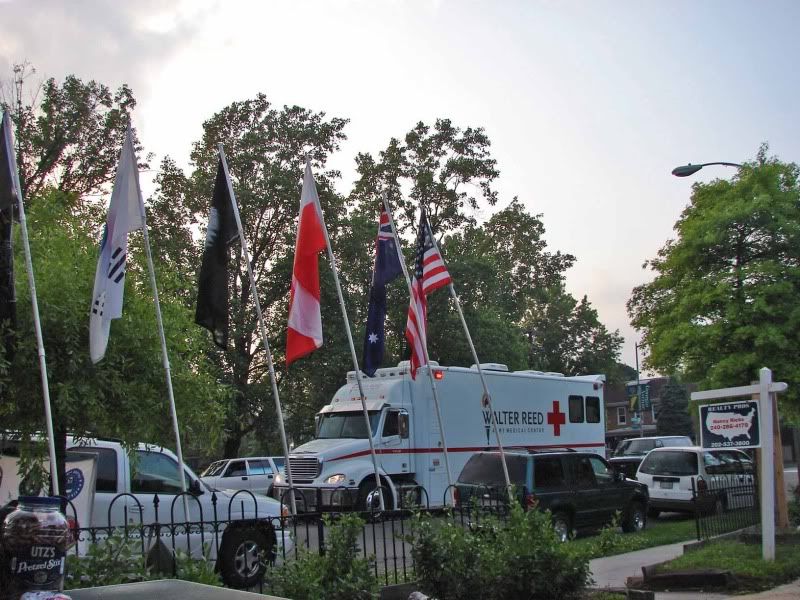 Mr Trooprally sends this fantastic narrative of what he saw from his corner:
The "PERFECT FREEP" is the only way to describe Friday night. We had enough FReeprs to have at least pair on each corner. Even with pizza or drink breaks, someone was always on the corner.

But my personal best was the support received from the passing cars, especially from the soldiers turning into entrance driveway. Being such a warm night, with windows open, there were a lot of "Thank You"s, hand shakes and high fives. Hand shakes and high fives are interesting when the cars are moving, even at slow speeds as they turn the corner.

There was also a lot of foot traffic in and out of Walter Reed. Those on all corners got to shake the hands of the wounded warriors and thank them for their service.

I also received several Semper Fi's

Most interesting item of the night came from one of the moonbats. We've seen him (with his little fuzzy dog) and one other many times. They walk past us to the moonbats position waayyyy down the block, then pass us as they are leaving. I've harassed them several times when they crossed against the red light, something to the effect that laws don't pertain to leftist.

Anyway, being warm, this moonbat forgot to bring water for his dog. He walked home to get some and on his way back stopped to tell me that he really does support the troops, that when down with the moonbats he holds his own sign about better benefits for the troops, not the standard anti-military signs. He even talked about the evil in the world is what causes war and then America has to send its military to protect everyone. He even recalled, and said he agreed with, some of Ronald Reagan's words about how dangerous this world is.

When I told him he should be standing with us, he said he stands with the moonbats because that's where his "friend" takes him.

Before our conversation, when taking count of us vs them, [Mrs] T didn't want to count my moonbat because he had stood back a little from those on the curb. Now we apparently know why he stands back.
Thank you, Mr Trooprally!
Here are the Pinkos down the street. They're there, and we'd sure appreciate some additional numbers to keep them away from the main entrance.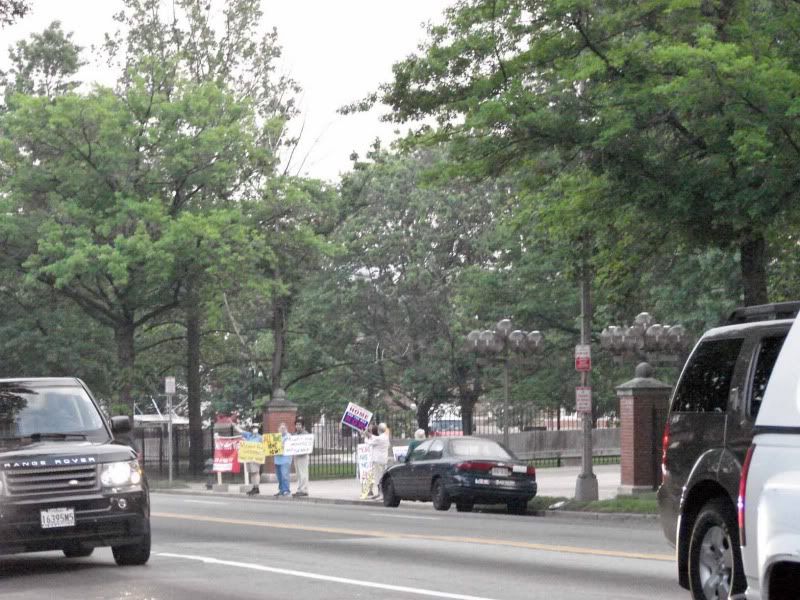 What It's All About
Many of the honks and waves that Mr Trooprally relates above come from troopers, their families, and civilian hospital workers coming in and out of Walter Reed. Having spoken with them many times throughout the years we know that our presence does lift their spirits.
The grand finale is the bus carrying troopers and their families coming back from an evening at a fine restaurant:
---

If you can't get to D.C. to join us but would like to do something for the wounded, you can find a wealth of ideas by FReepmailing Tom the Redhunter, Cindy-True-Supporter, VAFlagwaver, or PleaDeal.

Please also FReepmail them or any of us if you would like to join us at Walter Reed and would like additional information about parking, directions, what to bring, etc.

Come join us every Friday night between the hours of 6:30pm to approx 9:30pm.

Directions to our Walter Reed freep location from the Takoma Metro station

* You can find all of Mrs Trooprally's photos for this Freep on her Photobucket site.

* Thank you to BufordP for maintaining the BIG LIST of all Walter Reed FReeps.

* Thank you to all FReepers who transport and store our many signs and banners every week.

* Tom the Redhunter blogs at The Redhunter

* Plea Deal blogs at Semper Gratis

---
TOPICS: Activism/Chapters
KEYWORDS: freep; pinko; walterreed
---
---
---
---
---
---
---
---