---
A Memorial Day Message for the Ages
Flopping Aces ^ | 05-25-09 | Mike's America


Posted on 05/25/2009 11:16:36 AM PDT by Starman417

Lincoln's Gettysburg Address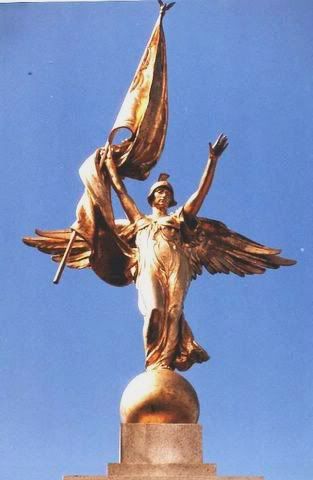 The Daniel Chester French Victory atop the Memorial to the First Division of the Army, the Big Red One, outside the White House (monument details here). Photo by Mike's AmericaMemorial Day first started as Decoration Day when citizens of the reunited Northern and Southern states began an annual observance of the 600,000 lives lost during the American Civil War. (history of the holiday here)
So it is perhaps fitting that we take Lincoln's Gettysburg Address delivered at the dedication of the Soldiers' National Cemetery in Gettysburg, Pennsylvania, on the afternoon of Thursday, November 19, 1863 as the text for today. The battle at Gettysburg was the turning point of the Civil War and 7,500 lives were lost.
The invitation for Lincoln to speak was an afterthought to the organizers. They had already invited the famed orator Edward Everett to speak. Lincoln was invited to give just a few words after Everett spoke.
Everett's speech went on for two hours. (Remind you of anyone?) Afterwards Lincoln delivered these 272 words which history has remembered while Everett's speech is forgotten:
(Excerpt) Read more at Flopping Aces ...

---
TOPICS: Government; News/Current Events; Politics/Elections
KEYWORDS: gettysburg; memorial; message



---
To: Starman417
---
FreeRepublic.com is powered by software copyright 2000-2008 John Robinson