---
Iran protests: Fifth day of unrest as regime cracks down on critics
guardian.co.uk, ^ | Wednesday 17 June 2009 17.36 BST | Robert Tait, Ian Black and Mark Tran


Posted on 06/17/2009 11:03:15 AM PDT by Ernest_at_the_Beach

• Estimated 500,000 in Tir square and surrounding streets
• Mousavi calls on supporters to mourn 'martyred' protesters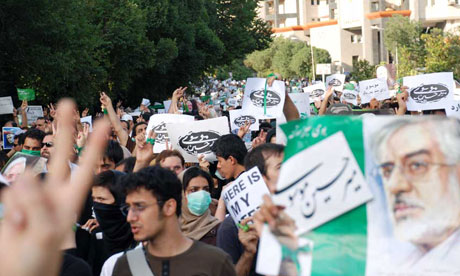 Supporters of Mir Hossein Mousavi protest in the streets of Tehran. Somayeh Soheily/The Guardian
Hundreds of thousands of demonstrators took to the streets of Tehran in a fifth day of protests as the government intensified its crackdown on opposition figures with the arrest of hundreds of leading critics.
Mainly dressed in black and wearing green wristbands and headbands to show their support for the defeated presidential candidate Mir Hossein Mousavi, crowds gathered in Tir square and streets around it. Most of the protesters were silent and made victory signs, according to Reuters news agency.
Witnesses estimated that as many as half a million people joined the march, with one street leading to the square packed for several kilometres. A young woman held a picture of one of those killed during the recent violence.
The protests pose a further challenge to a regime that has tried to quash all signs of opposition. On Monday, similar numbers congregated in the same square to voice their anger over last week's elections, which saw the incumbent hardliner Mahmoud Ahmadinejad win by a landslide.
Another potential flashpoint looms tomorrow after Mousavi urged supporters to stage peaceful protests or gather in mosques to mourn victims of the mass demonstrations. At least seven people have been reported killed, and there are fears the number could be higher.
"A number of our countrymen were wounded or martyred," Mousavi said in a statement on his website. "I ask the people to express their solidarity with the families … by coming together in mosques or taking part in peaceful demonstrations."
He repeated his call for "a new presidential election that will not repeat the shameful fraud from the previous election".

(Excerpt) Read more at guardian.co.uk ...
---
TOPICS: Extended News; Foreign Affairs; News/Current Events; War on Terror
KEYWORDS: iran; iranviolence2009; mousavi; studentmovement; tweeter
---
---
---
---
---
---
---
---
---
---
---
---
---
---
---
---
---