---
Iran elections: Khamenei warns protesters to stay off streets
guardian.co.uk, ^ | Friday 19 June 2009 11.15 BST | Haroon Siddique


Posted on 06/19/2009 3:52:51 AM PDT by Ernest_at_the_Beach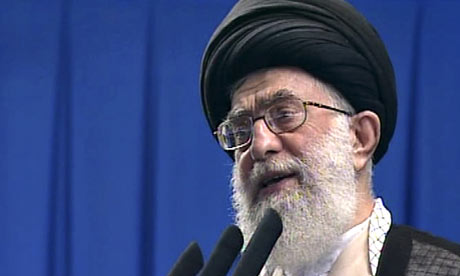 Iran's supreme leader, Ayatollah Ali Khamenei, giving his Friday prayer sermon at Tehran University. Photograph: Reuters TV/Reuters
Iran's supreme leader, Ayatollah Ali Khamenei, remained defiant today in the face of vote-rigging allegations as he condemned the protests that have rocked the country since last week's disputed elections.
Speaking at Friday prayers, Khamenei claimed that the high turnout at the elections showed how much the Iranian people supported the regime, and warned protesters to keep off the streets.
The reformist presidential challenger, Mir Hossein Mousavi, was conspicuous by his absence from Friday prayers at Tehran University, where Khamenei was making his first public appearance since controversially endorsing Mahmoud Ahmadinejad's election as president.
With the crowd chanting "Death to the US," Khamenei praised the president as "hardworking" and dismissed the idea that the election might have been rigged.
"The Islamic republic will never manipulate votes and commit treason," he said. "The legal structure in this country does not allow vote-rigging." He said that vote-rigging to the extent of the 11m votes in the official results was impossible.
He added: "If some people have doubts and evidence it should be dealt with through legal ways – only through legal ways. I will never accept illegal innovations."
Some followers of Mousavi, who support his claim to have won the election, had called for a boycott of prayers at the university because of the refusal to annul the result of the poll, but TV pictures showed thousands of people listening to Khamenei and occasionally chanting affirmation of his words.
Khamenei said people were "wrong" to think they could influence the establishment by taking to the streets.

(Excerpt) Read more at guardian.co.uk ...
---
TOPICS: Extended News; Foreign Affairs; News/Current Events; War on Terror
KEYWORDS: iran; iranviolence2009; khamenei; studentmovement
---
Navigation: use the links below to view more comments.
first 1-20, 21-40, 41-57 next last
---
---
---
---
---
---
---
---
---
---
---
---
---
---
---
---
---
---
---
---
---
Navigation: use the links below to view more comments.
first 1-20, 21-40, 41-57 next last
---
---