---
AP, Reuters Go Full Tilt in Spinning Latest Writing of Pope
NewsBusters.org ^ | 7/7/2009 | Matthew Balan


Posted on 07/07/2009 6:12:03 PM PDT by Pyro7480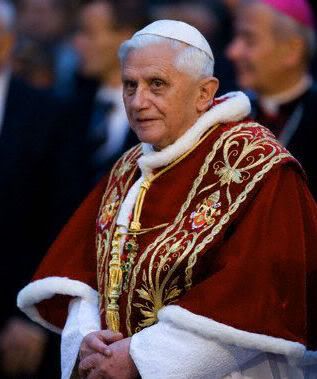 Two major wire services- AP and Reuters- cherry picked excerpts from Pope Benedict XVI's latest encyclical (a teaching document of the Catholic Church) on Tuesday to support left-wing economic and political positions, and all but ignored the pontiff's traditional stances on the family, bioethics, and the environment. The AP also went so far to bring up "the state of the Vatican's own [financial] books."
Both Philip Pullella, who regularly writes about the Pope and the Vatican for Reuters, and the AP's Nicole Winfield zeroed in on paragraph 67 of the encyclical, which is titled "Caritas in Veritate," or "Charity in Truth," which was released was signed by the Bishop of Rome on June 29, and released on Tuesday. In this paragraph, to use Pullella's lede, "Pope Benedict…called for a 'world political authority' to manage the global economy."
...While Pope Benedict did call for a "world political authority" and a "reform of the United Nations," both authors (not to mention spectators on the left and the right) missed the context of this call....
Earlier in the document, in paragraph 57, Benedict forwarded the principle of "subsidiarity," which has a clear meaning in Catholic social teaching. According to the Catechism of the Catholic Church, "the principle of subsidiarity is opposed to all forms of collectivism. It sets limits for state intervention...." The pope applied this in the context of the theme of the encyclical:

Subsidiarity is the most effective antidote against any form of all encompassing welfare state….In order not to produce a dangerous universal power of a tyrannical nature, the governance of globalization must be marked by subsidiarity....
(Excerpt) Read more at newsbusters.org ...
---
TOPICS: Business/Economy; Culture/Society; Extended News; News/Current Events
KEYWORDS: anticatholicbias; ap; assininepress; benedictxvi; businessasusual; catholic; msm; pope; reuters; spinspinspin
---
Navigation: use the links below to view more comments.
first 1-20, 21-40, 41-60, 61-67 next last
---
---
---
---
---
---
---
---
---
---
---
---
---
---
---
---
---
---
---
---
---
Navigation: use the links below to view more comments.
first 1-20, 21-40, 41-60, 61-67 next last
---
---