---
Walter Reed FReep 220 & 221 - July 3 & 10, 2009 - Sign Rules
July 14, 2009 | Tom the Redhunter


Posted on 07/14/2009 4:34:15 PM PDT by Tom the Redhunter

big>July 3

On the downside the breeze was too strong for us to deploy the MOAB. On the upside it made for a very pleasant evening. By 9pm it was positively chilly, so maybe the "climate change" the lefties are talking about nowadays is really global cooling. You've noticed how they've dropped "global warming" in favor of "climate change?" A subtle but important point, as it would seem to me they've conceded the debate but can't stop the train they've set in motion.

Tom the Redhunter, Fraxinus, Kburi, Cindy-True-Supporter, RonGKirby, Mr & Mrs Trooprally, Tolerance Sucks Rocks, Jimmy Valentine's Brother, 3DJoy, 3DJoy's grandson, and Lurker Bill.

There's a new colonel in charge of... something, I'm not really sure of his command. He's not the base commander because I'm sure that's a two star position, but one of his duties is apparently perimeter security. He took a look at the rules and they say that protesters of whatever ideology cannot conduct their activities on base property, which means attaching anything to the fence. Long story short we had to move one of the signs that we'd affixed to the fence by the main gate.

We're all about obeying the law, so when he told us to move one of our signs it was no problem.

The colonel was a nice guy and came out and spoke with us through the fence. He has to enforce the law fairly and evenly, and that's the way it should be. There wasn't any doubt as to his sympathies, however!

One thing he noticed in his short time was that cars who honked for us first then also honked for the Pinkos down the street. His observation, seconded by us, was that drivers saw the Pinkos and assumed that they were with us. When you're driving you don't read small signs or their message doesn't register until after you've laid on the horn.

I don't know that you can really see it in this photo, but we used to attach part of this sign to the fence. Mr Trooprally devised a way to make it free standing so we're all set.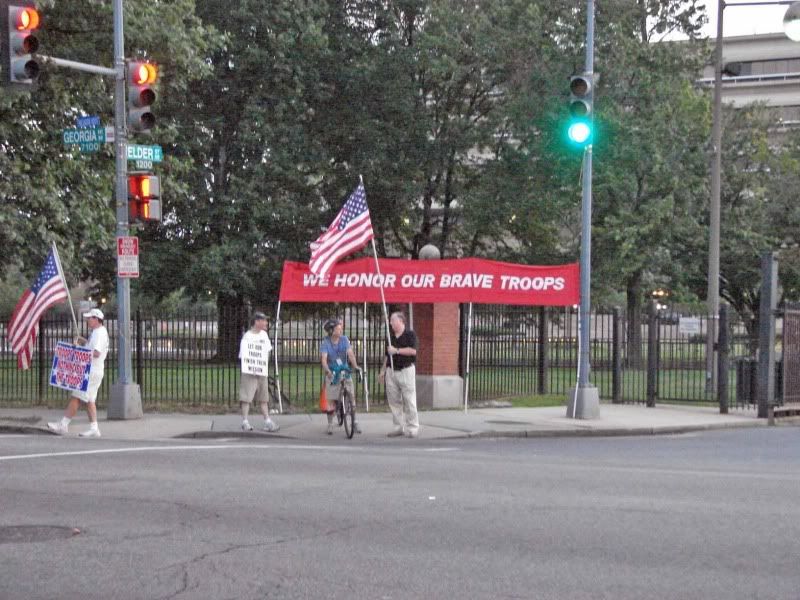 The Pinkos down the street were also in violation, but in a different way. Their area consists of a semicircle, part of which goes into base property. They have gotten used to placing some of their signs in the area that is federal property. You can see it in this photo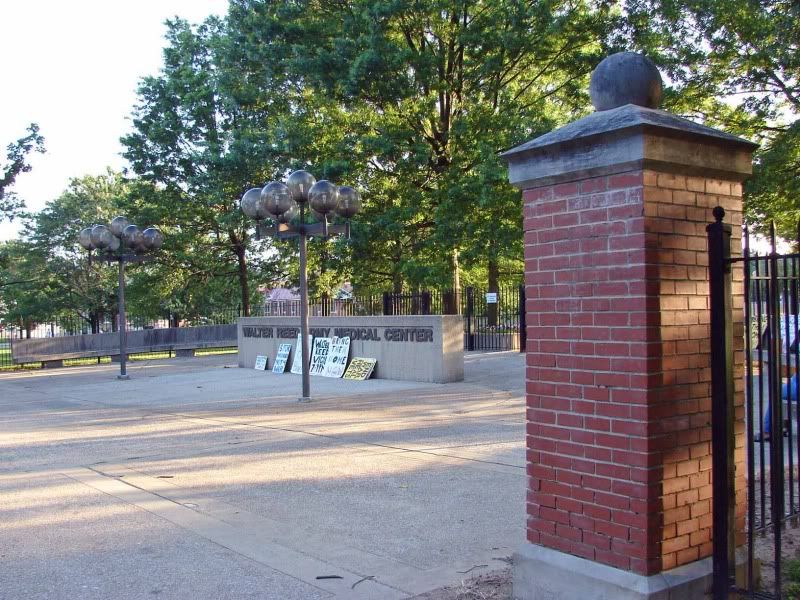 The base police went to talk with them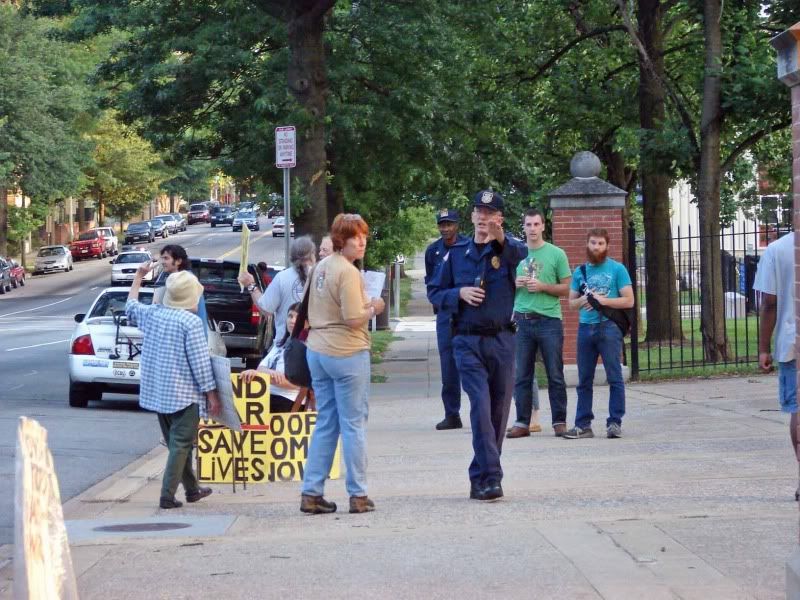 They moved their signs, but then later we noticed that they'd moved them back. Mrs Trooprally or one of our number called the base police again but I'm not sure if they came or not. I think though that this is going to be an issue for the next few weeks,so stay tuned.
Here's JVB, myself, and Lurker Bill on the opposite corner from the main entrance. Note how JVB has his "pirate look" going with the bandana and unshaven face! He was quite the sight.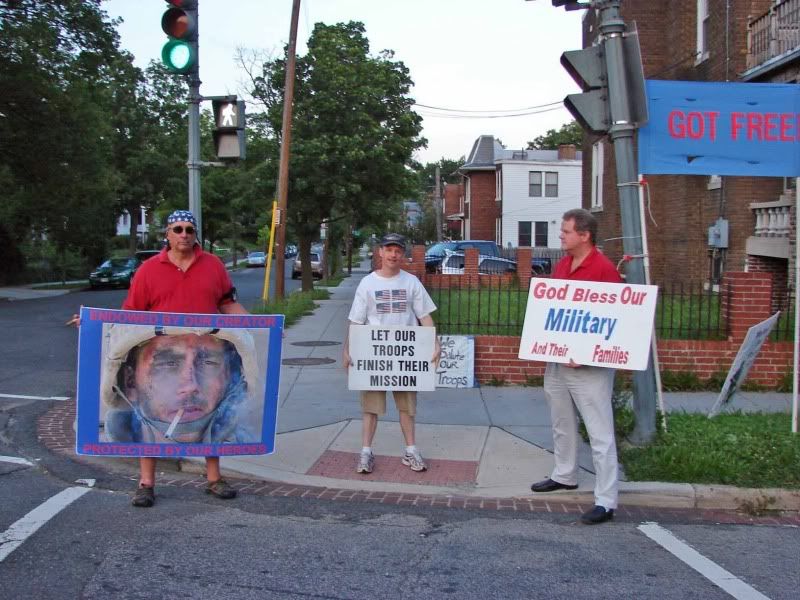 Looking much more respectable are 3DJoy, Cindy-True-Supporter, 3DJoy's grandson, and Tolerance Sucks Rocks.
As always a few soldiers came out and spoke with us. One of them was on a Segway, which is a pretty good way to get around when you're missing a leg and sure beats a wheelchair for long distances.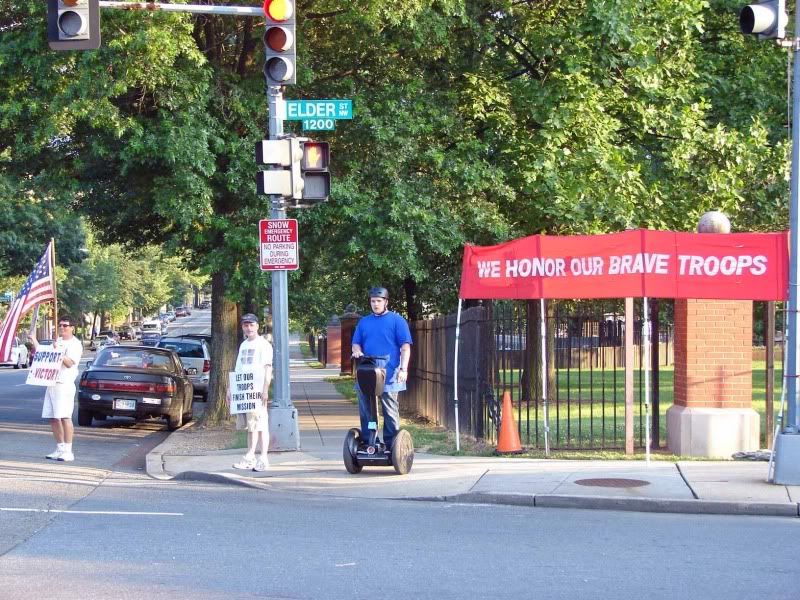 July 10
I wasn't there, but Mrs. Trooprally sends this report
One word: CodePink. I guess they did not like the Police telling them to remove the signs so they brought reinforcements. Gail Murphy's Lover and Luke and Princess were some of the attendee's . They ended up with 12 and we had 7. Quiet night until Princess showed up at the end to tell Mr T something. These people are pathetic.
Succinctness is a virtue. Here are some of her photos
VictoryNY, one of our more enthusiastic volunteers!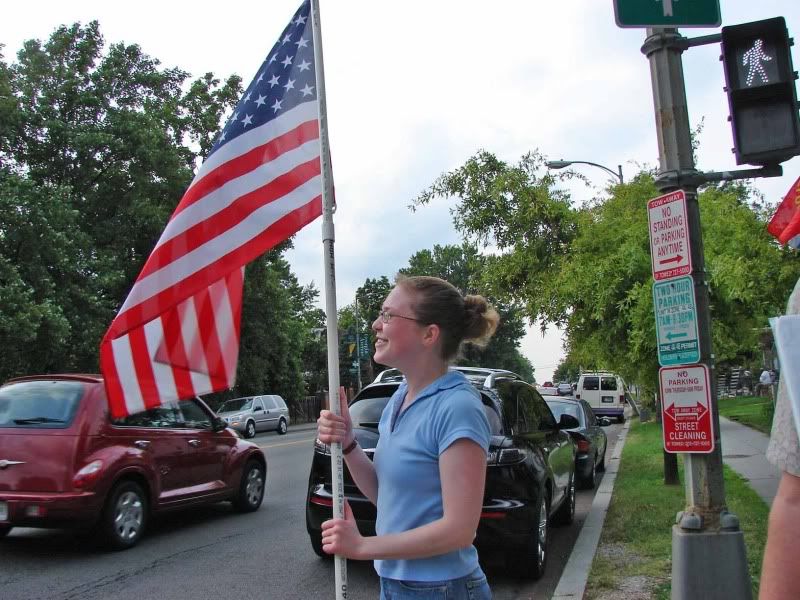 The loons down the street: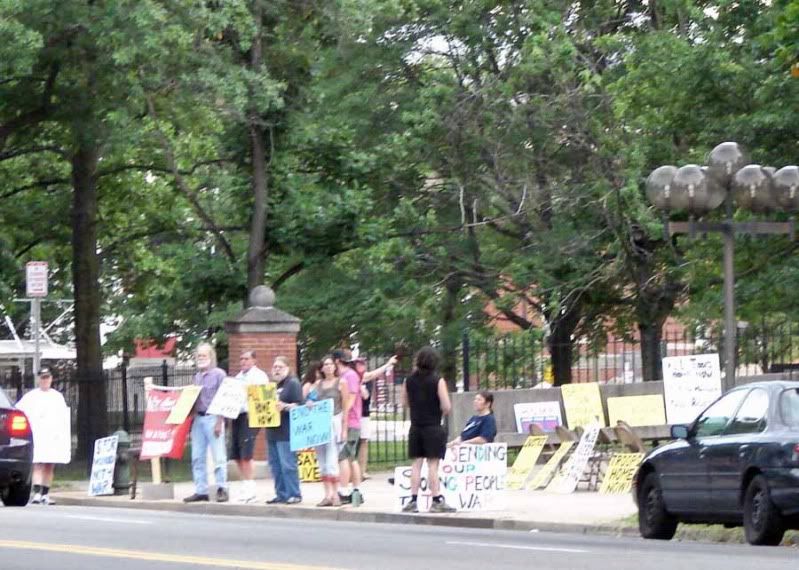 The troop bus, what it's all about: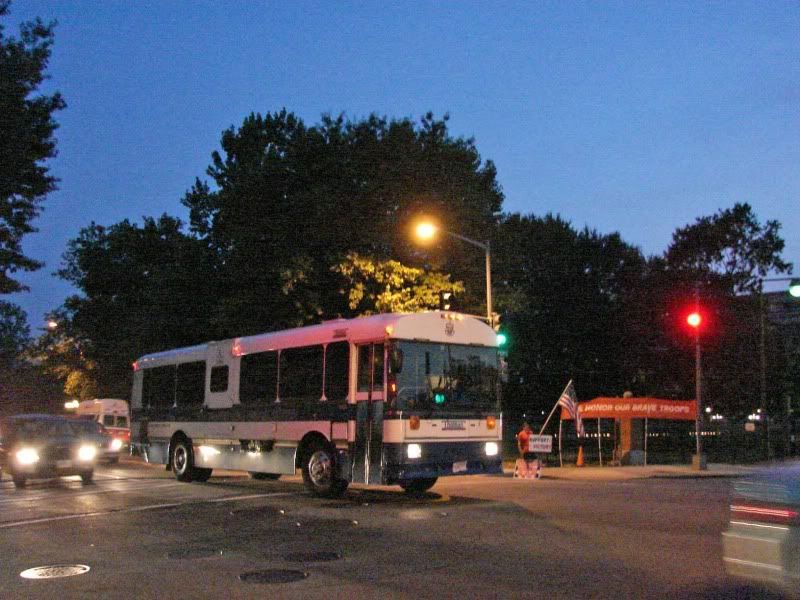 ---

If you can't get to D.C. to join us but would like to do something for the wounded, you can find a wealth of ideas by FReepmailing Tom the Redhunter, Cindy-True-Supporter, VAFlagwaver, or PleaDeal.

Please also FReepmail them or any of us if you would like to join us at Walter Reed and would like additional information about parking, directions, what to bring, etc.

Come join us every Friday night between the hours of 6:30pm to approx 9:30pm.

Directions to our Walter Reed freep location from the Takoma Metro station

* You can find all of Mrs Trooprally's photos for July 3 Freep on her Photobucket site. and here for July 10.

* Thank you to BufordP for maintaining the BIG LIST of all Walter Reed FReeps.

* Thank you to all FReepers who transport and store our many signs and banners every week.

* Tom the Redhunter blogs at The Redhunter

* Plea Deal blogs at Semper Gratis

---
TOPICS: Activism/Chapters; US: Maryland
KEYWORDS: aar; codepink; reed; walter; walterreed
---
---
---
---
---
---
---
---
---
---
---
---
---
---
---
---
---
---
---