---
What If Obama Really Was Born in Kenya?
Slate ^ | August 3, 2009 | Brian Palmer


Posted on 08/04/2009 3:21:40 AM PDT by Zakeet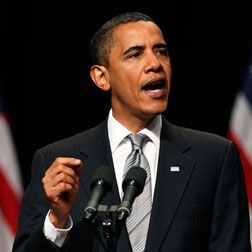 Despite a congressional resolution affirming President Obama's U.S. birth and a reaffirmation of his birth certificate's authenticity from Hawaiian officials, media outlets continue to air frivolous allegations that the president was born in Kenya, rendering him ineligible for the presidency. Let's pretend, for just a moment, that the birthers had credible evidence that Obama was foreign-born. Then what would happen?
Resignation, impeachment, or nothing. If Obama stood his ground, and Congress stood by him, then the only way to legally remove him from office would be for someone to sue. Problem is, no one would have standing to bring such a lawsuit. To establish standing, a plaintiff must show that he has suffered an injury personal to him, that the defendant caused the injury, and that the court could provide a remedy. That turns out to be an impossible task.
Average citizens could not show a personalized injury because Obama's allegedly illegitimate presidency would impact everyone in roughly the same way. Courts invariably dismiss such claims, like the 1937 case alleging that Justice Hugo Black was ineligible to serve because as a member of Congress he had voted to increase the justices' salaries. Even membership in much smaller aggrieved groups generally doesn't work. The Supreme Court rejected a suit brought by parents of African-American children challenging the IRS's lax enforcement of anti-discrimination laws and another by legislators who claimed their voting rights were diluted by the line-item veto. In both cases, the communal nature of the injury precluded standing. Thus the lawsuit of Army Maj. Stefan Cook, who argued that his pending deployment to Afghanistan by an illegitimate president constituted a particularized injury, was doomed to failure. (The case was mooted when the Pentagon canceled his deployment.)

(Excerpt) Read more at slate.com ...
---
TOPICS: Constitution/Conservatism; Crime/Corruption; Extended News; News/Current Events
KEYWORDS: birthcertificate; birther; kenya; obama
---
Navigation: use the links below to view more comments.
first previous 1-20, 21-40, 41-60, 61-80 ... 261-263 next last
---
---
---
---
---
---
---
---
---
---
---
---
---
---
---
---
---
---
---
---
---
Navigation: use the links below to view more comments.
first previous 1-20, 21-40, 41-60, 61-80 ... 261-263 next last
---
---