---
Heartfelt thanks; visiting 9/11 family members thank troops at Gitmo
911FamiliesForAmerica.org ^ | August 4, 2009 | TIm Sumner


Posted on 08/05/2009 5:23:53 AM PDT by Sergeant Tim
For some service members, serving at Joint Task Force Guantanamo is one more chapter in the book they call life. For others, the significance of the mission holds a deeper meaning -- more personal -- especially for service members who have lost friends, loved ones or know someone affected by the attacks on Sept. 11, 2001.
For the Soldiers of the 189th Military Police Co., the mission became more personal when family members of September 11 attack victims, visiting Guantanamo during the recent military commissions proceedings, made a special effort to say "thank you," and convey gratitude, face to face, for a job well done.
"I started talking with [Army Capt.] Chaplain [Scott] Brill last night and he was talking about the guards," explained Gordon Haberman, who lost his daughter Andrea during the World Trade Center attack. "I thought we should meet them to thank them ourselves, they're the ones who deal with the [detainees] every day; we can go home at night and forget about them."
With the idea firmly planted, it only took a few phone calls to set the wheels in motion. That evening, the 189th MP Co. stood tall in formation at Cooper Sports Complex instead of Windmill Beach, where they typically conduct physical fitness training, awaiting the hand-shakes, hugs and words of gratitude from the visiting family members.
"It felt great to meet the families," said Army Sgt. Justin Garner, a guard with the 189th MP Co. "I feel like we're generally looked down upon by America, and we don't get a lot of positive media coverage, so for [the families] to come down here, see us, say thank you, and let us know that we're not bad people, it is helpful for the service members' [morale]."
Garner expressed his heartfelt appreciation for the visit, as did many of the Soldiers of the 189th MP Co.
"It was the most clenching experience I've ever had, [I felt it] in my heart, my whole body," said Pfc. Lucas Morian, another guard with the unit. "It was a very emotional experience."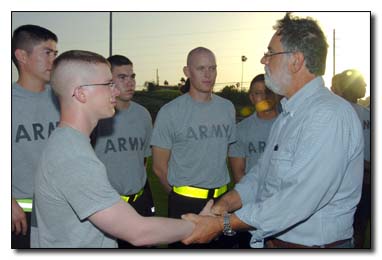 JTF Guantanamo photo by Army Staff Sgt. Emily J. Russell
For Gordon Haberman [who lost his daughter Andrea in the World Trade Center] and many of the other visiting family members, the experience was sobering as well as they gazed into the young faces that provide safe, humane, legal and transparent care and custody of the detainees, with utmost professionalism.
"Many of these guys here are young, 18 and 19 years old," Haberman said looking across the group of Soldiers after shaking many of their hands and saying thank you. "They were 11 and 12 [years old] when [Sept. 11, 2001] happened; some of them enlisted because [of it]. God bless them; this has got to be the toughest job."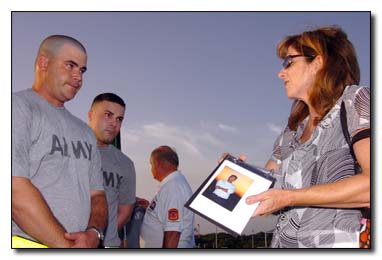 JTF Guantanamo photo by Army Staff Sgt. Emily J. Russell
Janet Roy, who lost her brother Capt. William F. Burke Jr., a firefighter from Engine 21, when the north tower of the World Trade Center collapsed, was honored to meet the Soldiers and be able to "put a face with her thoughts."
"We want [service members] to know we appreciate them and are thinking of them," Roy said. "We're told that everyone who works at JTF Guantanamo thinks of us and our family members. It's good for me to say, 'yes, I've met a [guard] in flesh and blood, and they are human beings too and they deserve to hear that their work is appreciated.'" For Roy, and many of the other victim family members, it was a surprise to hear service members tell them how much their presence and words of thanks meant. "I stumble when people say, 'I'm honored to meet you, and we're doing this for you,' because to me the honor is for me to give, not to receive," Roy said. "The respect and honor that the service members have shown me goes both ways. They give [of themselves] and put others ahead of [them which] is an extremely important character trait [people] have to develop. I think by the fact that these men and women are here; they've already learned that lesson.
"From the bottom of my heart, and on behalf of my family, thank you, Roy continued. "Thank you for letting us be part of your lives. It's important to me [because] when I go to sleep or when I pray for people I can envision [who I'm praying for]."
The time the Soldiers spent with the family members was brief, but left a lasting impression.
"For me it was very emotional," said Army 1st Sgt. Mark Tillman, the senior enlisted leader for the 189th MP Co. "It reminded me why I come to work every day. I spent a year in Iraq and have been stationed here for 16 months and sometimes, all we hear is the negative media coverage that is prevalent in the news. To have families come here and thank the Soldiers for what they do takes it all away. I saw Soldier's faces light up when I told them why we moved the location of [our physical fitness training], they had no idea that they were coming to talk with them. I believe that it was a real morale-booster to hear, 'thank you,' from those that were directly affected by the tragedy [of Sept. 11, 2001]."
--
Original story: Heartfelt Thanks, Story by Army Staff Sgt. Emily J. Russell, GUANTANAMO BAY, Cuba (July 20, 2009), JTF Guantanamo Public Affairs

---
TOPICS: Culture/Society; Government; News/Current Events; War on Terror
KEYWORDS: 911; 911families; detainees; gitmo; gratefulnation; guantanamo; military; september11; supportourtroops; troops; usarmy; waronterror; wot
---
---
---
---
---
---
---