---
To: All
From Jeff Head's website...
One notable quote from [James] Cone describing his Black Liberation Theology is as follows:
"Black theology refuses to accept a God who is not identified totally with the goals of the black community. If God is not for us and against white people, then he is a murderer, and we had better kill him. The task of black theology is to kill Gods who do not belong to the black community ... Black theology will accept only the love of God which participates in the destruction of the white enemy. What we need is the divine love as expressed in Black Power, which is the power of black people to destroy their oppressors here and now by any means at their disposal. Unless God is participating in this holy activity, we must reject his love." - "Divine Racism: The Unacknowledged Threshold Issue for Black Theology", in African-American Religious Thought: An Anthology, by William R Jones, ed Cornel West and Eddie Glaube (Westminster John Knox Press).
http://www.jeffhead.com/blacklibtheology.htm
African American Religious Thought: An Anthology (Paperback)
by Cornel West (Editor), Eddie S. Glaude Jr. (Editor)
http://www.amazon.com/African-American-Religious-Thought-Anthology/dp/0664224598
_______________________________________________________
HANNITY: But Reverend Jeremiah Wright is not backing down and has not for years and in his strong stance on the teaching of black liberation theology is nothing new. He had the same things to say last spring when he appeared on "Hannity & Colmes:"
WRIGHT: If you're not going to talk about theology in context, if you're not going to talk about liberation theology that came out of the '60s, systematized black liberation theology that started with Jim Cone in 1968 and the writings of Cone and the writings of Dwight Hopkins and the writings of womynist theologians and Asian theologians and Hispanic theologians, then you can't talk about the black value system.
HANNITY: But I'm a — reverend
WRIGHT: Do you know liberation theology, sir?
http://www.foxnews.com/story/0,2933,354158,00.html
________________________________________________________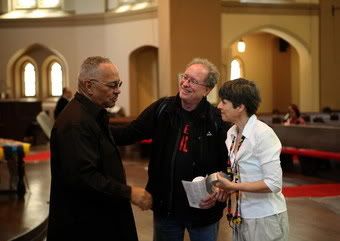 Rev. Dr. Jeremiah Wright and Dr. William Ayers
are greeted by Rebekah Levin with the Committee
for a Just Peace in Israel and Palestine.
(Chuck Berman/Chicago Tribune / May 17, 2009)
http://www.chicagotribune.com/news/local/chi-ayers_wrightmay18,0,6689521.story
________________________________________________________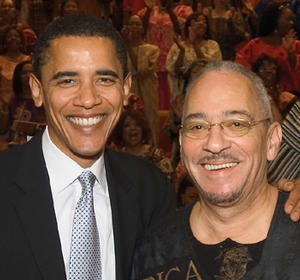 For all you'll ever need or want to know about
Wright's "Black Liberation Theology",
see my FR Home page:
http://www.freerepublic.com/~etl/

2
posted on
08/08/2009 7:06:10 PM PDT
by
ETL
(ALL the Obama-commie connections at my FR Home page: http://www.freerepublic.com/~etl/)
---
To: ETL
Thank you for being a member of FReeRepublic. Your posts are truly a joy. So much information, so well researched.
---
To: ETL
9
posted on
08/08/2009 7:24:19 PM PDT
by
A.A. Cunningham
(Barry Soetoro is a Kenyan communist)
---
To: ETL
This show totally creeped me out when it first aired. Scary stuff.
---
FreeRepublic.com is powered by software copyright 2000-2008 John Robinson