---
Kathleen Parker Calls Townhall Demonstrators 'Fringe' and Tax Protesters 'Teabaggers'
NewsBusters ^ | August 9, 2009 | P.J. Gladnick


Posted on 08/09/2009 10:26:17 AM PDT by PJ-Comix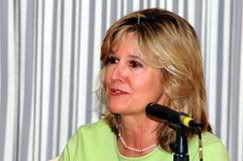 Kathleen Parker has an interesting little shtick.
Few noticed her when she was writing from a conservative point of view...until she started attacking conservatives about a year ago. Then she went whole hog and has made a lucrative new career of attacking conservatives...while still going through the motions of pretending to be conservative.
Parker's latest column on the topic of townhall protests is but the latest in her role of pretend conservative. Here is how "conservative" Parker refers to those protesters:
Generally considered a fringe group, the demonstrators have been described derisively by Democratic leaders. House Speaker Nancy Pelosi claimed that some were "carrying swastikas." Sens. Dick Durbin of Illinois and Chuck Schumer of New York have dismissed the protesters as irrelevant.
(Excerpt) Read more at newsbusters.org ...
---
TOPICS: Politics/Elections
KEYWORDS: gopbetrayal; gopcoup; gopfifthcolumn; kathleenparker; msm4romney; poison4gop; rino; rinopurge; romney; romney4obama; romneyantigop; romneyantipalin; romneybot4obama; romneystench; romneytreachery; shapeshifter; stenchofromney; threwelection2008; traitor4gop; vichyrepublicans
---
Navigation: use the links below to view more comments.
first 1-20, 21-40, 41-45 next last
---
---
---
---
---
---
---
---
---
---
---
---
---
---
---
---
---
---
---
---
---
Navigation: use the links below to view more comments.
first 1-20, 21-40, 41-45 next last
---
---