---
2-4-6-8-Who do the Moonbats Depreciate? Our Troops: Wk 187, Olney, MD 8-08-09 Op Infinite Freep
August 14,2009


Posted on 08/14/2009 7:52:43 AM PDT by trooprally

Hate to give these 8 moonbats top billing but their new signs and lack of another catchy title warrants it. Now I'm just warranting it, not guaranteeing it, so next week we should be back on track.

Yep, the moonbats are getting braver with their signs. Braver? Maybe just sheeply emboldened with Obambi leading the way.

And there were 8 of the "Quackers" out today BELOW. We had 8 also. For the last several weeks we've been out numbering them.

BELOW The moonbats' signs. "Impeach them both" is replaced by "Prosecute the Torturers". Ya, as if Obambi will go into China or Iran and bring out the torturers. And "Out of Iraq" has been replaced with "Cease Fire in Afghanistan", as if the Taliban will disarm their road side bombs. And the "Strength thru Peace" slogan meant as a reply to Cindy_True_Supporter's Peace thru Strength sign. Maybe the "Quackers" should conjure up Neville Chamberlain and see how well peace promoted strength. "Hands off Iran" - shouldn't that read "Iran - hands off your protestors"? And of course the "Quackers" have recently be promoting their Quaker Friends affiliation. I guess they want some of that 2 billion going to ACORN .
And then there was this idiot crossing the street against the red pedestrian light and not even looking. He came 'this close' to getting hit by a car. Guy BELOW looking like he's calling the police (they never showed up and the guy kept walking) to report that our flags covered the pedestrian walk signal.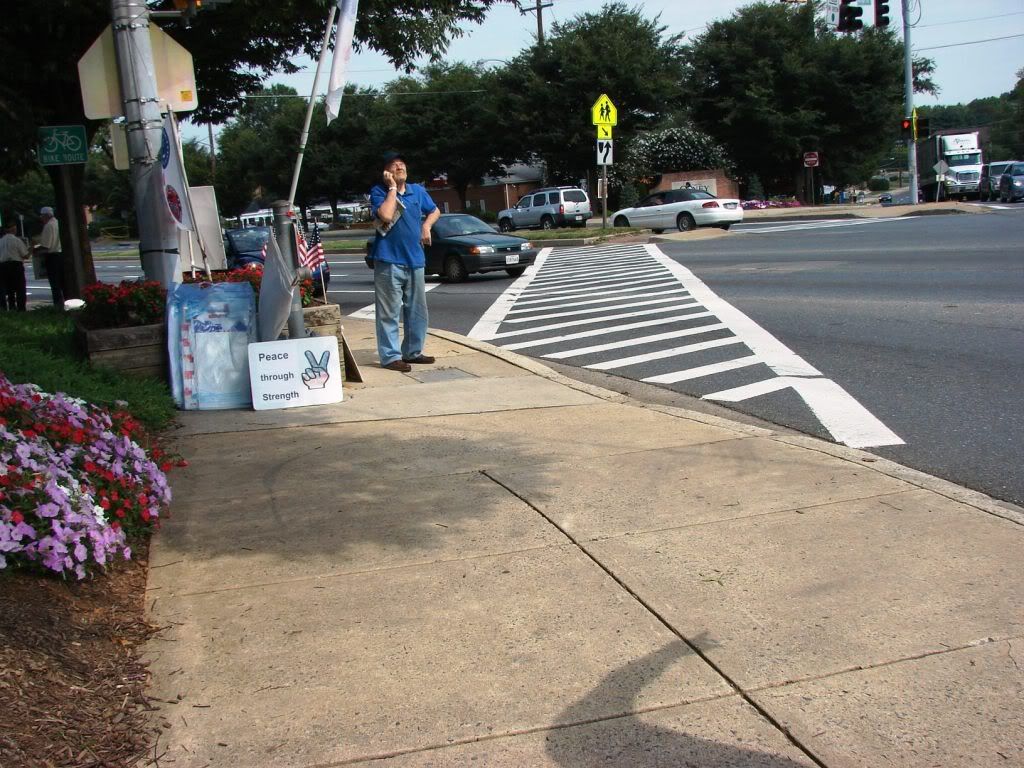 BELOW Pedestrian walk signal from across the street and then from the small center island where the idiot almost got hit. Good thing the guy didn't have a laptop - We would have been reported to Obambi's White House Enemys' list.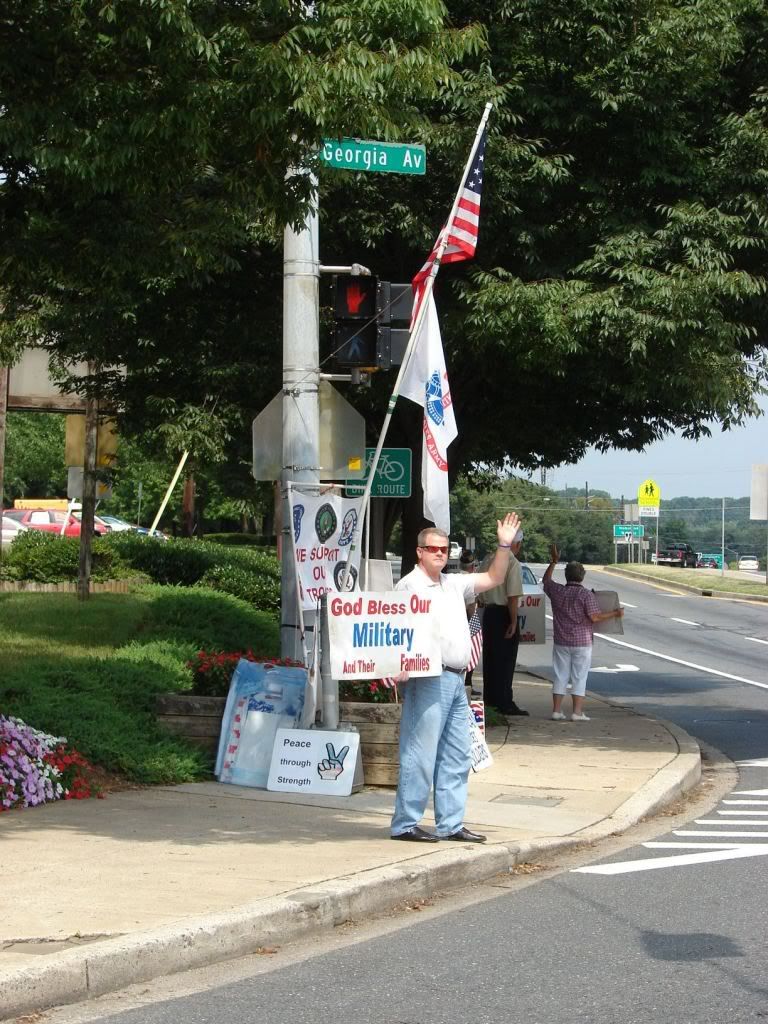 But enough of the moonbats and idiots. We had our 8 patriots who really do Our patriots this week included Glenn (USMC - WWII), Dave (Army - WWII) with friend Janet, Halsey (USMC - Korea) along with Lurker Bill, and FReepers Cindy_True_Supporter, [Mrs] Trooprally and myself.
Pics are once again by [Mrs] T. To get the few pics that I post in this thread, [Mrs] T takes about 75 pics, processes them down (this week to 44), and then I have to review all of them to pick out the best. Sometimes the title of the AAR doesn't solidify until I'm looking at the pics. This happened for the pics of our passing supporters.
BELOW LEFT: Legionnaires Dave and Halsey BELOW RIGHT: Legionnaire Glenn with Dave's gal. Sly old Marine, sneaking in on the Army.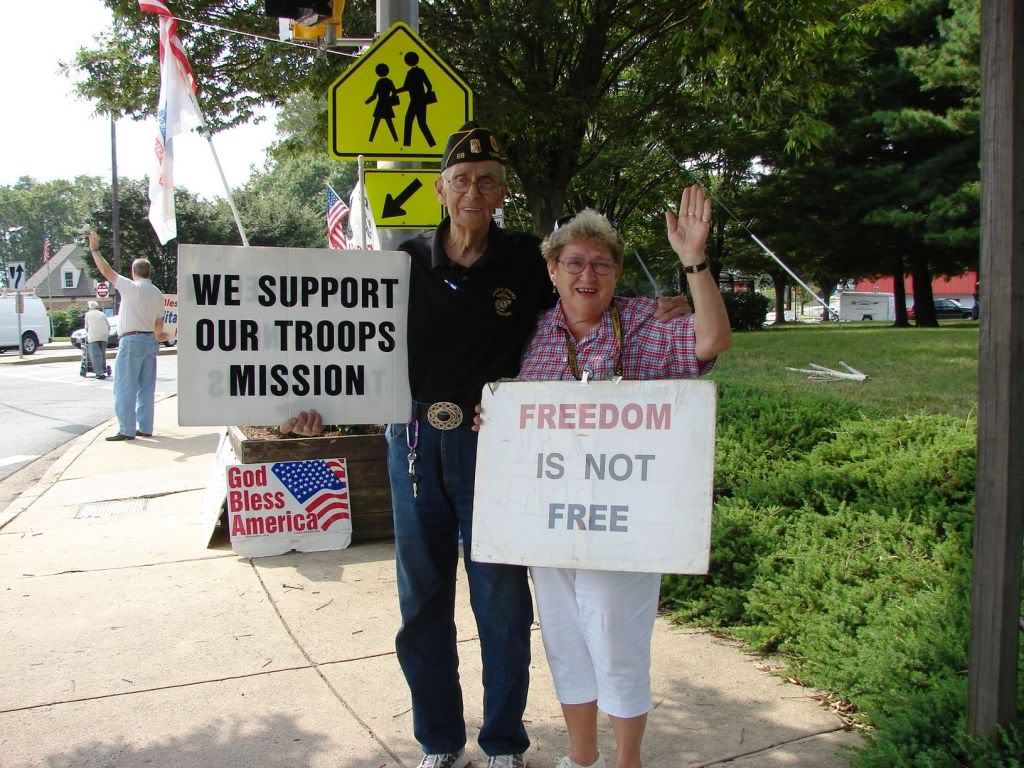 BELOW LEFT: Cindy_True_Supporter just enjoying being out there supporting our troops (and her Army son if I may add), with me in the back ground. BELOW RIGHT: And Lurker Bill also enjoying being out there.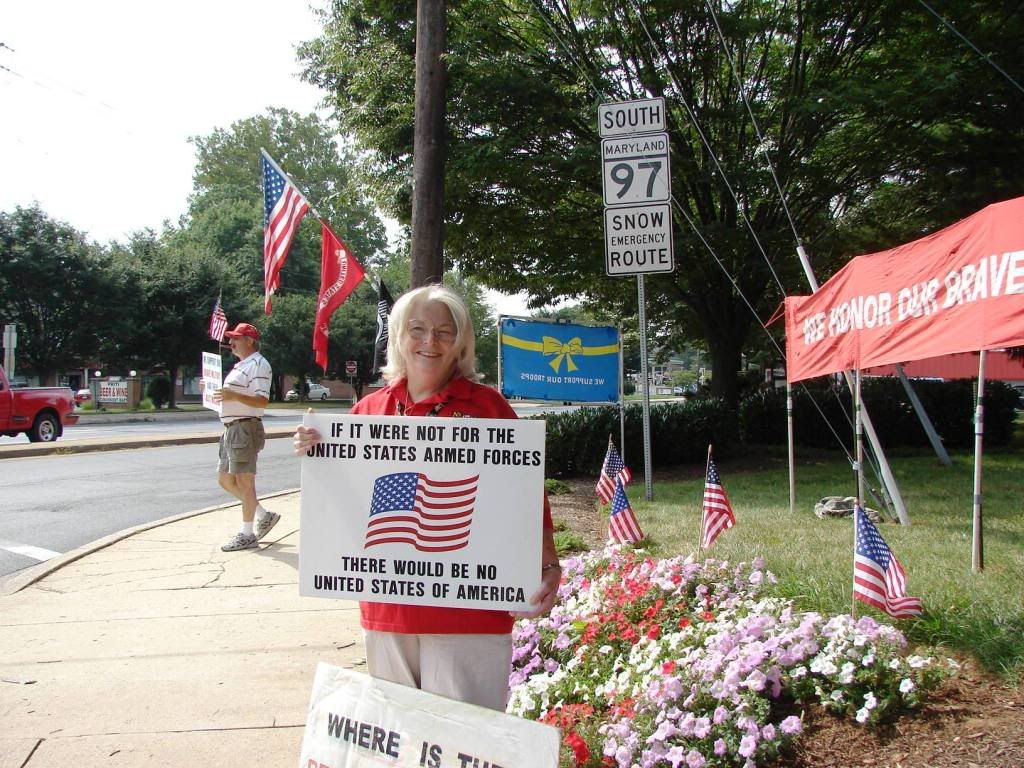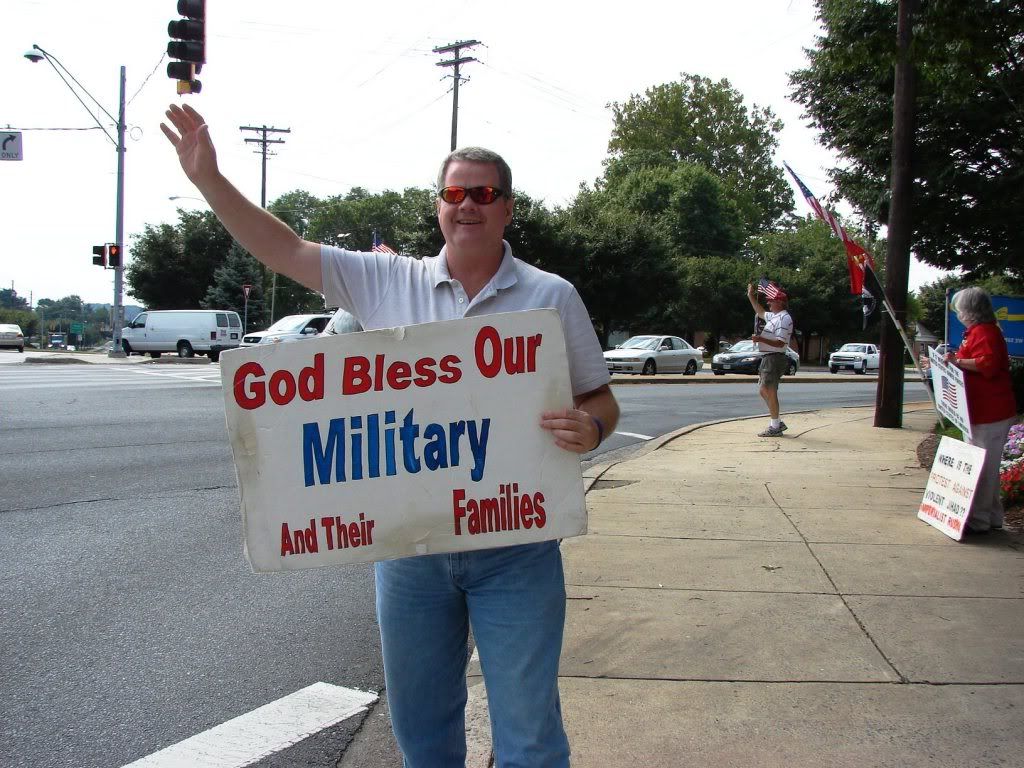 After reviewing the pics of our passing supporters I notice a theme. Most of the real good pics were from people in their SUVs and trucks. You know, the ones that Obambi is trying to take away from us with the Cap 'n Trade bill.
1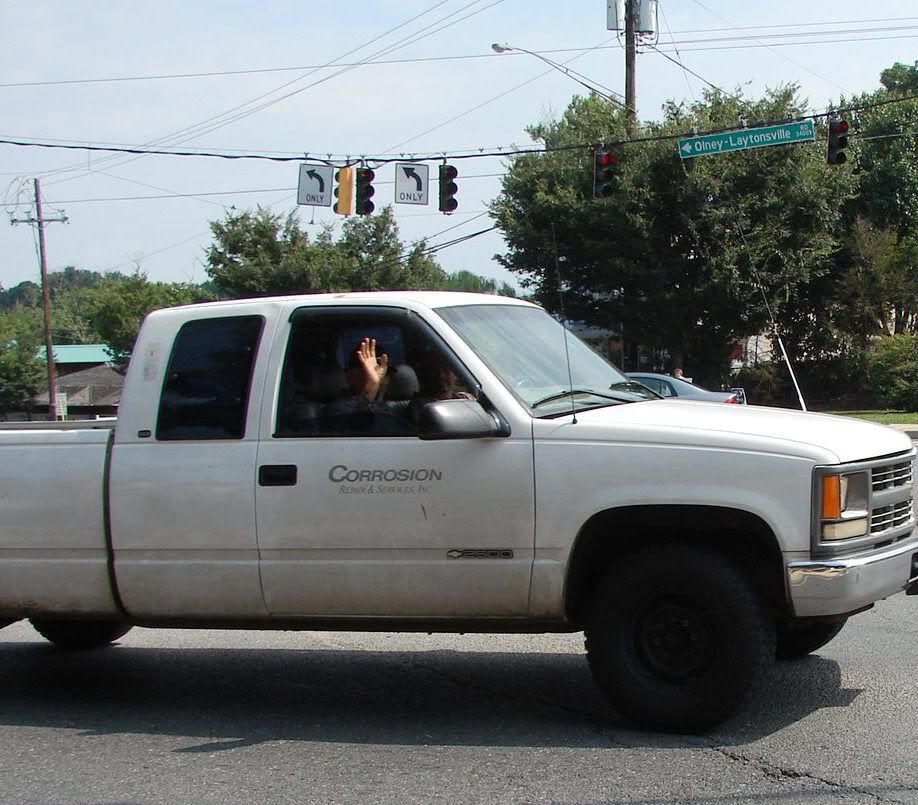 2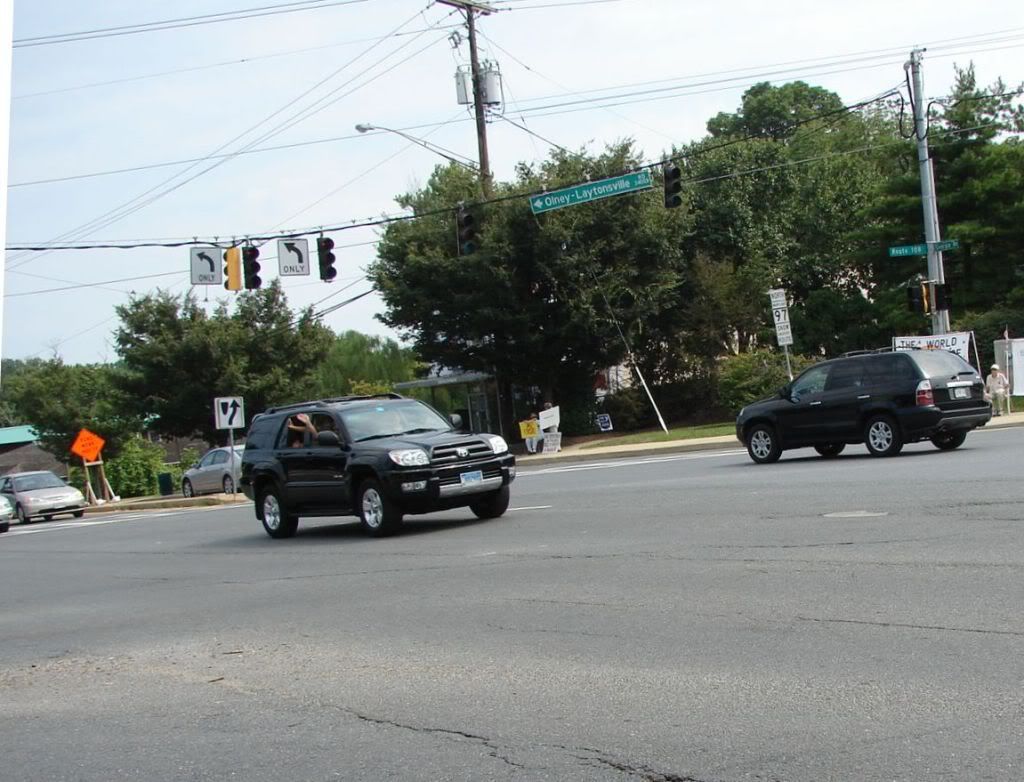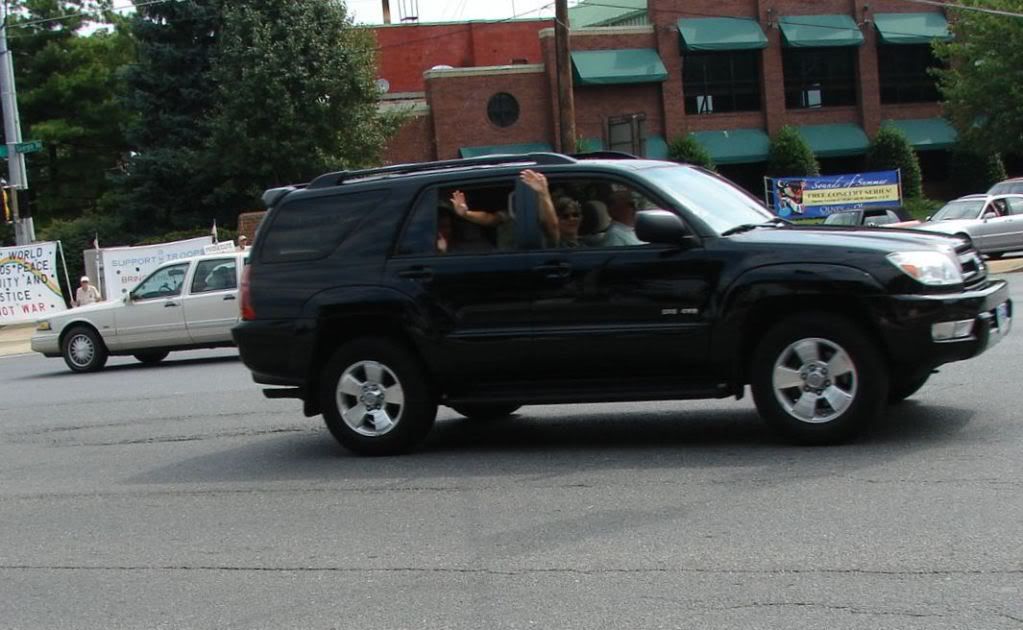 3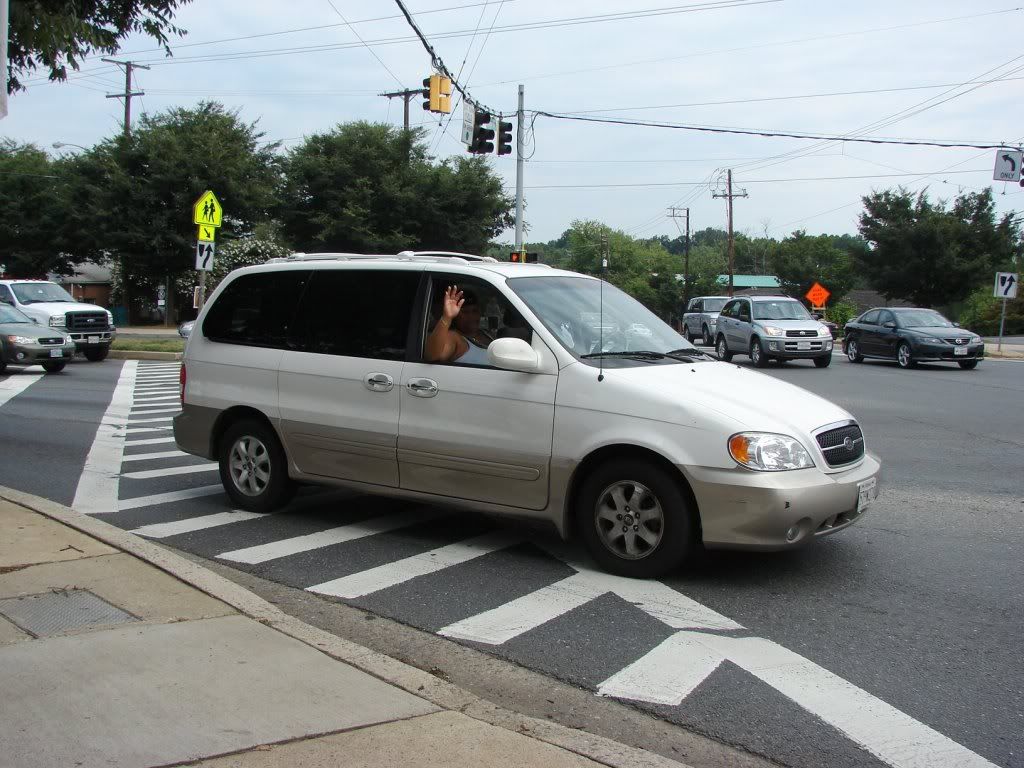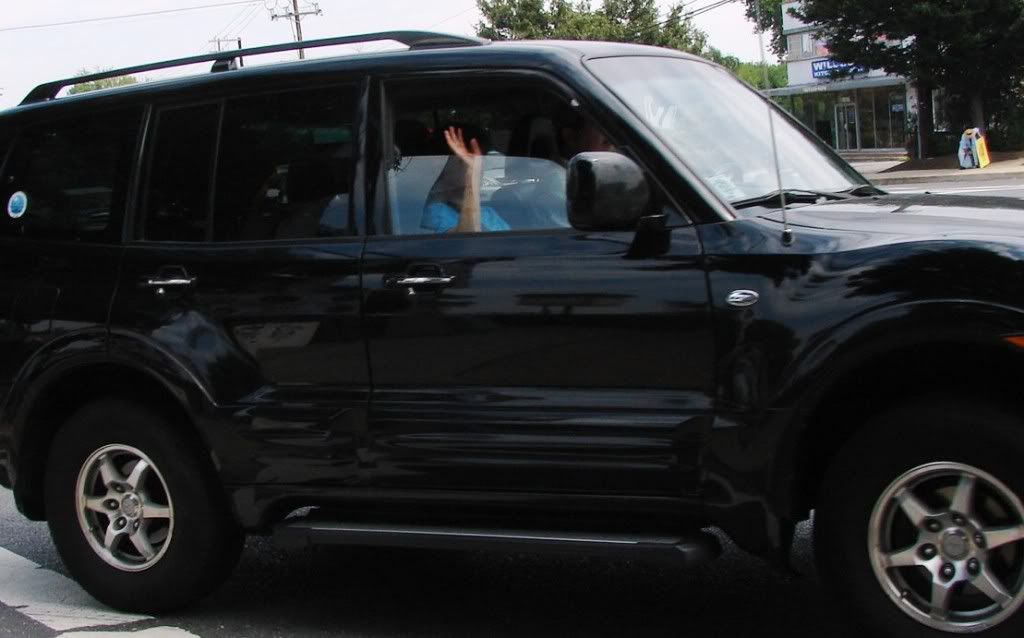 4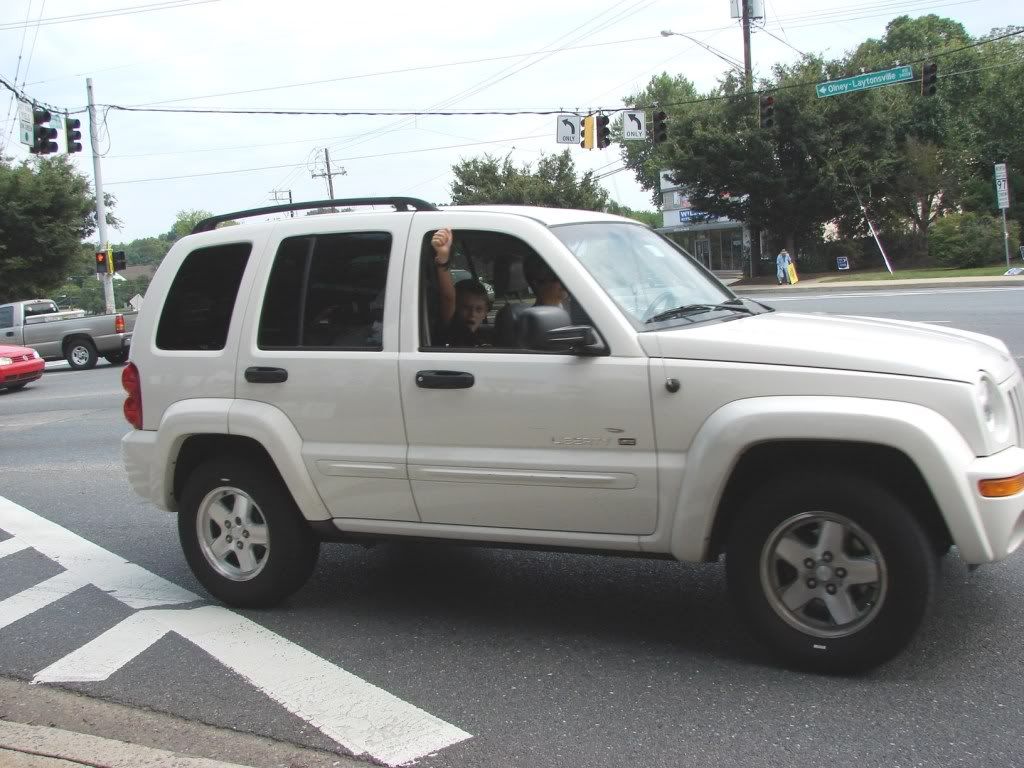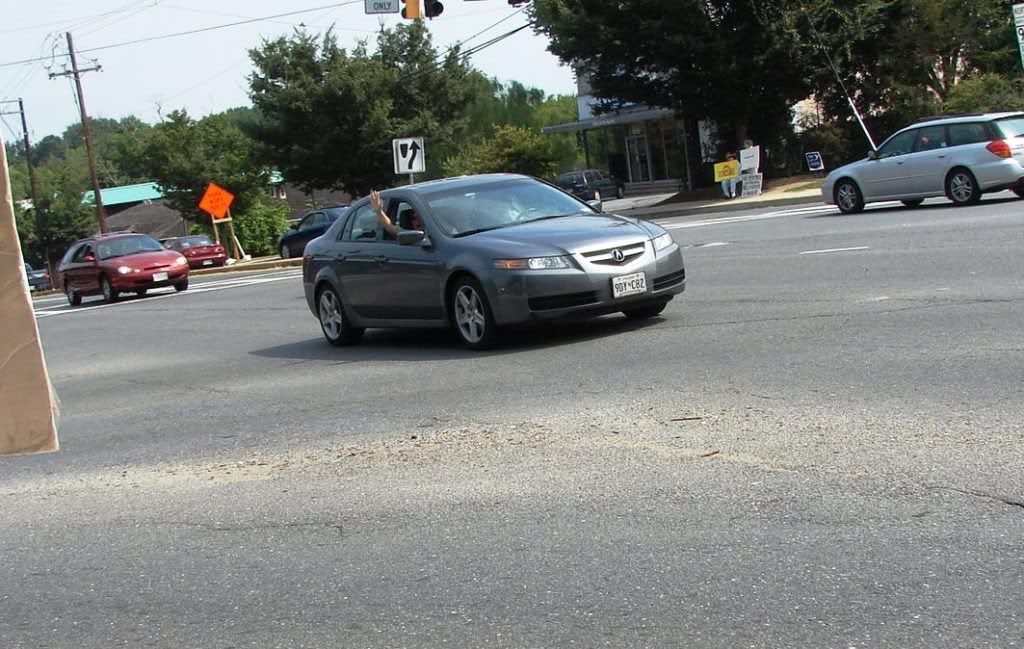 5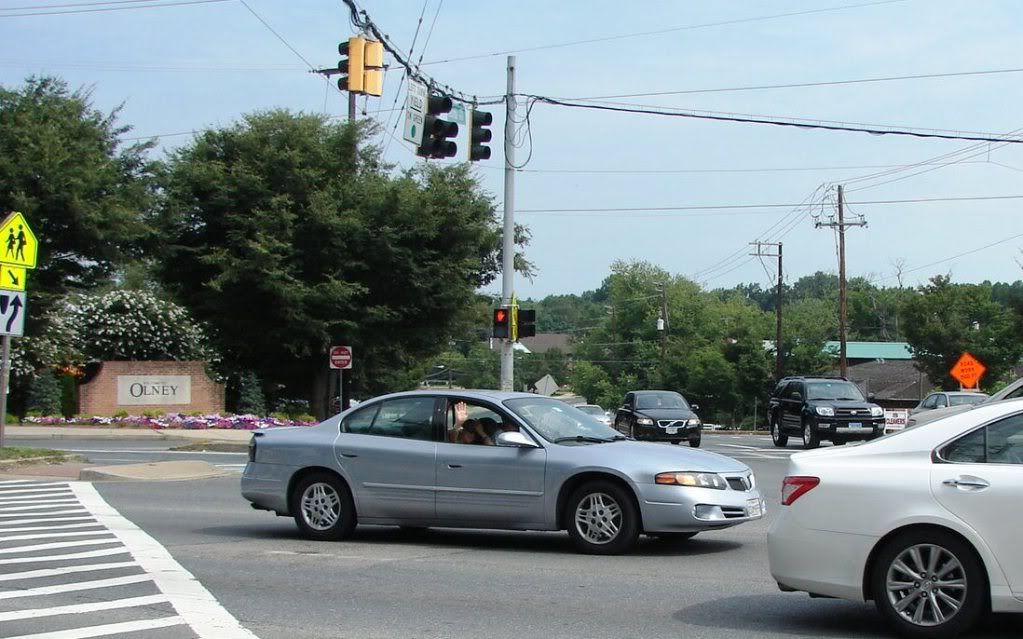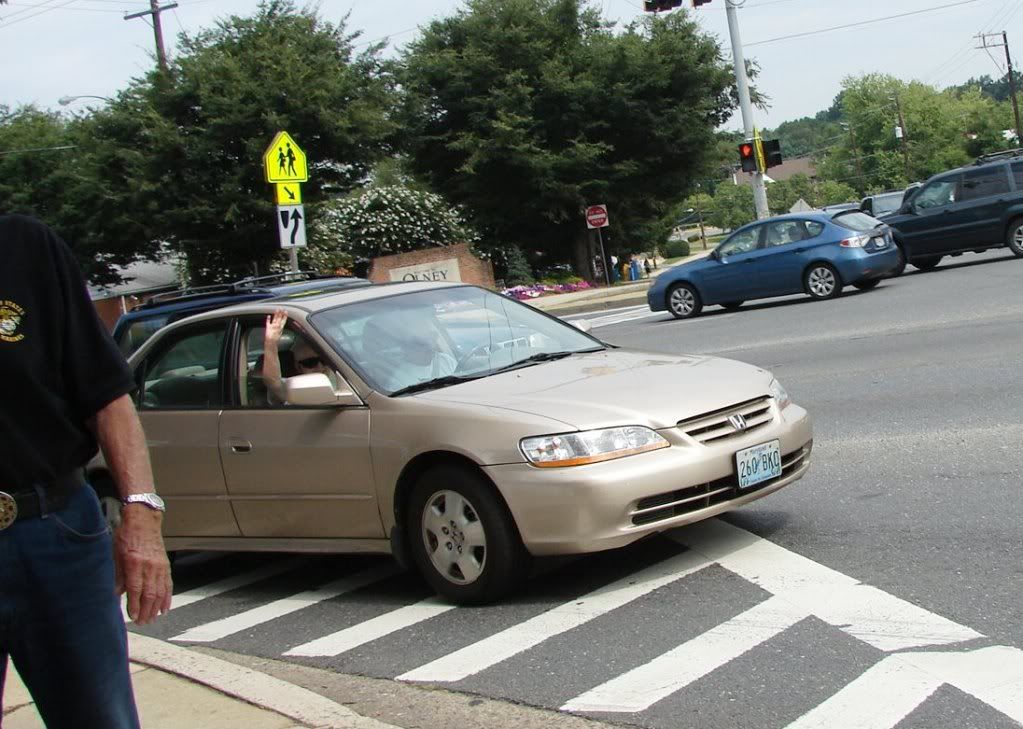 And then the "dog days of August"BELOW came by. Kinda reminds me of this Dog Smarter than Liberal video I received from a nephew. Of course the original was in an Eastern Shore (hint - conservative part of the I'm-more-liberal-than-California State of Maryland) newspaper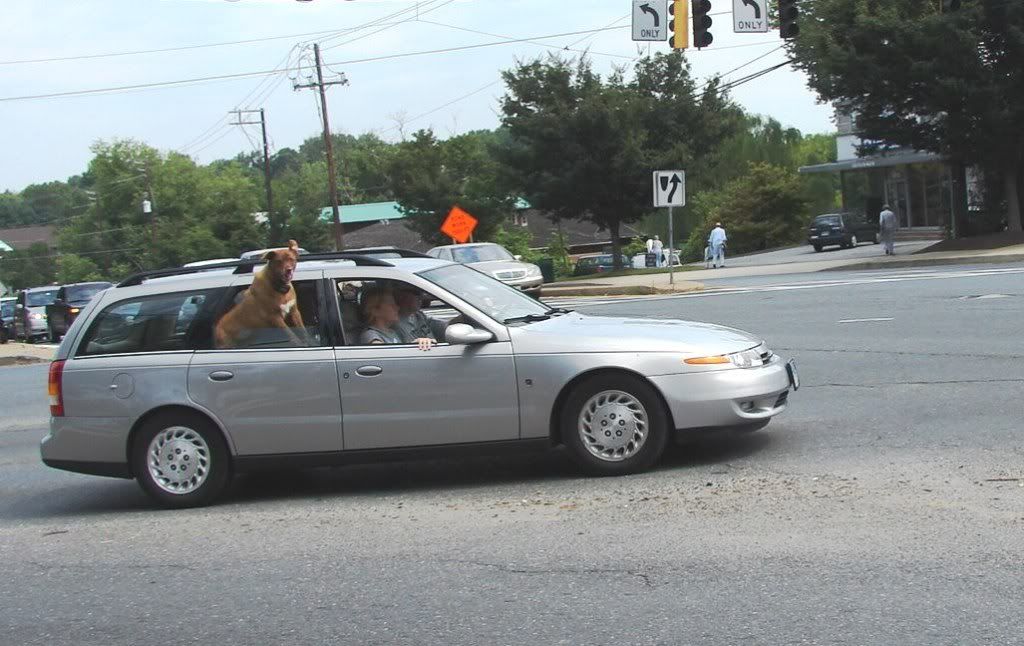 WARNING TO FREEPERS ATTENDING OLNEY
Some new money making have been installed on north bound Georgia Avenue right before you enter the main business district. Slow your speed after the light at King William Drive.
And a new one has been placed just south of Brookeville, between Brookeville and the Longwood Community Center.




REMEMBER
Next Saturday, same place, Georgia Avenue, MD Rte. 97 and MD Rte. 108 in Olney
NEW TIME - 10:15 AM to 11:45 AM


As always, the D.C. Chapter's rules for protesting will be in effect. Briefly, they are: No violence, no profanity, no racism, no provocations, obey the law and treat all law enforcement officers with respect.
But a lot of verbal engagement in Olney is always welcome.

---
TOPICS: Activism/Chapters; Free Republic; US: Maryland; US: Virginia
KEYWORDS: aar; mobilizingmothers; opinfinitefreep; peaceactionmc; quakers; supportourtroops
---
---
---
---
---
---
---
---
---
---
---
---