---
Walter Reed FReep 230 - September 11, 2009 - The Big 2009 9-11 FReep
September 14, 2009 | Tom the Redhunter


Posted on 09/14/2009 6:08:45 PM PDT by Tom the Redhunter

Last Friday, September 11 2009, somewhere around 500 patriots gathered outside of Walter Reed Army Medical Center in Washington DC. It was the largest number of people that we have had there since Free Republic started holding vigils there in early 2005. Certainly also a lot more than the dozen or so we usually get on a Friday night!

I am just going to go straight off to the photos you are interested in the most; the ones from when the crowd was at it's maximum: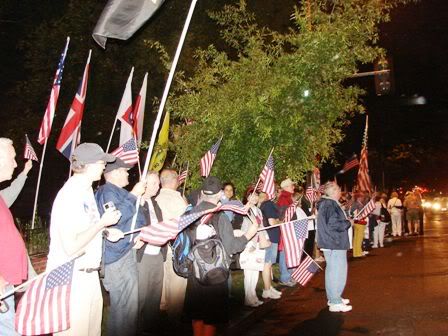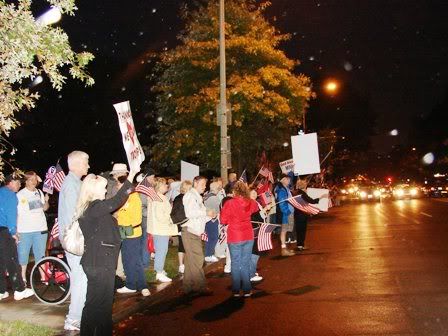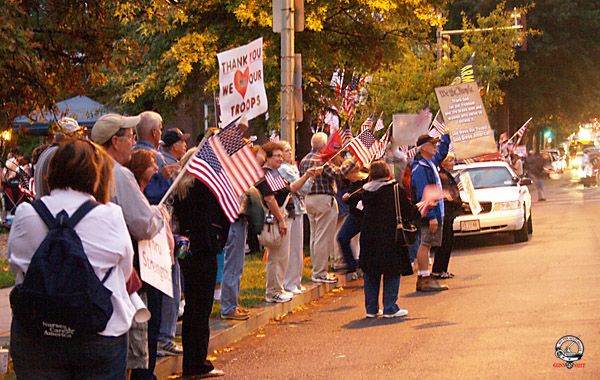 The whole event had a festival atmosphere. We set up tents in the small parking lot where we usually set up, and had some food and drinks. A few of the FReeprs had secured event buttons and posters that we gave out for a donation of your choice.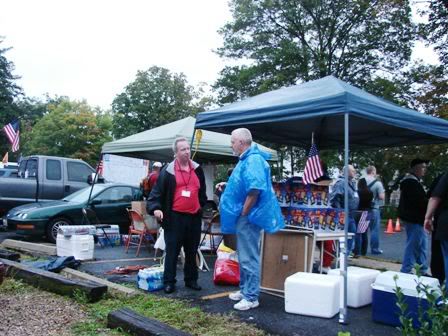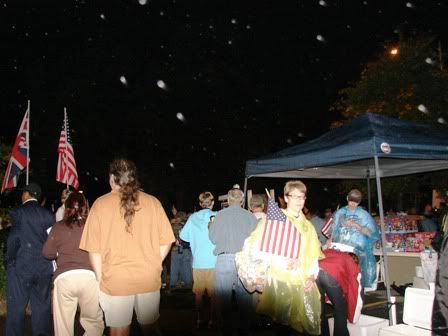 One of earlier in the evening just so you can see the MOAB
Who was there?
Everyone, it seemed. I ran into people from states as diverse as Florida, Tennessee, Ohio, Hawaii, Michigan, New York, all across this great land of ours. Some drove and some flew. Everyone had their unique story to tell. It was a very interesting crowd and quite inspiring to be among so many like-minded people. All of course were going to the 9-12 March on Washington
Talking about the issues of the day, everyone of course has their own take on events and a slightly different motivation for being there. All however share an intense dislike for where Obama is taking this country.
The weather also turned out to be perfect. We had some slight rain between 5 and maybe 6:30, but it ended and it was pleasantly cool without being cold.
9-11 Remberance
At exactly 8:46pm Mr Trooprally addressed the crowd using a bullhorn so everyone could hear. 8:46am is when the first plane hit the North Tower.
First he led us in the Lord's Prayer
Then he read Red Skelton's Pledge of Allegiance. Here is Red saying it if you haven't see it before
Afterwards everyone said the Pledge together. There was certainly no shortage of flags to face
We then sang God Bless America.
Finally, everyone turned to face the hospital and said three times "WE THANK TROOPS"
The Tennessee Gang
One group drove all the way from Tennessee with these fantastic signs on their pickup trucks. They had two trucks with the same sign/poster, and as you can see they invited people to sign them. Definitely a message to Obama: Don't destroy our country!
I am pleased to report that I have not one but two co-writers on this post. The first one I give to you is by kburi, who sends this:
Walter Reed, Week 230, 9/11/09 Huge Crowds , High Energy and Enthusiastic Support

FRONT GATE NOTES

September 11, 2009 Walter Reed Support the Troops Rally

[Mr] and [Mrs] Trooprally, and several DC Chapter Freepers started setting up early on 9/11 in anticipation of large crowds joining the DC Chapter of Free Republic on this Friday night. They weren't disappointed as approximately 800 people from around the country, Freepers and troops supporters alike, joined us in droves. Hollering "we love our Troops, God Bless America, USA, singing God Bless America, waving flags, and thanking the Troops and families as they drove by. What a great night.

Memories of this will warm us regulars through the Friday nights ahead this winter.

In addition to Freepers , members of The Band of Mothers and its Founder, Beverly Perlson, Larry Bailey of Gathering of Eagles, Col Riley of Eagles Up,Patriot Guard, Gold Star Mothers and many others joined us. John and Carla Fleming of NJ were back with us for a second time. They are very active in Supporting the Troops and their families.
The Meaning of it All
Trust me, the troops in the hospital all know we're out there, and they appreciate it. See at bottom BufordP's BIG LIST of all Walter Reed FReeps for details in past After Action Reports.
Most every Friday they take a busload of wounded warriors and their families out to a dinner at a nice Washington Restaurant, arriving back at Walter Reed sometime between 9 and 10pm. We are there to greet them every time, and they wave back at us from the bus (we've also had the bus stop and had them speak with us - all a long story). Anyway, imagine tonight they were greeted by 500 people instead of a dozen!
Sorry, but none of us thought to get photos of the bus that night. I guess we were all too caught up in the moment.
WRAMC Anti War Protester News
We were too busy to pay much attention to the moonbats but they slightly increased their numbers in anticipation of our crowds. But if you really do want a few pictures of them here are two from "loser lane:"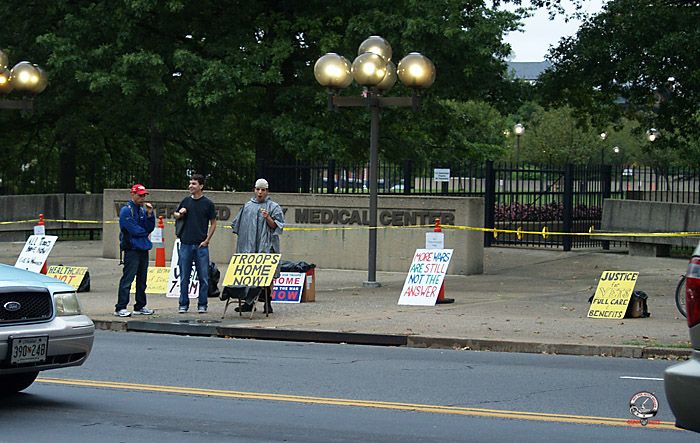 The moonbats are maybe 200 feet down Georgia Avenue from the main entrance.
HONOR ROLL Honor roll of "regulars" for September 11, 2009 Mr and Mrs Trooprally, Tom the Redhunter; Cindy_True_Supporter; Lurker Bill, Rongkirby, Fraxinus, BufordP, Kburi, 3D Joy, Chief, 2nd Class Citizen, Sensei Ern, Tolerance Sucks Rocks, TrueBlackMan, GunsAreOK, VirginiaFlagWaver, Jimmy Valentine's Brother, PleaDeal, TankerBabe,FreeAngel, Mr FreeAngel, CDFinger,Brytani,RightAlien, and many other Freepers. Apologies to those Freepers I didn't name.
Thank you, Kburi! Your report is much appreciated.
Our other co-author is Mr Trooprally, who sends this:
MESSAGE FROM TROOPRALLY

On behalf of the DC Chapter, I would like to humbly say THANK YOU to all of the FReepers, Lurkers, Eagles and patriots that came to Walter Reed this Friday. The average of the estimates for the number of those who came is 800.

THANK YOU for the generous donations to the DC Chapter. Having this extra money allows us to better show our appreciation to the Silver Spring and 14th St, DC, Recruiter Stations during Recruiter Appreciation Week, to make more posters for our Support the Troop Rallies and for our counter-protests of the moonbats, to have cold drinks and pizza during the warmer Fridays and to have plenty of hot coffee at the winter Walter Reed FReeps, and for the Chapter web site fees.

And THANK YOU to those who brought items for our troops. Several FReepers regularly get to go into Walter Reed, so be assured, they will be bringing your gifts for the troops into Walter Reed.

And a special THANK YOU to all those who helped make up the special buttons, took time out to buy the snacks & drinks, helped organize this Friday, who shuttled FReepers from Takoma metro station to / from Walter Reed, who worked the tent area and are writing this AAR. They are Lurker Bill, 2ndClasscitizen, 3DJoy, BufordP, CDFingers, Cindy-True-Supporter, Fraxinus, Kburi, Nina0113, Plea Deal, Rlmorel, TankerBabeLC, Tom the RedHunter, Veeram, [Mrs] Trooprally. And anyone I missed, sorry.

Again, thanks to everyone involved in this special 9/11 Walter Reed Support the Troops Rally.

[Mr] T
A great time was had by all and thank you to everyone who was able to attend!
---

If you can't get to D.C. to join us but would like to do something for the wounded, you can find a wealth of ideas by FReepmailing Tom the Redhunter, Cindy-True-Supporter, VAFlagwaver, or PleaDeal.

Please also FReepmail them or any of us if you would like to join us at Walter Reed and would like additional information about parking, directions, what to bring, etc.

Come join us every Friday night between the hours of 6:30pm to approx 9:30pm.

Directions to our Walter Reed freep location from the Takoma Metro station

* You can find all of Mrs Trooprally's photos for this Freep on her Photobucket site.

* You can find all of Plea Deal's photos for this Freep on her Photobucket site.

* You can find all of Tom the Redhunter's photos for this Freep on his Photobucket site.

* Thank you to BufordP for maintaining the BIG LIST of all Walter Reed FReeps.

* Thank you to all FReepers who transport and store our many signs and banners every week.

* Tom the Redhunter blogs at The Redhunter

* Plea Deal blogs at Semper Gratis

---
TOPICS: Activism/Chapters; News/Current Events
KEYWORDS: 8thanniversary; aar; aarpatriotism; codepink; eighthanniversary; military; patriotism; rally; supportourtroops; walterreed; wia
---
---
---
---
---
---
---
---
---
---
---
---
---
---
---
---
---