THE AFRICAN COLONIAL - SOME HISTORICAL BACKGROUND
What a year that was, when Stanley Ann Dunham graduated in the summer of 1960. What an incredible year. Castro and Kruschev at the United Nations in New York. Malcolm X met Castro at the Hotel Theresa, John Kennedy campaigned at that same hotel.
WIKI: "It has a striking white brick facade and was known as the "Waldorf Astoria of Harlem." From the time it opened until 1940, the hotel accepted only white guests plus a few black celebrities. This changed when the hotel passed to new management.
"Louis Armstrong, Sugar Ray Robinson, Lena Horne, Josephine Baker, Dorothy Dandridge, Duke Ellington, Muhammad Ali, Dinah Washington, Ray Charles, Little Richard, and Jimi Hendrix all stayed in the Hotel or lived there for a time, as did Fidel Castro, while in New York for the 1960 opening session of the United Nations, after storming out of the Hotel Shelburne because of that hotel manager's "unacceptable cash" demands.[1] Castro's entourage rented 80 rooms at the Theresa for $800 per day.[2]
"The hotel profited from the refusal of prestigious hotels elsewhere in the city to accept black guests. As a result, black businessmen, performers, and athletes were thrown under the same roof.
"After leaving the Nation of Islam, Malcolm X maintained his competing Organization of Afro-American Unity at the hotel and hosted meetings there. He met Cassius Clay in the hotel on various occasions.
"Bill Clinton's commerce secretary, Ron Brown, grew up in the hotel, where his father worked as manager. U.S. Congressman Charles Rangel (D-Harlem) once worked there as a desk clerk.
"The hotel may have enjoyed its greatest prominence in 1960. Nikita Khruschev visited New York in that year, during the week when Castro was staying in Harlem, and came to meet him in the hotel. Also, in October 1960, John F. Kennedy campaigned for the presidency at the hotel, along with Eleanor Roosevelt and other powerful figures in the Democratic Party."
Obama wrote in Dreams From My FatherStanley Ann was accepted to attend the University of Chicago. She didn't want to go to Hawaii. Her Uncle, Charles Payne was the Deputy Director at the Library at the University of Chicago. Many years later, Barack Hussein Obama taught law there. The Uncle, Madelyn's brother, was still at the University of Chicago while Obama taught there...
A good place to start the study African-American history is with W.E.B. Du Bois. Du Bois became a member of the Communist Party, and after numerous visits, was invited to live in Ghana by President Kwame Nkrumah, where he died two years later and Ghana gave him an elaborate State funeral.
Shirley Graham Du Bois and Kwame Nkrumah at Du Bois' casket.
Resources on the life and legacy of W.E.B. Du Bois
1951 Indictment, trial, and acquittal of subversive activities charges brought against him by the Justice Department; marries Shirley Graham.
1951-1959 Extensive speaking, writing, and international travel; wins Lenin Peace Prize in 1958.
1961 Becomes member of the Communist Party, U.S.A. Invited to Ghana by President Kwame Nkrumah to edit the Encyclopedia Africana.
1963 Becomes citizen of Ghana. Dies on August 27th and is buried with a state funeral in Accra. Du Bois's death is announced by Roy Wilkins of the NAACP as the March on Washington begins on August 28th.
Malcolm X went to Ghana in 1959 and again in 1964. A photograph of Malcolm X with Shirley Graham Du Bois in 1964:
Malcolm X of the Muslim Mosque, Inc. and Shirley Graham DuBois, Director of Ghana National Television, at her villa in Accra, Ghana during Malcolm's visit in May 1964. DuBois had thrown a reception in his honor.
Jeremiah Wright's 'church' displays images of Du Bois, Malcolm X and a fellow named Marcus Garvey. Who was Marcus Garvey? An article entitled 'The Madness of Marcus Garvey' answers that. Briefly, he saw himself as royalty, expected to be bowed to and dressed himself in highly decorated uniforms with towering feathers on his hat...but more than that, he founded a shipping line. It reads like a huge scam, lots of blacks lost all their investments, and he would never admit that he was a failure. Even when he was down to one ship, he still maintained he was running a profitable shipping line. It's an interesting story all on its own...
..."...He imagines miserable failures to be great successes and a credit to him. He confesses the loss of nearly a million dollars of poor people's money and that there is nothing left but debts. He confesses the utter loss of every vessel of his, "Black Star Line," and then boasts of the success of his shipping line. In one breath he says that all three of his ships are gone; that there is nothing left out of nearly $1,000,000 but debts. In another breath he states that "if it hadn't been for our enemies, we would now have twenty vessels instead of three." He still seems under the delusion that he has three. He has a court reception, divides Africa in which he or his movement hasn't one foot of ground into duchies and makes "knights" and "ladies" and "dukes." Those presented to him must bend the knee before him. Arrayed in royal garb, he and his court assemble on an elevated dais while the common people are below, kept away from him by armed guards. Here is clearly a case of delusions of grandeur. Could a symptom be more characteristic?...
many years later, when Nkrumah became President of Ghana, because Marcus Garvey was now seen as a saint, Nkrumah started up a State shipping line and named it after Marcus Garvey's Line:
"...But as soon as Nkrumah won independence and drove the British out of Ghana, one of his first acts was to sign the Black Star Line into being. Nkrumah told them, "You laughed at Garvey, but you will never laugh at us." And he signed in the Black Star Line, which was to travel the world as the the ocean-going fleets of Ghana, which still exist even today despite all the attacks, internal and external, that it has undergone...
The Black Star Shipping Line. Ghana then had 14 ships and they sailed the world oceans, the prime export of Ghana being cocoa. Or it was, until Nkrumah ruined the economy, as all good little marxists are inclined to do:
....Some elder Detroit black nationalists recall the visit of a Black Star steamship in August 1964. Malcolm X's eldest brother, the late Wilfred Little Shabazz, himself a son of Garveyites, told the author of his pride at meeting the ship's captain and posing for photographs, one of which appeared in Now, a black nationalist magazine published by Detroit attorney Milton Henry.
...However, by the mid-1960s, despite his accomplishments in developing the African community, Nkrumah's domestic rule had became negative, and later, almost despotic & dictatorial. At the time he ascended to power, the newly independent Ghana had one of the strongest economies in Africa, but by the time he lost power, Ghana was heading towards economic ruin, as a combination of corruption & inefficiency, and his attempts to industrialize Ghana came at the expense of the previously strong-performing cocoa-producing sector. Costly, and largely unsuccessful public works programs also took their toll on the economy...
There is no hard evidence that Stanley Ann Dunham ever showed up in Hawaii. None. There remains this question:
'Where was Stanley Ann Dunham between the summer of 1960 when she graduated and when she returned to Hawaii with a two or three year old child?'
To find an answer to that question, one must ignore all the articles published in the press, everything written does nothing but follow the narrative of Dreams From My Father. It is extremely difficult however, not to be influenced by that narrative, which has found it's way almost into the subconscious, by being endlessly repeated, with glaring anomalies, such as; Barack Obama Snr left Stanley Ann Dunham when the child was two years of age...when in fact, he departed from Hawaii for the mainland in June, 1962. All that oft repeated assertion achieves is cast doubts upon his claimed date of birth.
The more one reads of that period in history, and the lives of the people involved, the more one finds one is reading about Ghana. The list of African-Americans who, maintaining they were discriminated against in the US and moved to Ghana is a long one. A very long one. But one of the most interesting is Maya Angelou. Maya Angelou, who refers to Malcolm X as her brother. Maya Angelou, who Malcolm X visited in Ghana. Maya Angelou who planned to return to the US and work for Malcolm X...
Developing a brother/sister relationship with Malcolm X has been very important to me. Because Mr. Malcolm X came to Africa, and I was able, along with others, to help him to meet all of the Africans of power in Ghana at the time...
...Maya Angelou returned to America in 1964, with the intention of helping Malcolm X build his new Organization of African American Unity. Shortly after her arrival in the United States, Malcolm X was assassinated, and his plans for a new organization died with him...
Something strange was happening in Hawaii during the same period. W.E.B. Du Bois and Paul Robeson were close. Very close. It was Paul Robeson whom Frank Marshall Davis credited with introductions to the communists in Hawaii:
......"Davis's initial contacts with Hawaii all had extremely strong ILWU ties. (Communist party member) Paul Robeson's own Hawaii acquaintances, which he passed on to Davis, insured that when I came over, one of the first things that I got involved with¯well, I met all the ILWU brass, (Communist Party executive committee member) Jack Hall and all of them, and I went¯they had both of us over to various functions for them¯Harriet Bouslog (Communist Party executive committee member) was also a good friend.'"
One turns up some very strange information, some of it hard to believe: Paul Robeson made a film and gave the part of an african chief to none other than Kenyatta! The very same man who would one day become the leader of Kenya and Barack Hussein Obama Sr's employer...
...It was also a chance to earn a significant paycheck, and also to put many of his new acquaintances to work as extras in the film. Among them was Jomo Kenyatta who would go on to become the founding father of the modern nation of Kenya. To some extent, I think we can say that Robeson succeeded, though even in its time, his participation in the movie earned him rebuke from black leaders including a notable scolding from black nationalist and anti-colonial visionary Marcus Garvey.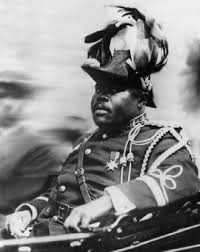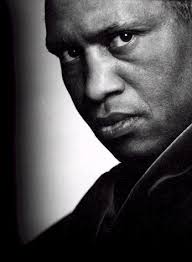 ...Nkrumah met DuBois near the end of his sojourn in America, about the time the elder intellectual returned to the NAACP after breaking with it a decade earlier over his advocacy of temporary "self-segregation." Keenly interested in the possibilities for colonial freedom in the wake of the Second World War and the creation of the United Nations, DuBois considered the special research office as "sort of a foreign affairs department of the NAACP."
...Nkrumah also worked with the Council on African Affairs, co-founded by African American social worker Max Yergen and the renaissance man of the 20th century, Paul Robeson...
Oginga Odinga, the father of Raila Odinga, of recent Kenyan infamy, visited Malcolm X and was embraced by him. Literally. There was a popular song written about Oginga Odinga in the US at the time:
...Odinga sat on the edge of his chair and leaned forward, facing Joe and I. He told us of his visit to America and how American Freedom Fighters-civil rights activists had secretly visited with him in Atlanta as he was under State Department security control. He told us how the famous American Freedom Fighter, Malcom X had embraced him (Odinga) and that there was even a song written in America called, "Oginga Odinga of Kenya."
...When Malcolm visited African in 1964 he visited Kenya, Uganda and Tanzania. It was during that trip that he met with Kenyan President Jomo Kenyatta, Uganda's president Dr. Milton Obote, President Julius K. Nyerere and Muhammad Babu of Tanzania. Babu, Malcolm and Leroi Jones (now Amiri Baraka) held a meeting during this period in New York City. Malcolm talked about meeting President Kenyatta, Malcolm however, was also aware of Kenya 's Oginga Odinga...
That Malcolm however, was also aware of Keyna's Oginga Odinga appears to be an understatement; Malcolm had embraced him in Atlanta.
Barack Hussein Obama Snr. Who was he? What was his purpose? In 1953 back in Kenya, a seventeen year old Barack Obama Snr finished school and his teacher tells us that he went straight to America for further education:
...Oyula says Obama Sr went straight to the US from Maseno, to start his academic tour.
That's very strange - but is it? Oginga Odinga had two sons, one was educated in East Germany, the other at the Patrice Lumumba University in Moscow. And this Oginga Odinga had once been a teacher at the very same school in Maseno...
How could Obama Snr suddenly show up in Hawaii, sponsored or not, and attend a University. His educational background was so sketchy. Looking further, one discovers he did not arrive with the first airlift arranged by Mboya, nor did he, as claimed in 'Dreams' benefit from the funds provided by the Kennedy foundation which paid for the chartered aircraft to bring the students to the US; the first of which landed at Idelwild in September...
Barack Obama wrote that his father "had been selected by Kenyan leaders and American sponsors to attend a university in the United States," but a list of the students who landed in New York on September 9, 1959, does not contain the name of the elder Obama. Tom Shachtman, working in the African-American Students Foundation (aasf) papers for a book on the airlifts, has found that the elder Obama came in 1959 with support from the aasf but appears to have been routed a different way as he made his way to the University of Hawaii...
Obama Snr in fact found his own way to Hawaii several months before, and judging by the undated image of the welcoming committee, he arrived by ship. It's odd, isn't it, that amongst the people on the dock, there he is, Stanley Armour Dunham. In June or July 1959?
From where had he come? Had he been on the mainland for some years as a student? That 'Kenyan goat-herder grandfather story' is all very well, but this man Barack Hussein Obama Snr did not behave as a simple student in Hawaii, he was an activist; within a very short time he is pictured giving lectures to Union members; from where did he get this authority? Why would several hundred members of a Union listen to this newly arrived student from Kenya?
Barack Obama (senior) was one of the featured speakers at a Mother's Peace Rally in Ala Moana Park on Sunday May 13, 1962. ILWU leaders, including Jack Hall, joined the march and rally...
But the question may aswer itself if we take into account a possible prior sojourn on the mainland; connections to Frank Marshall Davis and Davis' membership of the communist party.
Images of Obama Snr from the time, and letters written as testimonials, show no Stanley Ann - there is no mention of her. None. It's almost as if she didn't exist. Not in Hawaii.
Was Stanely Ann still on the mainland? Did she in fact spend time in Chicago, where she was accepted to attend the University of Chicago? Was her enrollment in Hawaii nothing but an anticipation by her parents, that never eventuated? The closer one looks, the less likely it becomes that she ever met Obama Snr. Anywhere.
And what was that all about, her enrollment in extension courses with an address in Seattle? The address shown in the Polk Directory 1961/62 where she supposedly lived with her young son, is recorded as having been strictly segregated. Extension courses can be completed and returned from anywhere. Was that address in the Polk Directory for Anna Obama nothing but a convenient mail-box? She was enrolled as Stanley Ann Dunham. Why use a different name for an address? Unless...she didn't want to be found.
On February 27, 1951, fifty-four year old Shirley Graham and eighty-four year old W.E.B. DuBois married in New York City.In 1961, they both renounced their U.S. citizenship and became citizens of Ghana. She had two sons from a previous marriage. One, David Graham, took the name Du Bois when his mother re-married. David was born in Seattle in September 1925. His grandfather, Shirley Grahams father, was minister at First AME Church in Seattle. David Du Bois career is interesting:
Arab Observer, Cairo, Egypt, editor and reporter, 1960-72; Cairo University, lecturer; Egyptian Gazette, news editor; Middle East News and Features Agency, editor and reporter; Radio Cairo, announcer and program writer; Ghana government, public relations consultant, 1963-66; Black Panther Party, spokesperson; The Black Panther, editor-in-chief...
Reading that, one is reminded of Maya Angelou again, and one may wonder if they knew each other or if their paths crossed:
...In the same year she met and married, South African freedom fighter Vusumzi Make. Again, Angelou and Guy moved; this time with Make to Cairo, Egypt where, despite her husband's restrictions, Angelou took a job as associate editor of the Arab Observer. By 1963, Angelou's second marriage was over and, determined to remain in Africa, Angelou moved to Ghana where, in her writings, she states that she felt at home for the first time in her life. In Ghana, Angelou served as an administrator for the School of Music and Drama at the University of Ghana, and acted as feature editor for the African Review...
Was there a connection between Maya Angelou's return to the US in 1964 and Stanley Ann showing up in Hawaii in the same year with a kinder-garten aged child?
During a telephone interview, one of Stanley Ann Dunham's classmates from Mercer Island let something slip:
Stanley Ann Dunham had sent her a post-card from a ship. In February. 1961. Imagine that.
There it was, the answer to how so many people travelled back and forth to Ghana, and many other destinations; they had a State owned shipping line at their disposal. No need to look for airline schedules.
...In the early 1960's, another friend took the Black Star Line to Ghana. It was also a freighter trip. His experience was quite a different story. It was when Ghana had recreated the Black Star Line under the then president, Kwame Nkrumah. One of the ships was the Afram River which had made a maiden voyage to the U.S. The political fervor around the relaunching of the Black Star Line impressed the black activists of the time and our friend decided to make his move to Ghana by ship where he could take all his belongings and take up his new teaching assignment. He was thrilled by the fact that the entire crew, including the captain were all Africans and he was honored to dine with the captain and crew. He loved stopping at all the African ports en route to Ghana...
Ports of call
U.S. Gulf ports, U.S./Canadian Great Lakes and Atlantic ports, Freetown, Monrovia, Takoradi, Tema (Accra), Lagos, Port Harcourt, Douala.