---
Meet The Soetoros
vanity


Posted on 09/25/2009 6:59:18 AM PDT by safetysign
Indonesia Left to Right:
Lolo Soetoro, Stanley Ann Dunham Soetoro, baby Maya Soetoro, and 9 year old Barry Soetoro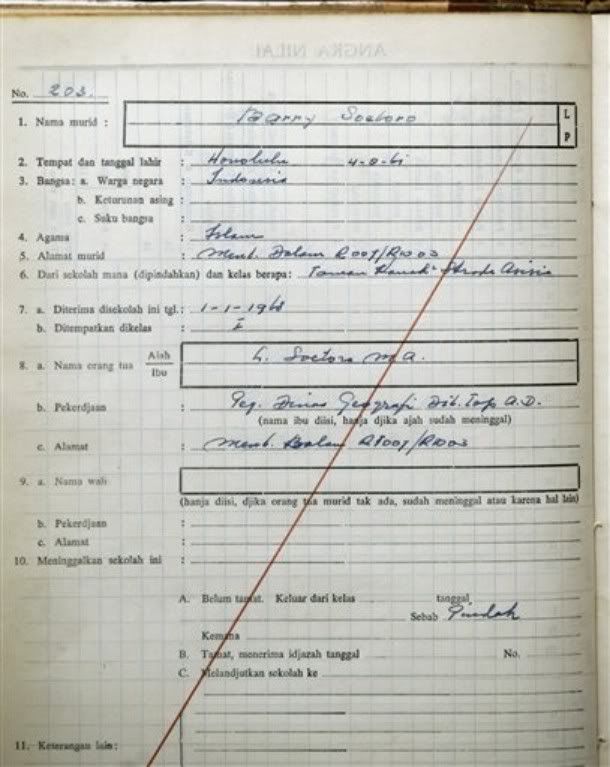 This registration document, made available on Jan. 24, 2007, by the Fransiskus Assisi school in Jakarta, Indonesia, shows the registration of Barack Obama under the name Barry Soetoro made by his step-father, Lolo Soetoro. Name: Barry Soetoro
Religion: ..... Islam
Nationality: ..... Indonesian
How did little INDONESIAN, Barry Soetoro, (A.K.A. Barack Obama) get around the issue of nationality to become president?
Someone who tells lies is a L __ __ r?

---
TOPICS: War on Terror; Your Opinion/Questions
KEYWORDS: birthcertificate; certifigate; exparte; healthcare; indonesia; indonesian; islam; liar; liarinchief; lies; military; muzzie; muzziewashe; notamerican; obama; obamacare; obamafamily; palin; politics; scotus; scotusantiusa; scotuscoverup; veteransgovernment
---
Navigation: use the links below to view more comments.
first 1-20, 21-40, 41-60, 61-80 ... 241-248 next last
---
---
---
---
---
---
---
---
---
---
---
---
---
---
---
---
---
---
---
---
---
Navigation: use the links below to view more comments.
first 1-20, 21-40, 41-60, 61-80 ... 241-248 next last
---
---