---
To: null and void
My analysis agreed with Ben's (we shared notes) -- except that I postulated a mechanism which could have caused failure of the interior column as a result of lateral floor-beam thrust during collapse of the main (200 foot-long, 5 foot-high and 3 foot-thick) "Main Header Beam" across the third floor.
Therefore, I only published three likely sites for "cutting charges" -- at the junctions of the three failed exterior columns and the header. (The concrete at those junctures was completely missing (leaving two-foot gaps)- and the "cuts" were amazingly clean. Nothing was left there but rebar.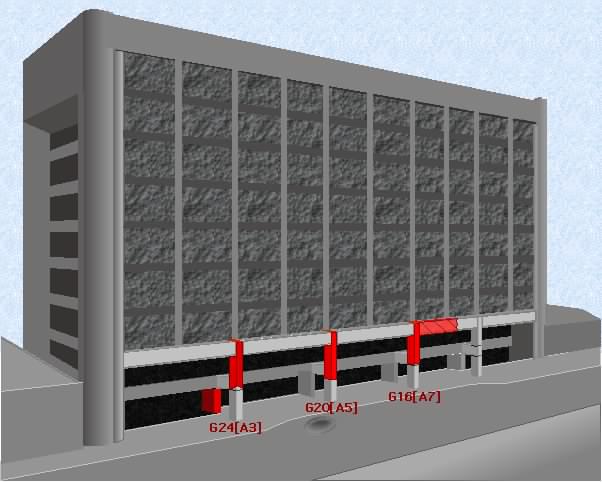 Structural elements with missing concrete.
(The hatched section was probably hauled away.)
Yes, there was a significant explosion in the Ryder truck. But no one has yet to explain how a single air blast cleanly sliced that monstrous header beam into 40-foot sections -- and left the sections between columns totally unscathed.
Remember that several witnesses reported feeling the building shake before the big explosion. One of them had time to duck under her desk -- thinking it was an earthquake.
I agree with Trentadue that the missing portions of those tapes are what is really important.

---
To: All
The computer graphic in #16 is my creation. I hold the copyright. Do not copy or distribute it.
---
To: TXnMA
I routinely witness ANFO explosions in mining. I think most "experts" under rate the power of it when it is wielded in the hands of guys who do it all the time. Mines routinely move 1,000 tons of overburden with a ton or so of charge. Very impressive stuff.

20
posted on
09/29/2009 7:30:48 PM PDT
by
mad_as_he$$
(Beneath this mask there is an idea, Mr. Creedy, and ideas are bulletproof. V for victory)
---
FreeRepublic.com is powered by software copyright 2000-2008 John Robinson