---
To: BigBobber
Yes, the government is trying to hide something.
Maybe...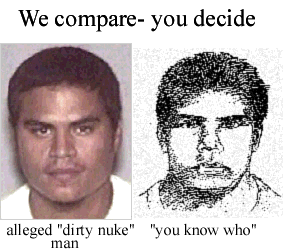 40
posted on
10/01/2009 9:53:16 AM PDT
by
houeto
(I peered inside the Treasury's door, the entire safe was empty. We've been robbed!)
---
To: houeto
Earlier this week, the Associated Press published an article about recently-released surveillance tapes from the area around the Murrah Federal Building in Oklahoma City. Wanting to find out more about it, I sought out Jayna Davis, author of The New York Times best-selling book,"The Third Terrorist," which chronicled her decade-long investigation of the bombing and who was behind it. In short, I became the first journalist/blogger with whom Davis has spoken about the case in four years (and she's had countless requests for interviews).
On Tuesday, I followed up my interview of Davis with an interview of David P. Schippers, a Chicago attorney and close confidant of Davis whose background includes having served as chief investigative counsel for the Clinton Impeachment Hearings in the House and Senate. Again, I was able to publish information never before published about the missing Oklahoma City bombing surveillance tapes. All of these copyrighted pieces are available at http://bobmccarty.com.
41
posted on
10/02/2009 7:19:26 AM PDT
by
BobMcCartyWrites
(BobMcCarty.com, Bob McCarty Writes™)
---
FreeRepublic.com is powered by software copyright 2000-2008 John Robinson