---
---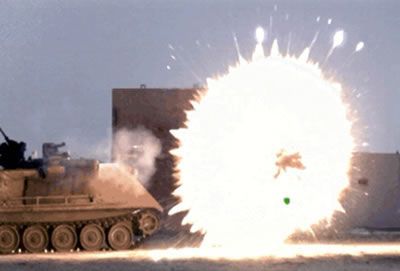 ADS in action.
2
posted on
10/09/2009 8:14:37 PM PDT
by
ErnstStavroBlofeld
("We will either find a way, or make one."Hannibal/Carthaginian Military Commander)
---
To: sonofstrangelove
Given Barry's questionable methods of diplomacy with Israel, no doubt that these discussion are Barry approved?
---
To: sonofstrangelove
Israel lobby in action. Those darn Jews! They figured it out again! I'm kvetching here.
10
posted on
10/09/2009 8:49:33 PM PDT
by
Sender
(It's never too late to be who you could have been.)
---
To: sonofstrangelove
From the article:
IMI's Iron Fist is also classified as a hard kill – although it includes soft kill electro-optical jammers – but instead of using shrapnel to shred an incoming round it relies on blast pressure waves to deflect and break apart the round, resulting in less collateral damage and making it much safer for troops that might be accompanying the Namer on foot, said Sokolower. The laser jammer is said to be effective against second generation anti-tank guided missiles.
I've always been skeptical of APS manufacturer claims that they can intercept a 120mm sabot round, as the velocity of those rounds is so high. Sokolower said the Iron Fist's blast wave will deflect the long-rod penetrator just enough so that it "yaws" and thus hits the vehicle at a poor angle and won't completely penetrate thick steel armor. The Iron Fist's APS rounds are carried in twin launchers fitted to each side of a vehicle linked to RF and passive Infrared sensors which the company claims provides full 360 degree protection.
And now a word from the comments section, regarding Israeli company issues:
pennst98 · 9 hours ago
No. I mean they have repeatedly built in problems to their devices and inserted codes into their software that they can activate later. Can't say more.
While they do have a tendency for exaggeration (like the Russians) for their capabilities, they do have some really brilliant weapons that we should be investigating. But as i said their past problems make it hard to transition some of their technology.
Oh, almost forgot don't forget their propensity to sell technology regardless of ITAR regulations......

12
posted on
10/09/2009 9:01:19 PM PDT
by
texas booster
(Join FreeRepublic's Folding@Home team (Team # 36120) Cure Alzheimer's!)
---
FreeRepublic.com is powered by software copyright 2000-2008 John Robinson