---
To: NormsRevenge
I wish more people in this country went hungry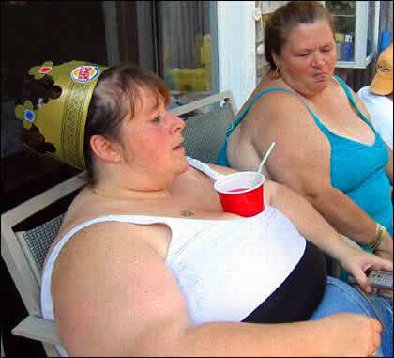 25
posted on
10/14/2009 4:57:48 PM PDT
by
montag813
(During times of universal deceit, telling the truth becomes a revolutionary act. -George Orwell)
---
To: montag813
"I wish more people in this country went hungry"

Yeah, that's what most of the Malthusians want along with telling them to eat raw/rotting food, avoid vaccinations, and so on. But whatever you do, don't tell them to get out of those service slavery jobs and welfare to move their monstrous behinds around a little.

Intensive exercise regulates appetites to healthier levels. Staying in their marriages, avoiding television, and helping their families to build homes would help much.



30
posted on
10/14/2009 5:07:08 PM PDT
by
familyop
(cbt. engr. (cbt), NG, '89-' 96, Duncan Hunter or no-vote)
---
To: montag813
I thank God every day that I live in the greatest country in the history of the planet Earth....
Our biggest problem is that the poor have too much to eat. They suffer from obesity and their kids are traumatized so they suffer from anorexia.
A problem people in other parts of the world would love to have.
The evil corporate greedy bastards at McDonalds and Burger King who gave Americans cheap fast food because it was what they wanted should be rounded up before a Congressional hearing.
McSludge and Burger Thing and their PR folks will offer free food but the utopian leftist libs will turn it down. No nutritional value to the fries.
Afterwards, those same congress critters and social engineers will be mugged and pistol whipped by some hungry Ethiopians for their Big Mac.
What a great country America is! I love this country!!!!!
40
posted on
10/14/2009 5:47:53 PM PDT
by
Eric Blair 2084
(Alcohol, Tobacco and Firearms shouldn't be a federal agency...it should be a convenience store.)
---
FreeRepublic.com is powered by software copyright 2000-2008 John Robinson