---
To: LucyT; Slings and Arrows; martin_fierro; MeekOneGOP; Daffynition; Allegra; restornu; PhilDragoo; ...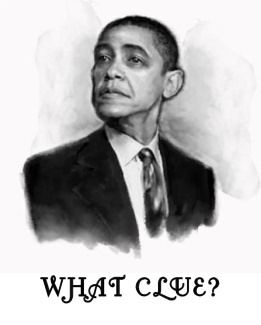 ---
To: Lady Jag
This perpetual pose of this creep is unbearable. He is completely full of himself and at this point, thinks he is invincible. He has nothing but disdain for America and her people. Get rid of Vermin!!CO
30
posted on
10/24/2009 1:05:12 PM PDT
by
Canadian Outrage
(Conservatism is to a country what medicine is to a wound - HEALING!!)
---
To: Lady Jag
Yes. Exactly.


...and oh, by the way...


58
posted on
10/24/2009 5:56:09 PM PDT
by
Seadog Bytes
(OPM - The Liberal 'solution' to every societal problem. (Other People's Money))
---
To: Lady Jag
There is something we can do about Obama attitude Pray for his heart to be softened.
After all do you really think growing up he experience his mother love, and the same grow who sour many black children as they were growing up with to hate your white neighbor.
I say a day of fasting and prayer where Obama can feel what the real Love of the Lord feels like!
The whole darn crowd doing these needs this I pray that their eyes would be open to those who are truly Sons of Perdition that misguided be separated from them and come out of this.
A Mind is a terrible thing to waste and the opposition has been in the works to under mind a whole population of good people.
62
posted on
10/25/2009 5:56:27 AM PDT
by
restornu
(A humble people of the Lord is stronger than the all wicked warriors of the World)
---
FreeRepublic.com is powered by software copyright 2000-2008 John Robinson