---
Navy's £1bn+ destroyers set to remain unarmed for years
The Register ^ | 2nd December 2009 | Lewis Page


Posted on 12/03/2009 8:05:05 AM PST by sukhoi-30mki

Navy's £1bn+ destroyers set to remain unarmed for years

Ex-British miracle missiles in new test FAIL

By Lewis Page

Posted in Science, 2nd December 2009 14:46 GMT

The "Sea Viper" missile system for the Royal Navy's new Type 45 destroyers looks set to suffer further setbacks following a reported failure during test firings. The weapons are already so late that the first £1bn+ Type 45 has been in naval service for nearly a year - almost completely unarmed.

News of the test failure comes courtesy of the Ares blog, reporting remarks by Andrew Tyler of the UK Defence Equipment and Support (DE&S) organisation.

"[The test failure] has been a setback," says the MoD mandarin.

"We are working extremely hard with the other partner nations and the company to resolve what the problems were with the final firing ... [It is] too early to come up with the diagnosis."

Sea Viper is the Royal Navy's name for its version of the Principal Anti Air Missile System (PAAMS), European industry's answer to the highly successful American Aegis/Standard, which has nowadays developed to the point of being able to shoot down satellites in low orbit. Sea Viper/PAAMS is largely French and Italian in origin, but includes some British technology too.

The system's promised special sauce is that it is supposed to be able to knock down supersonic sea-skimming antiship missiles, a thing that even the latest Standard SM-2s may be unable to do. Such missiles are a terrible threat to surface ships without air cover, as they will only be seen by a mast-mounted radar as they emerge above the horizon during the final minute of their flight. Sea Viper/PAAMS is supposed to be able to detect a hostile shipkiller the second it appears, fire an Aster countermissile almost instantly, tip the Aster over from its vertical launch and fly it to intercept the shipkiller head-on at a closing speed in excess of Mach 5.

There has always been some doubt as to whether this is worth doing - it would be cheaper and simpler to deliver maritime air cover from carriers than provide every convoy or task group with a screen of £1bn+ destroyers. Airborne radar can cover vast areas of ocean, tracking sea-skimmers over their entire flight, and patrolling jets would have a much easier task taking down the shipkillers with time in hand from behind - or, even easier, attacking the plane or ship carrying them.

HMS Daring will probably be on her third captain by the time she's actually armed

Now it seems possible that the miracle destroyers can't actually be built anyway, or certainly not yet by the PAAMS coalition. Ares reports that the final test was "the most stressing of the test firing program". Shooting down multiple supersonic sea-skimmers is the most difficult thing that Sea Viper would ever be tasked to do - so we can take it that it can't in fact do what it says on the tin.

This is embarrassing on many fronts for the MoD. Firstly, the Ministry deliberately chose to continue with PAAMS when the multinational Euro-warship project foundered and Blighty went on alone with the Type 45 - even though an Aegis system in a British hull would have been far cheaper and more capable.

Secondly, the only real reason this was done was in order to preserve British jobs and tech expertise. This too has been a failure as BAE Systems - the UK part of PAAMS - has already fired those workers anyway, before the system is even in service. The weapons are no longer even partly British.

Thirdly, Sea Viper/PAAMS is about the only reason for having a Type 45 destroyer. Space has been included in the ships' design for Tomahawk cruise missiles, but none have been bought and there is no sign that any will be. We already have the ships, but in the absence of Sea Viper they are embarrassing, expensive white elephants.

HMS Daring, first of the Type 45s, will have been in Navy hands for a year in eight days' time. She is armed with nothing but a 4.5-inch "Kryten" gun turret and a pair of light 30mm cannon, suitable for shooting up pirate dhows and the like. This is an utterly pathetic amount of punch for a £1.1bn (at the latest estimate) warship with a crew of 200. Her first captain has already been and gone; the second, it now seems certain, will also depart before the ship is capable of achieving anything even vaguely in proportion to her cost or even vaguely worth his time commanding her. It won't be at all surprising if the same thing happens with the second Type 45, Dauntless, which has just arrived in Portsmouth ahead of handover to the Navy tomorrow.

The whole saga is made even more depressing by the fact that it is very largely the vast expense of the Type 45s which has led to the swingeing cuts to the rest of the British fleet seen in recent years, and which is imperilling the future of the new carriers which would be so much more useful.

We've asked the MoD for more details on the test failure, but as of publication hadn't heard back. We'll update this as soon as we hear. ®

---
TOPICS: Foreign Affairs; News/Current Events; United Kingdom
KEYWORDS: destroyer; royalnavy; sam; uk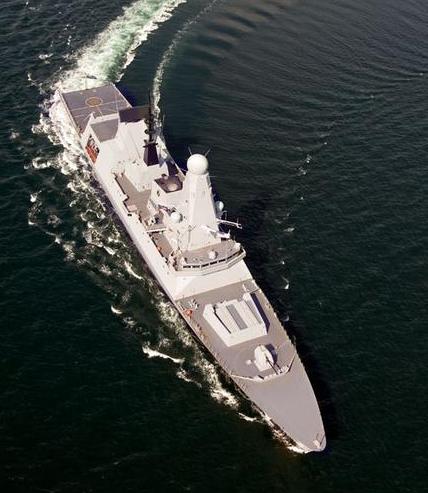 HMS Daring on sea-trials

---
To: sukhoi-30mki
Tell the Brits not to worry. Obozo has offered to furnish them a fleet of these after the US Navy gets its fleet commissioned.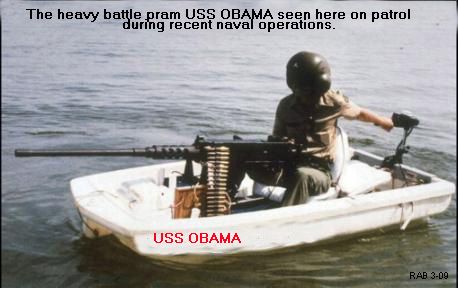 Armed with a single MA-2 .50 caliber Browning, this much feared naval vessel carries up to 30 rounds of armor piercing ammunition. It is the first in an entirely new naval architecture class -- technically, "clitoral" (not to be confused with "littoral") -- being pushed on the Pentagon by the defense minded wussies in the Obama Administration as a cost-saving measure. If you look closely, you can see the heavy-duty seat restraint which prevents the pilot/gunner – Kamakazi Kowalski – from leaping from the vessel prior to engaging the enemy. The 12 V trolling motor – which lacks a reverse function -- propels this sophisticated craft forward at a top speed of 4 knots. Reverse travel – at approximately 35 knots -- is achieved by firing the Browning.
The no-bid contract to build 200 of these fearsome warships was recently awarded to Obama-Soros-Emanuel Shipbuilding and Stormdoor Manufacturing (formerly General Dynamics) and will be administered by trusted Obama associate and Chief-of-Staff Rahm Emanuel who commented that, at $12 million each, they are a bargain. They will be constructed exclusively at the company's facility in Kenya with major subcomponent production (rivets and miscellaneous fasteners) at the company's Harlem and Skokie plants. Delivery is expected to begin in 2024 (or as soon as the subcontractor's funds are safely in the contractor's Swiss account).
---
To: sukhoi-30mki
I've always thought that these were very big and very expensive for the rather limited firepower they offered. According to my sources, the original plan was not to fit the 4.5 gun or any sonar systems, which would have meant they would be completely defenceless now :)
Having said that, my sources also indicated that PAAMS was really, really good. I'll have to check on that.
---
FreeRepublic.com is powered by software copyright 2000-2008 John Robinson