---
To: MestaMachine
But she ALSO said, that when asked, even though it was bogus, SHE produced the proof. And therein lies the difference.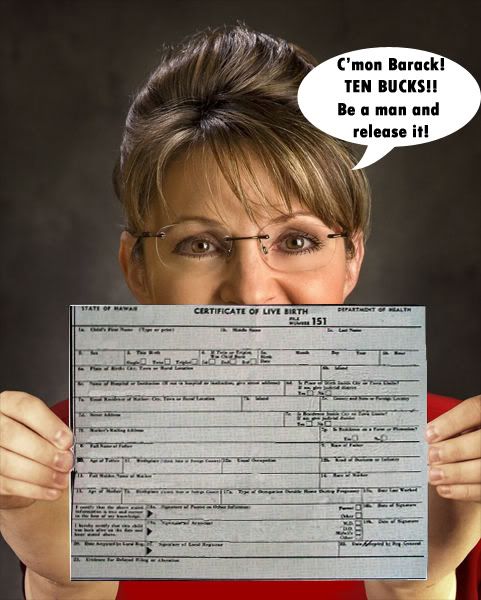 Barack is a fraud - he has shown his true colors. If he releases his birth record he will be shown to be who he really is.

18
posted on
12/07/2009 3:46:23 AM PST
by
missnry
(The truth will set you free ... and drive liberals Crazy!)
---
To: missnry
Again, it is a shame that Palin Supporters do not respect her own statements, and wish to substitute THEIR opinion of what she should do for HER actions.
Palin EXPLICITLY stated that she has NEVER asked Obama for his BC, and has never questioned that he was born in America.
And in response to HER WORDS, you insist on putting words in her mouth that she has directly said she would NEVER say.
And yet you would probably be the first to scream if anybody ELSE questioned her judgement.
"But at no point – not during the campaign, and not during recent interviews – have I asked the president to produce his birth certificate or suggested that he was not born in the United States." -- Sarah Palin
"But she SHOULD have" -- missnry

---
FreeRepublic.com is powered by software copyright 2000-2008 John Robinson