---
The True Meaning of "I'm with you in spirit": Week 206, Olney, MD 12-19 -09
Dec. 21,2009


Posted on 12/21/2009 11:35:37 AM PST by trooprally

This Saturday, to all those who have attended Olney's Support the Troops Rally, YOU WERE OUT ON OLNEY's CORNER "IN SPIRIT". And those who have read the Olney AARs as we come up to our 4 Year Anniversary on January 2,2010, Thank You for your support.

BELOW LEFT: Distant view of our red banner from Friday night thru Monday morning. BELOW RIGHT: Close up of banner, dah. That explanation is for any moonbats who are reading this AAR.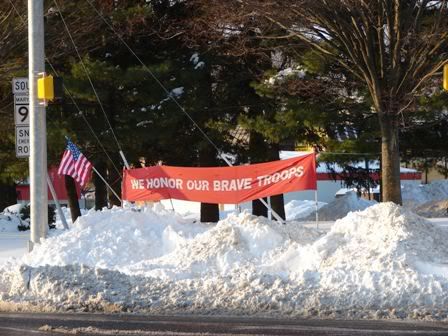 BELOW LEFT: Saturday AM at the Olney Bunker. "Hey [Mrs] T - think we can make it up the hill?". BELOW RIGHT: Bright 'n sunny Sunday and still no snow plows. Just for the record, I measured the snow in 3 places and they all read 15 inches.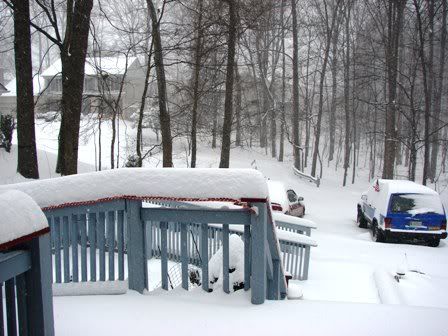 BELOW LEFT: Putting up the red banner after the Walter Reed Friday night Troop Support Rally. BELOW RIGHT: And this pile of snow is right in our path for unloading our flags, banners, and FReepers. Our path to our corner was about 60 feet. Now it is about 150 feet. We sure are spoiled, but we enjoy it. At Walter Reed we park right next to our corners and here we are 60 feet.
HEY – maybe the shopping center will make a path for us. /sarc off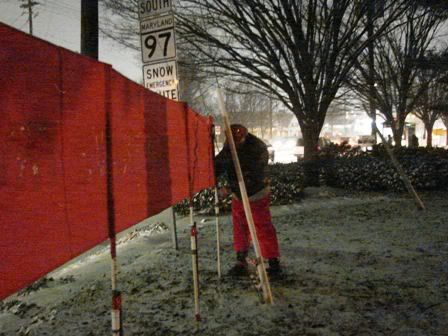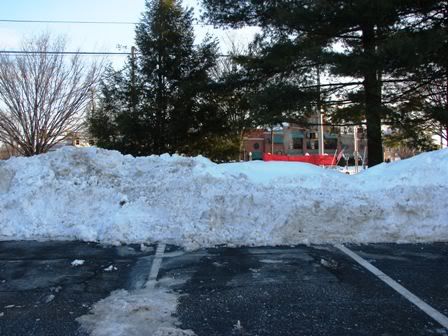 A heads up for Walter Reed. The moonbats have said that they WILL be out there Christmas Day. We have a number of FReepers who will also be there. But if you are in the area visiting and have always wanted to come out, this would be a great day to say "HI".
If you do not make it to Walter Reed, then have a Merry Christmas and a Happy New Year!!
WARNING TO FREEPERS ATTENDING OLNEY
Some new money making have been installed on north bound Georgia Avenue right before you enter the main business district. Slow your speed after the light at King William Drive.
And a new one has been placed just south of Brookeville, between Brookeville and the Longwood Community Center.




REMEMBER
Next Saturday, same place, Georgia Avenue, MD Rte. 97 and MD Rte. 108 in Olney
NEW TIME - 10:15 AM to 11:45 AM


As always, the D.C. Chapter's rules for protesting will be in effect. Briefly, they are: No violence, no profanity, no racism, no provocations, obey the law and treat all law enforcement officers with respect.
But a lot of verbal engagement in Olney is always welcome.

---
TOPICS: Activism/Chapters; Free Republic; US: Maryland; US: Virginia
KEYWORDS: aar; military; mobilizingmothers; moonbats; opinfinitefreep; patriotism; peaceactionmc; rally; supportourtroops
---
---
---
---
---
---
---
---
---
---
---
---
---
---