---
Obama's Policies Create Christmas Colors Certain to Bring True Cheer to Conservatives!
http://www.rasmussenreports.com ^ | 12-22-09 | Rasmussen


Posted on 12/22/2009 1:04:17 PM PST by dangus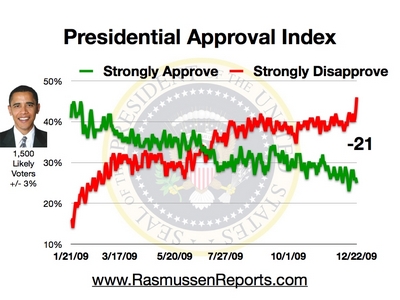 ---
TOPICS: News/Current Events; Politics/Elections
KEYWORDS: 111th; 2010elections; bho44; christmas; dangus; obama; obamanation; rasmussen

Y'all thought I was nuts, didn'tcha? Well, get this: Rasmussen Reports also asks voters whether they'd vote for a Republican or a Democrat in their district. The results suggest the Republicans will capture 44% of the popular vote to the Democrats' 36%.

It gets better.

Rasmussen uses a three-month trailing average to find the number of Republicans, independents and Democrats in the nation, and then weights their likely-voter survey using those results. But Rasmussen has also shown a swing towards Republicans in this time frame. If only the most recent month's data is used to weight the results, the poll would show Republicans leading Democrats by 10 percent... a result which could result in a Republican pick-up of up to ONE HUNDRED seats.

---
To: dangus
And it's not even Christmas yet!
---
To: dangus
Also note:
President Bush's strong disapproval rating never went higher than Obama's current strong disapproval rating, 46%.
3
posted on
12/22/2009 1:06:18 PM PST
by
dangus
(Nah, I'm not really Jim Thompson, but I play him on FR.)
---
To: dangus
If obama sees this he will be pissed
better join us at oathkeepers.org
---
FreeRepublic.com is powered by software copyright 2000-2008 John Robinson