---
Setting Your Watch by Moonbat Time - Walter Reed FReeps #245 Jan 1, 2010 & & 246, Jan 8, 2010
January 12, 2010 | Tom the Redhunter


Posted on 01/12/2010 6:38:39 PM PST by Tom the Redhunter

Two more nights braved by FReepers out guarding the entrance to Walter Reed Army Medical Center, keeping the moonbats at bay!

Not that the Code Pink moonbats are much of a problem anymore. They only managed three people on the second night. More, the Code Pink leaders long since abandoned their own people and haven't been seen for two years or more. It's now a union operation.

We had a relatively big snow storm at the end of December but fortunately most of that's gone. Now it's just... chilly. Mid to low 20's isn't so bad but the wind was howling on both nights. Deploying the MOAB was out of the question, and it was all we could do to put up the mini-MOAB and keep our signs from blowing out of our hands.

Here is your author along with Concrete Bob at right .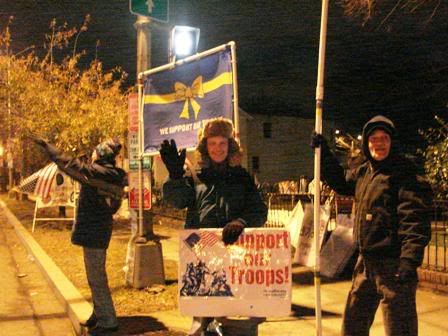 Bob is proud USMC (ret) so brought his flag. It sure looks good in the breeze!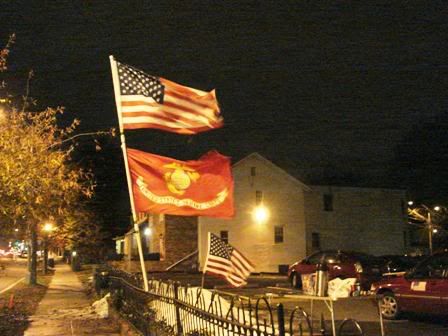 We had maybe a half dozen people who braved the cold to hold down the four corners. The moonbats had 3, then they left, and 3 more showed up only at the very end.
Good union shop that they are, the moonbats start promptly at 7:00 and leave right at 9:00. You can your watch by them.
Nah, we didn't bother taking any pictures of them. Why waste the pixtels?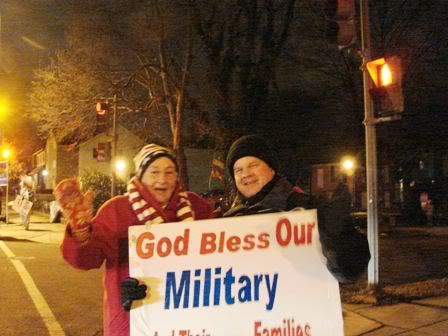 Mr Trooprally adds this commentary:
The picture of me with the shovel is me putting salt on Lurker Bill's southeast corner. I also put salt on the path from the parking lot to the sidewalk. There was a lot of snow and ice else where but it didn't affect our FReep. Also, we couldn't put up the red banner on the southwest corner because of the frozen snow bank there. Even Lurker Bill did not put up the banner on his corner. He did have the white banner up and the heater. (Kburi didn't want to mention the 'propane' part since we are outside a military base).
What It's All About
Although the moonbats leave at 9pm sharp, we stay until the troops arrive back from their night out. Fortunately these two nights it was at about 9:30! I can remember many time when they didn't get back until after 10. It's not so bad in the summer, but sometimes on those winter nights you're awfully glad when they get there on time or earlier.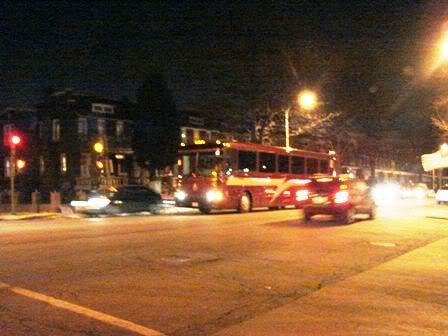 Come join us every Friday night between the hours of 6:30pm to approx 9:30pm.
Directions to our Walter Reed freep location from the Takoma Metro station
* You can find all of Mrs Trooprally's photos for Jan 1, FReep 245 on her Photobucket site here, and for January 8 246 here.
* Thank you to BufordP for maintaining the BIG LIST of all Walter Reed FReeps.
* Thank you to all FReepers who transport and store our many signs and banners every week.
* Tom the Redhunter blogs at Semper Gratis
* Plea Deal blogs at Semper Gratis

---
TOPICS: Activism/Chapters
KEYWORDS: aar; codepink; military; moonbats; patriotism; rally; supportthetroops; walterreed
---
---
---
---
---
---
---
---
---
---
---
---
---
---
---
---