---
Snowy FReeps compared to our Troops in Afghanistan and a Heat Wave: Wk 209/210, Olney, 01- 09/16 -10
Jan. 22.2010


Posted on 01/22/2010 8:17:29 AM PST by trooprally

WEEK 209 - Jan. 09,2010

Cold as cold does. Looks like this may be our last real cold Saturday for a while. What you see for Week 209 is the dusting of snow that we received 24 hours earlier. It was too cold out for even the sun to melt this dusting.

As the below picture shows, our FReeps are nothing compared to what our brave soldiers in Afghanistan trudge through. We only endure the snow and cold for a few hours. Our troops have to sleep out in the extreme cold. Picture borrowed from a Tea Party Express email.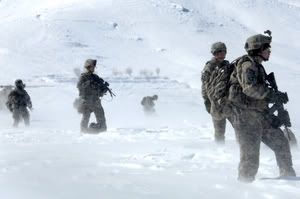 This Saturday the weatherman is saying temps will be close to 50. But that is Part 2 of this AAR.
Patriots in Olney this Saturday include Halsey (USMC, Korea), Carl (Army, Vietnam), Fraxinus and [Mrs] Trooprally and myself.
The moonbats had 3 and they stayed for only 30 minutes, longer than last week though.
Pictures are once again by [Mrs] T.
BELOW LEFT: Carl and Halsey. BELOW RIGHT: Fraxinus. Once again because of the snow and cold, our banners stayed in the vehicles. Only our flanking flags and several small flags in the snow bank were put up.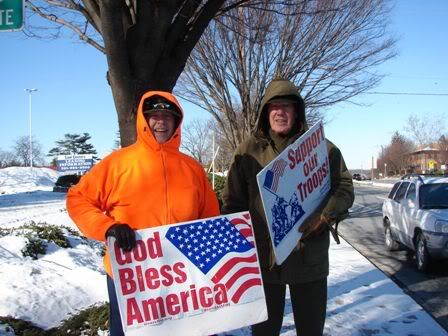 BELOW: Me with Fraxinus in the back ground.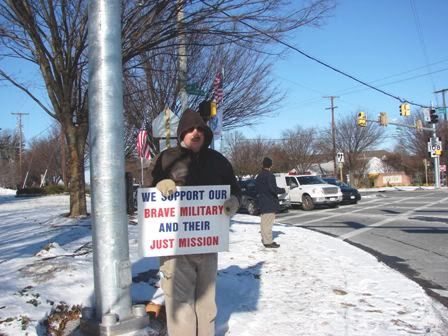 WEEK 210 - Jan. 16,2010
Finally, a heat wave. Or at least I thought so. This week I was the only one that did not wear gloves. Actually Glenn must have also thought so. He was over heard weeks ago stating that he doesn't do cold but he was back this week.
Because the ground was so mushy, we didn't put up our banners. Didn't want to get them and our boots too muddy. And we didn't want to mess up the grass behind us.
Patriots in Olney this warm Saturday include Dave (Army, WWII) and friend Janet, Glenn (USMC, WWII), Halsey (USMC, Korea), Carl (Army, Vietnam), Lurker D and [Mrs] Trooprally and myself.
Pics by [Mrs] T
Speaking of [Mrs] T, she started on our left flank, taking our portraits as she walked.
BELOW LEFT: Dave on our far left flank. BELOW MIDDLE: Janet BELOW RIGHT: Halsey and Glenn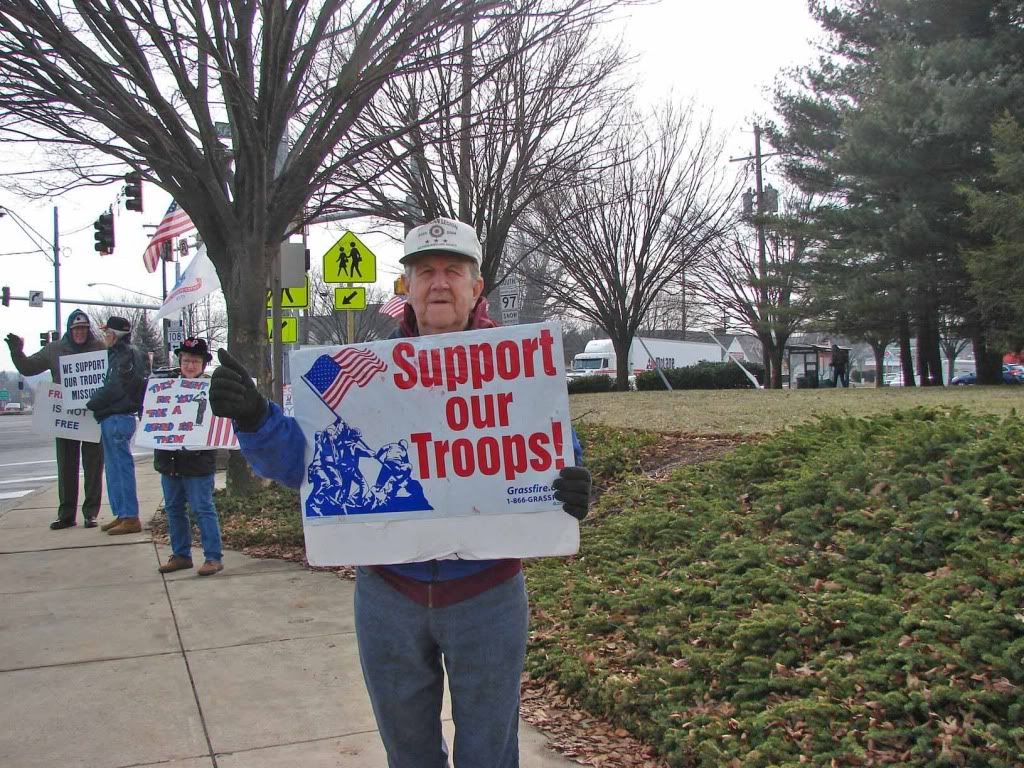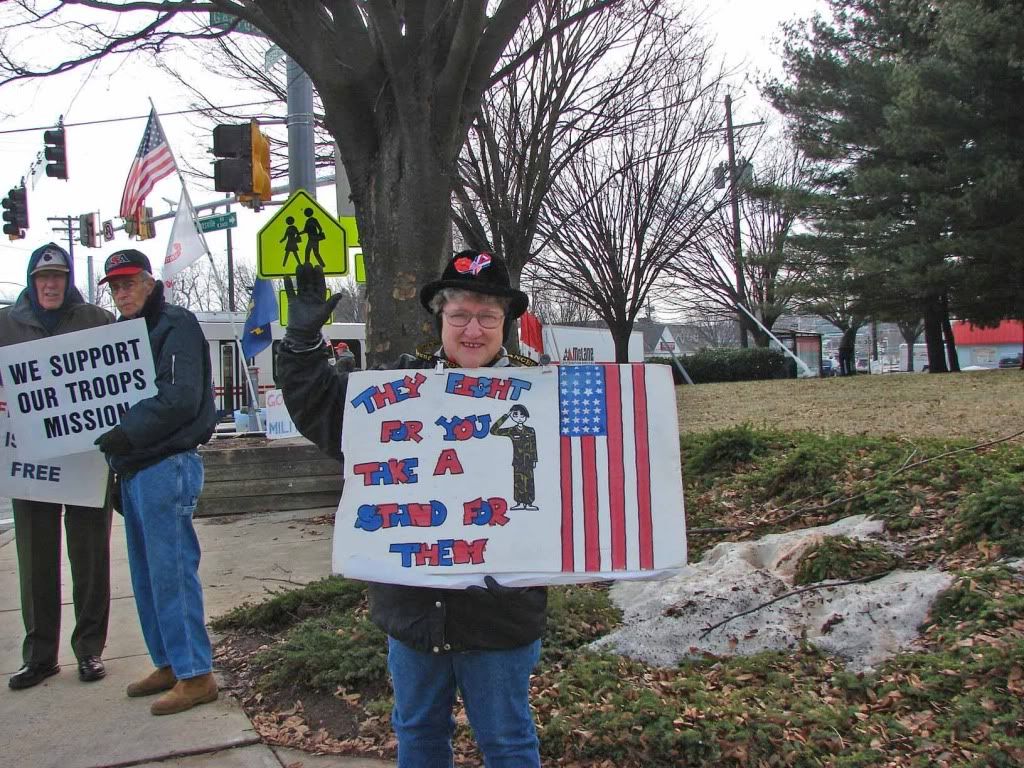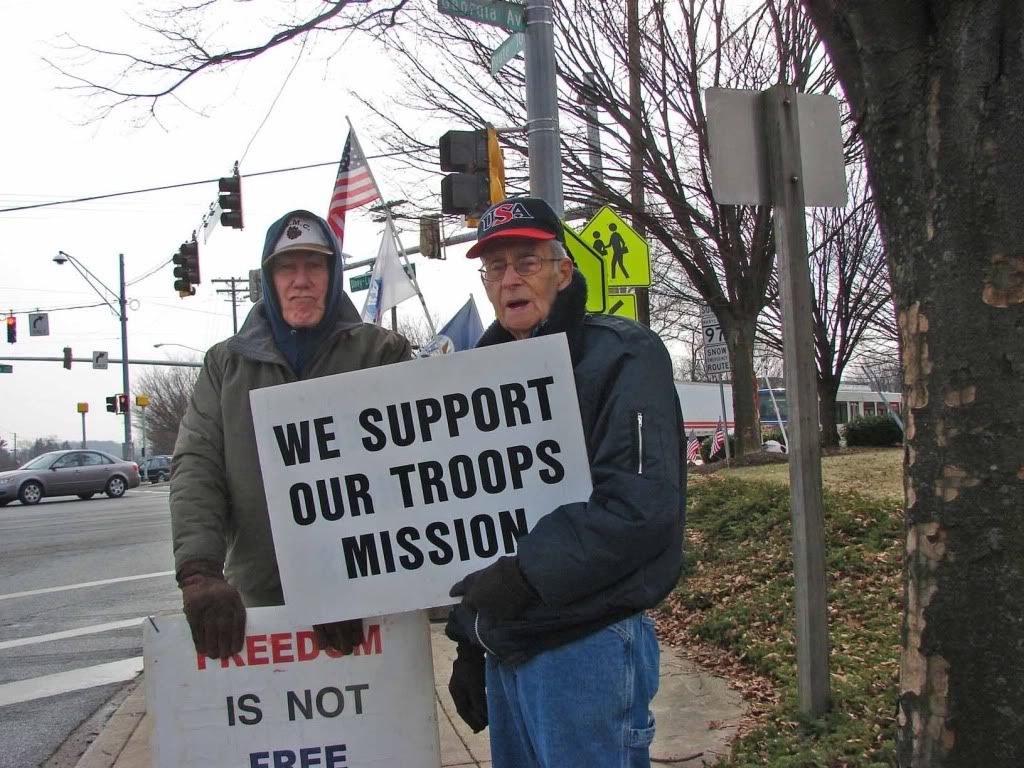 BELOW LEFT: Lurker D BELOW MIDDLE: Me enjoying the heat wave - no gloves or hood. BELOW RIGHT: Carl showed up after [Mrs] T's perp walk. Carl is on far right.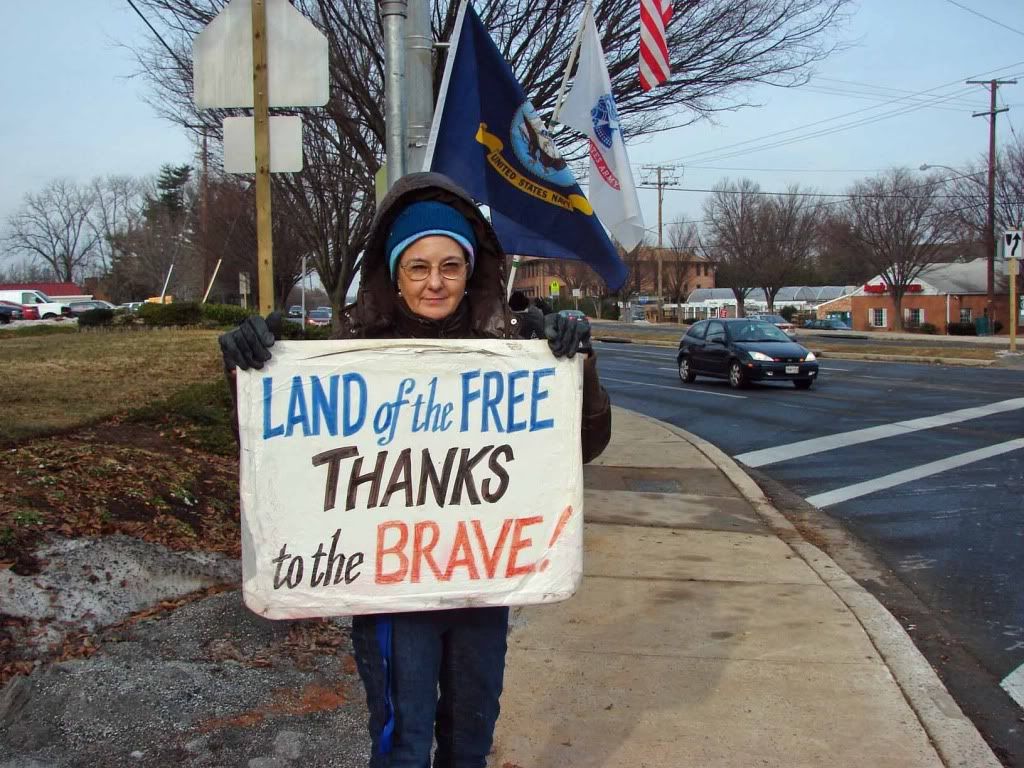 BELOW: The moonbats (9) were able to spend the whole one hour out today.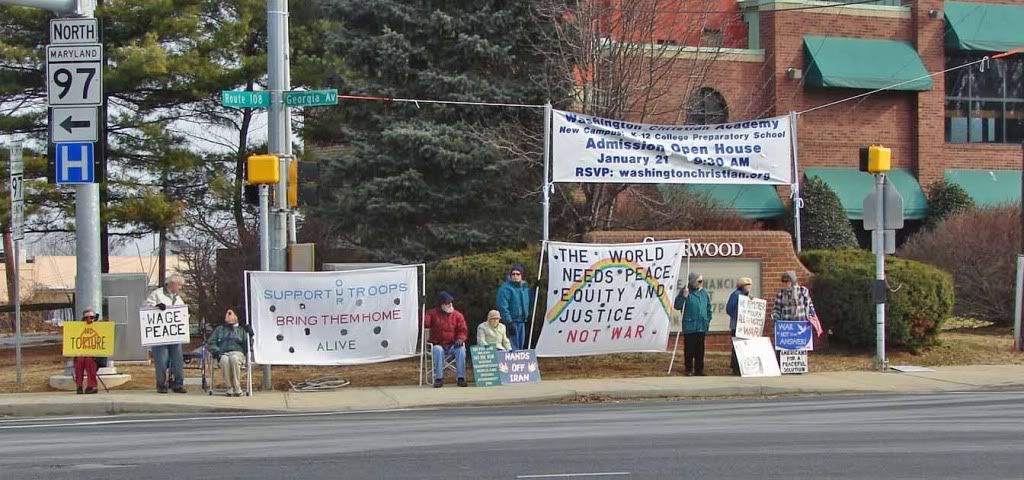 WARNING TO FREEPERS ATTENDING OLNEY
Some new money making have been installed on north bound Georgia Avenue right before you enter the main business district. Slow your speed after the light at King William Drive.
And a new one has been placed just south of Brookeville, between Brookeville and the Longwood Community Center.




REMEMBER
Next Saturday, same place, Georgia Avenue, MD Rte. 97 and MD Rte. 108 in Olney
NEW TIME - 10:15 AM to 11:45 AM


As always, the D.C. Chapter's rules for protesting will be in effect. Briefly, they are: No violence, no profanity, no racism, no provocations, obey the law and treat all law enforcement officers with respect.
But a lot of verbal engagement in Olney is always welcome.

---
TOPICS: Activism/Chapters; Free Republic; US: Maryland; US: Virginia
KEYWORDS: aar; military; mobilizingmothers; moonbats; opinfinitefreep; patriotism; peaceactionmc; rally; supportourtroops
---
---
---
---
---
---
---
---
---
---
---
---
---
---
---
---
---