---
Great Blizzard of 2010 at Walter Reed, Week 251, February 5, 2010
February 6, 2010 | Kburi


Posted on 02/06/2010 3:53:35 PM PST by kburi

Week 251, February 5, 2010 - Ignoring weather warnings to stay off the roads at all costs, the DC chapter recorded its 251st consecutive Friday night at Walter Reed.

FRONT GATE NOTES

The following report is from Trooprally's notes and the great photos were taken on site by Mrs Trooprally.

As you look at the photos, remember this was only the beginning of the" great 2010 blizzard".

Trooprally wrote:

"We arrived about 6:40, shoveled and salted a small clear area where we were going to stand and we were on our posts before 7. Even the salted areas eventually got covered so we had to keep crunching the snow into the salt to keep parts bare. My biggest problem was the snow that collected on my clothing kept falling off in clumps.

While the traffic was down by 50%, our supporters were still driving by. We had one car of young people shouting out their windows, several hand shakes from soldiers hoofing it or riding shotgun, and lots of waves and honks.

Several times one could look each way on Georgia Avenue and not see a car for blocks. Of course with the heavy snow fall, 'for blocks', was as far as one could see. As those who have stood with us know, it is hard to talk to someone across the intersection. Not tonight.

Most humorous part of the night was mostly at [Mrs] T's expense. She stood on the main MOAB corner. With the wet snow it quickly gathered on the tree branches - above her. So when a wind gust came by, her corner, and Mrs T, were engulfed in a white out.

Around 8:30 I joined [Mrs] T on her corner (my corner was getting lonely) and also became part of the white outs. There was no bus tonight.

Lurker Bill and I had 4 wheel drive, so our trip home was uneventful. We had our own little convoy going home. With temps hovering around 32, it was a wet snow.

If temps were colder like the Dec.18/19, Week 244 snow fall, then the depth and driving would have been a lot worst.

Gotta go. Power is flickering, fire needs stroking, snow needs to be shoveled (it's a heavy wet snow so it will be slow going), and I need to send this to Kburi for the AAR.

Hope everyone is safe this weekend. Those in the DC area, 30% chance of more snow expected Tuesday/Wednesday. Long range NOAA forecast for next Friday calls for sunny, upper 30s weather.

We hope to see more FReepers out at Walter Reed. "

WRAMC Anti - War Protester News

Moonbats started with 4. Unlike us, they live real close by. Around 8PM, the police had the moonbats move their car since it was parked on an Emergency Route. Three of the 4 stayed. Their car pulled up at 9PM Union Time and picked up the 3 that remained.

HONOR ROLL for February 5, 2010

Mr and Mrs Trooprally, Lurker Bill, and a lot of passing supporters.

Come join us every Friday night between the hours of 6:30pm to approx 9:30pm.
---

If you can't get to D.C. to join us but would like to do something for the wounded, you can find a wealth of ideas by FReepmailing Tom the Redhunter, Cindy-True-Supporter, VAFlagwaver, or PleaDeal.

Come join us every Friday night between the hours of 6:30pm to approx 9:30pm.

Directions to our Walter Reed freep location from the Takoma metro station

BufordP's Walter Reed FReep archive

PleaDeal's (GunnNutt) blog at Semper Gratus

February 5, 2010 Photos, (courtesy of Mrs Trooprally)

Driving to Walter Reed, Blizzard is Beginning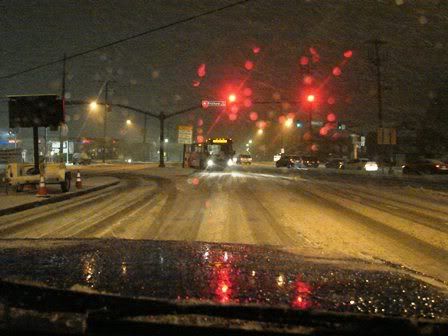 Looking across Georgia Ave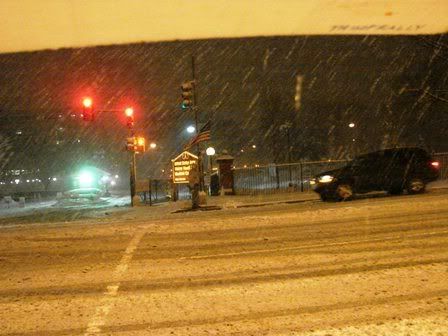 Trooprally – Standing Tall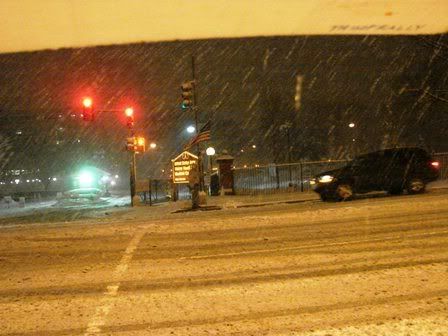 Lurker Bill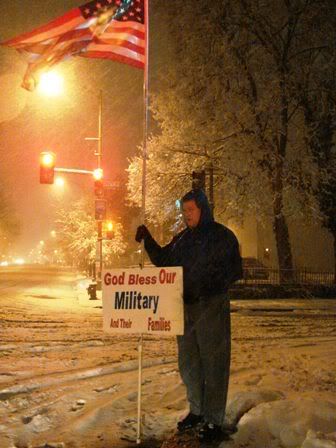 Keeping the Faith
Lurker Bill (Moonbat Cars down the block made to move by police enforcing emergency conditions)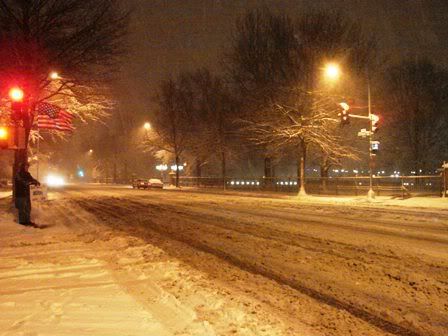 Leaving Walter Reed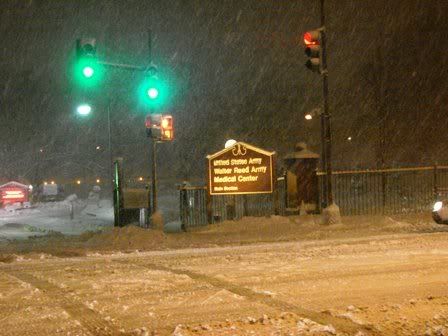 Trooprally Really Likes Snow!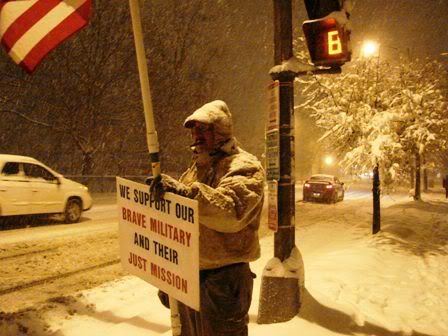 ---
TOPICS: Activism/Chapters; News/Current Events; US: District of Columbia; US: Maryland
KEYWORDS: aar; military; moonbats; patriotism; rally; snowstorm; supportourtroops; walterreed
---
Navigation: use the links below to view more comments.
first 1-20, 21-40, 41-43 next last
---
---
---
---
---
---
---
---
---
---
---
---
---
---
---
---
---
---
---
---
---
Navigation: use the links below to view more comments.
first 1-20, 21-40, 41-43 next last
---
---