---
Fox News and Judge Andrew Napolitano Shill for IVAW Traitor Adam Kokesh - Again
Thursday, March 4, 2010 | Kristinn


Posted on 03/04/2010 11:45:52 AM PST by kristinn

Fox News and Judge Andrew Napolitano are shamelessly promoting a wartime traitor, Adam Kokesh of the communist front group Iraq Veterans Against the War (IVAW), as a Republican candidate for Congress.

For the second time in recent months, Judge Napolitano has had Kokesh on his Fox News show, Freedom Watch, for a softball interview about Kokesh's Republican primary bid to represent New Mexico's 3rd District in the U.S. House of Representatives.

There is no mention by Napolitano about Kokesh's involvement with terrorist supporting groups like IVAW and Code Pink, nor did Napolitano mention Kokesh's repeated disciplinary actions in the Marines that resulted in him being demoted from sergeant to corporal and from an honorable discharge to a general discharge.

Napolitano did not bring up Kokesh personally urging U.S. troops on a base in Germany to desert the military and lay down their arms.

In another era, Kokesh would have faced a firing squad or the hangman's noose for his actions in Germany. But we live in a more progressive era where traitors are heroes and heroes are the ones persecuted.

America's veterans and military families have come to expect such promotions of treasonous people by others in the media. Coming from Fox News, this is a deep betrayal.

Fox and Napolitano are either guilty of gross journalistic malpractice by not researching Kokesh's history, or they are willfully witholding that information from their viewers.

Given Fox's disgraceful history of promoting Code Pink, the latter is quite possible.

Kokesh on Napolitano's Freedom Watch March 1, 2010. Third screen down.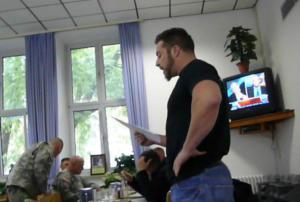 May, 2007, Adam Kokesh urges U.S. troops at a base in Anspach, Germany to quit the military: "If any of you should decide to leave the Army while in Germany and throw down your arms, the people of Ansbach will support you and do our best to provide you with aid, comfort, and sanctuary."
Kokesh has been endorsed by Ron Paul, of course.

---
TOPICS: Breaking News; News/Current Events; Politics/Elections; War on Terror
KEYWORDS: 911truth; adamkokesh; amnesty; andrewnapolitano; code; codepink; foxisdirty; foxnews; foxtraitorfriends; geraldorivera; ivaw; judgenapolitano; kokesh; kookesh; libertarians; medeabenjamin; nomorerinos; paul; pink; rand; randnesty; randpaul; randsconcerntrolls; randsconverntrolls; rino; ronpaul; traitor; traitorkokesh
---
Navigation: use the links below to view more comments.
first 1-20, 21-40, 41-60, 61-80, 81-99 next last
---
---
---
---
---
---
---
---
---
---
---
---
---
---
---
---
---
---
---
---
---
Navigation: use the links below to view more comments.
first 1-20, 21-40, 41-60, 61-80, 81-99 next last
---
---