---
Walter Reed FReeps March 12, 2010 #256 & March 19, 2010, #257 - Winter to Spring
december 21, 2010 | Tom the Redhunter


Posted on 03/21/2010 5:13:22 PM PDT by Tom the Redhunter

Edited on

03/22/2010 7:58:29 PM PDT

by Admin Moderator. [history]

If you come to Washington DC this time of year you need to be prepared for anything from 35 degrees or colder and rainy or sleet, to 70 degrees or more, warm and sunny. From now through May you can get either of these, and this from one day to another.

Walter Reed Freeps March 12, 2010 #256 & March 19, 2010, #257 illustrated this perfectly. #256 was cold and rainy, while #257 was as pleasant as could be.

No matter to the Patriots of Free Republic, Equal Honor For All, and the Vietnam veterans who joined us on #257. We were all there to honor our troops, show our appreciation, fellowship together, and keep the moonbats of Code Pink away from the entrance to Walter Reed Army Medical Center in northwest Washington DC.

As with most evenings, there were very few moonbats for most of the evening. Abot 2 or 3 gather from 7 to 8:30, and then about a half dozen or more arrive right at the end. Our intelligence reports are that they're union members who need to get in 20 minutes to get paid or comped or whatever. They're an irrelevancy, so really cares? Despite their attempts, we've mostly won the war in Iraq and we are in the middle of a huge offensive in Afghanistan.

You get the idea about the situation on Friday, March 12, 2010 #256 from FReeper Fraxinus: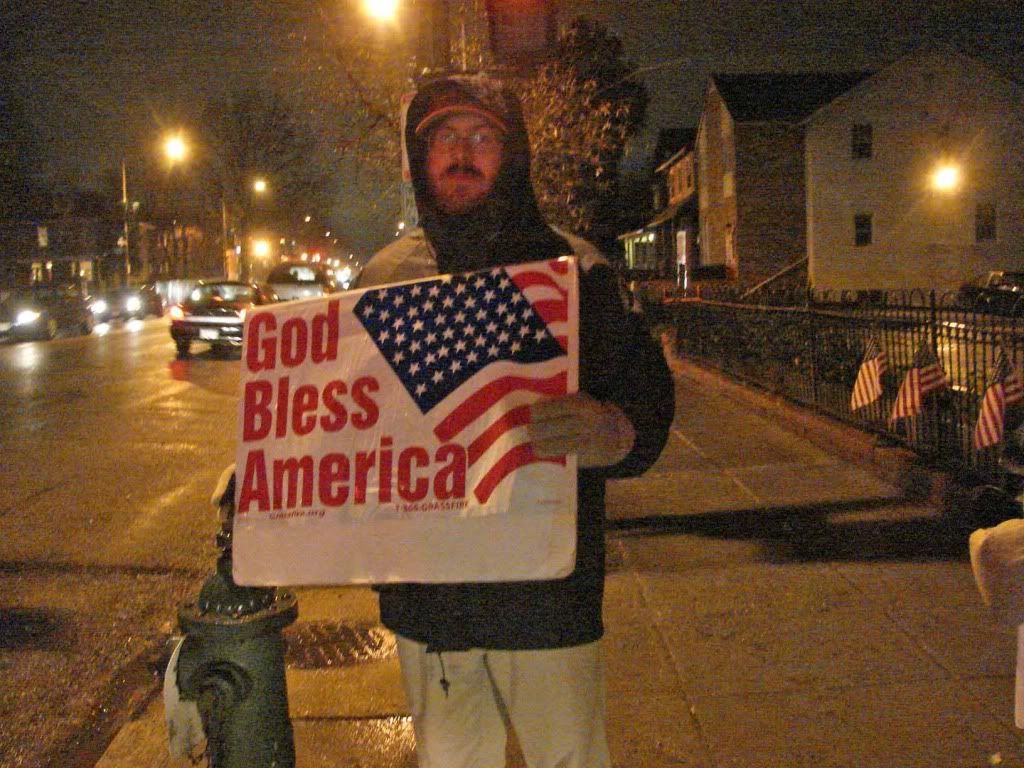 And this one tells the tale about Friday, March 19, 2010 #257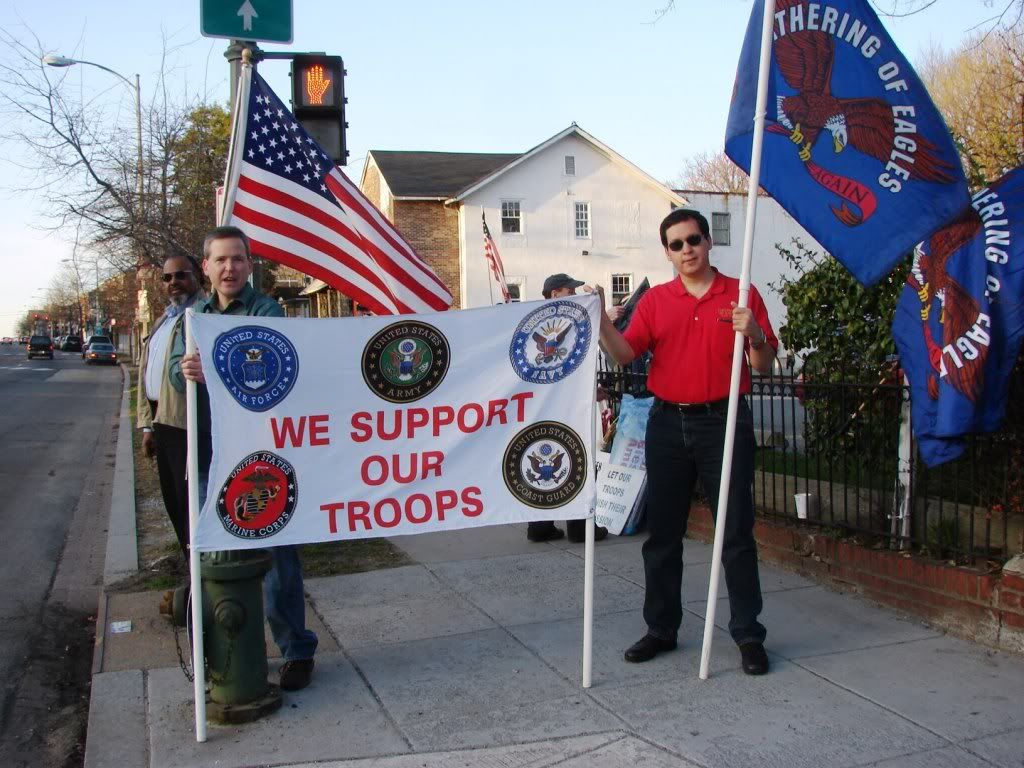 Timing being everything, I was able to make it for #257 but not #256 ;-) For once I got lucky on the weather.
Mr Trooprally was pretty well bundled up that night as well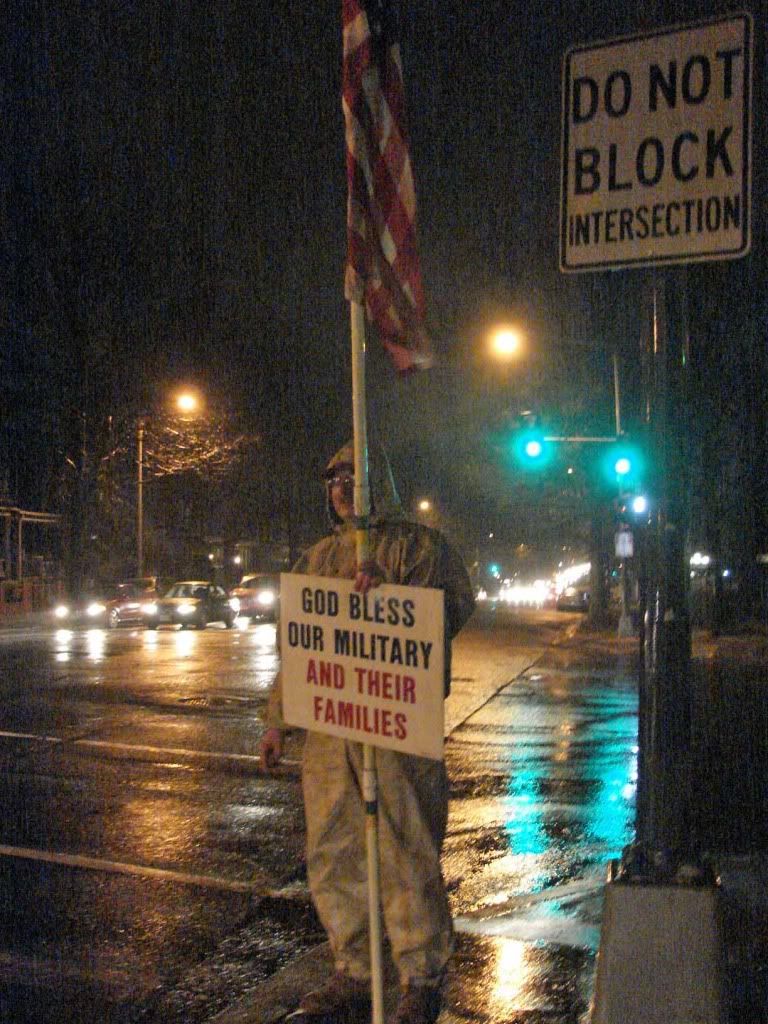 But all was not lost on #256. Our resident "cheerleader," VictoryNY, was there to lend her enthusiasm and energy. Anyone who has been with us knows that she leads the cheers for the troops, and enthusiastically waves to each car leaving the hospital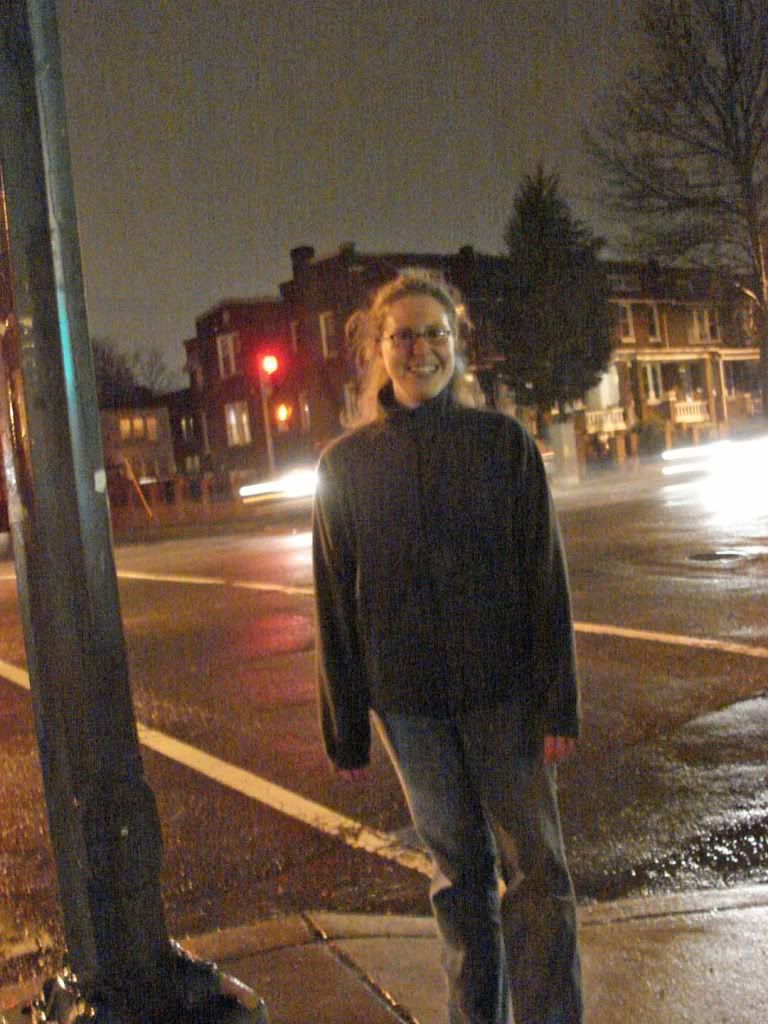 Due the the weather, there was no way the MOAB (Mother of all Banners) could go up on #256. Who wants to truck home a huge sopping wet bedsheet? #257 was a different story, though, and the MOAB and flags were out in all their glory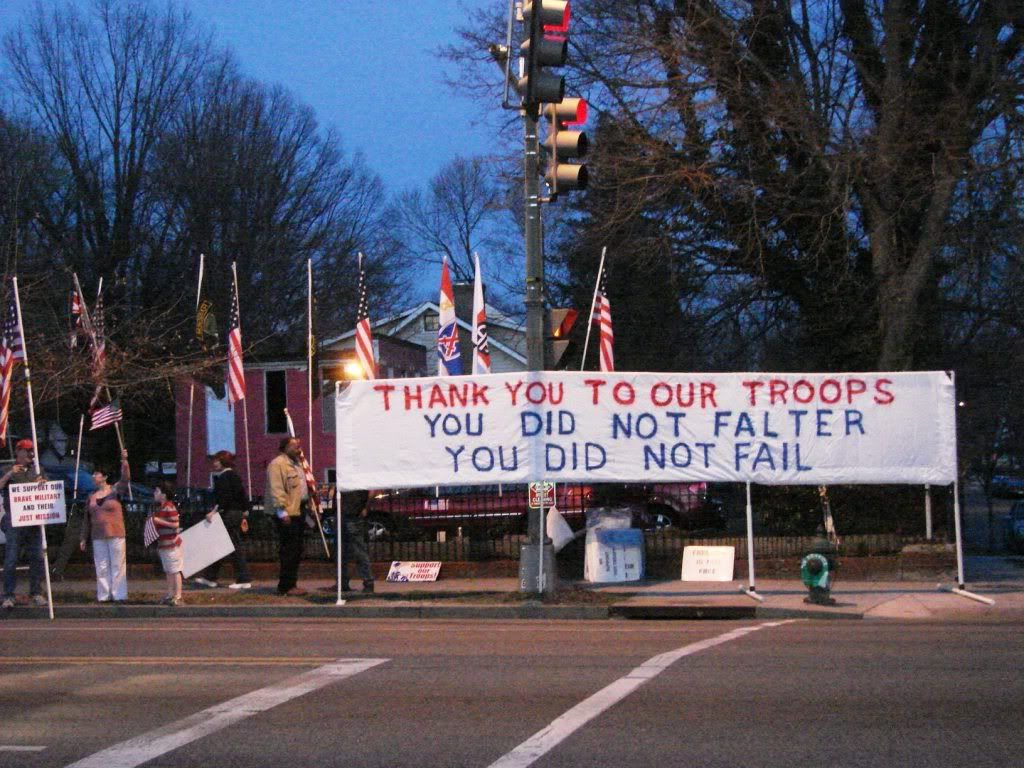 At the opposite corner was a Vietnam Vet with his truck full of flags. Beside him is Freeper and Vietnam Vet kburi: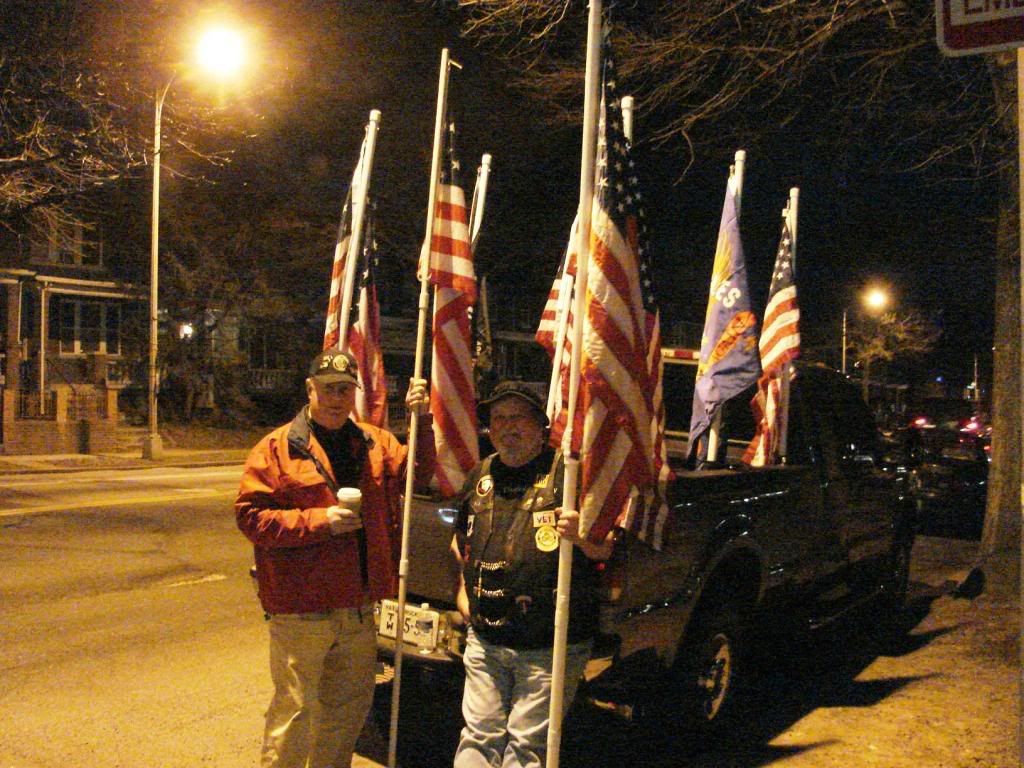 In anticipation of the rally on the mall on Saturday, Patriots and Vietnam Veterans came from far and wide to be with us on Friday #257. I spoke to people from Ohio and Massachusetts. As you might suspect, the folks from Massachusetts are especially proud these days after electing Scott Brown to the U.S. Senate!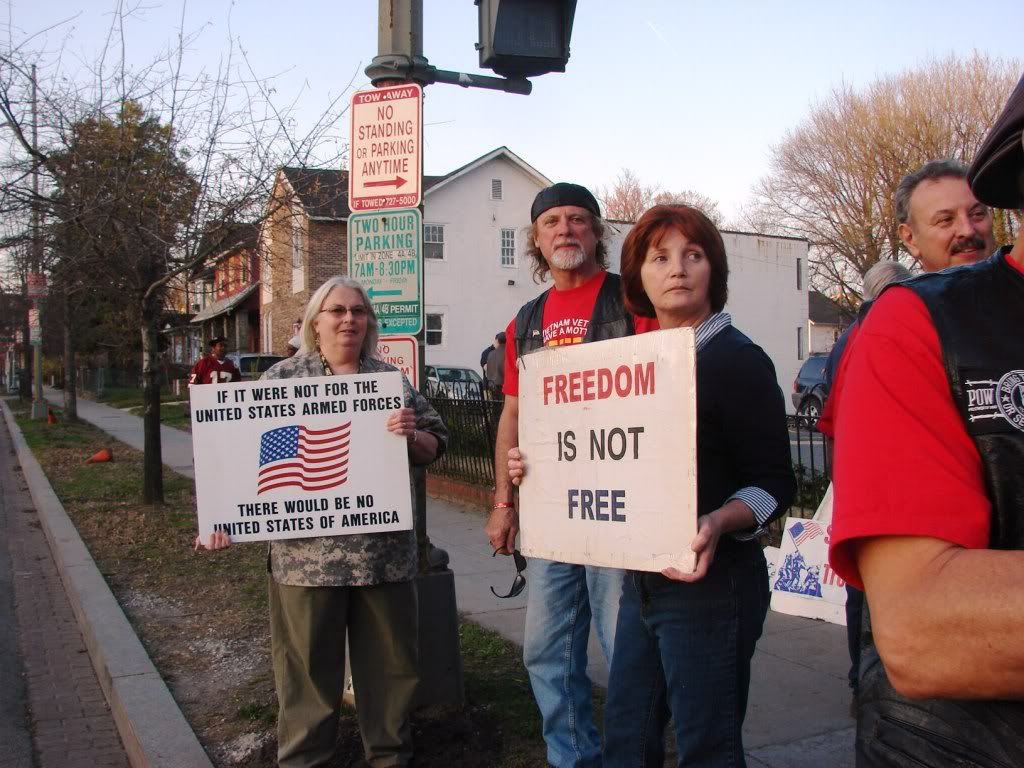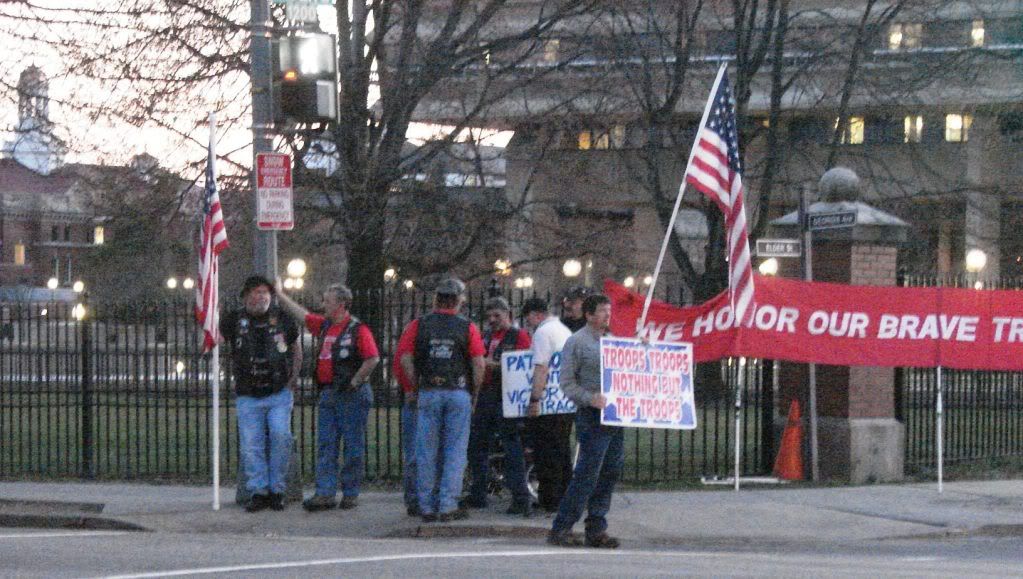 What It's All About
Quite often some of our Wounded Warriors come out from the hospital to visit with us, and #257 was no exception. I didn't take his picture, but one of our veterans of OIF or OEF (I didn't have time to ask) came out to thank us. These situations are always a bit awkward, because of course we are there to thank them. So we just thank each other and acknowledge that we support each other.
Along with this we see ambulance-buses coming into the hospital most evenings. I'm pretty sure they're transporting newly-arrived Wounded Warriors from nearby Andrews Air Force base.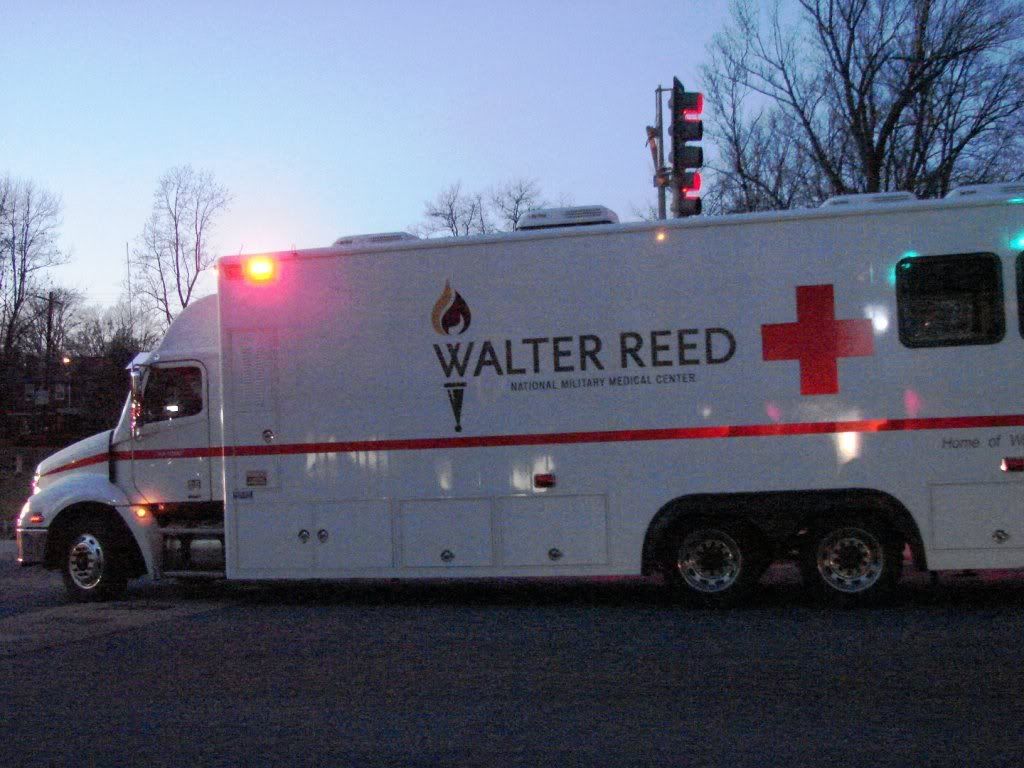 Sometime between 9 and 10pm the bus carrying the Wounded Warriors and their family members come back from their evening out. And every time they are greeted by our rally.
#256
#257

Come join us every Friday night between the hours of 6:30pm to approx 9:30pm.
Directions to our Walter Reed freep location from the Takoma Metro station
* You can find all of Mrs Trooprally's photos for Feb 19, Freep 256 on her Photobucket site here, and for Feb 19 #257 here.
* Thank you to BufordP for maintaining the BIG LIST of all Walter Reed FReeps.
* Thank you to all FReepers who transport and store our many signs and banners every week.
* Tom the Redhunter blogs at Semper Gratis
* Plea Deal blogs at Semper Gratis

---
TOPICS: Activism/Chapters
KEYWORDS: codepink; freep; military; moonbats; patriotism; rally; supportthetroops; walterreed
---
---
---
---
---
---
---