---
Good Friday at Walter Reed, Week 259, April 2, 2010
April 8, 2010 | Kburi


Posted on 04/08/2010 5:00:40 PM PDT by kburi

Week 259, April 2, 2010 - Good Friday at Walter Reed

FRONT GATE NOTES

We had a fairly quiet Good Friday night. There was no bus for wounded warriors and their families and it was a long weekend with many troops taking leave.

With no snow, sleet, rain, wind or cold to brace against, we had a chance to enjoy some good camaraderie and receive many honks of support from passing drivers.

Our MOAB (Mother Of All Banners) sends a strong message to the troops, their visiting families and all who drive past the front gate.

On April 9, 2010, the DC Chapter of Free Republic will mark Five (5) years and 260 consecutive Friday nights at the Front Gate of Walter Reed supporting and honoring our wounded warriors and their families.

WRAMC Anti - War Protester News

Several moonbats were on station. Ms Trooprally and I always disagree on how many there were.

I think they put up moonbat - sized silhouettes to make it appear there are more of them.

The moonbats left early this week, staying just long enough to collect their union check.

HONOR ROLL for April 2, 2010

Mr and Mrs Trooprally, VictoryNY, Cindy True Supporter, Tolerance Sucks Rocks, Fraxinus, BufordP, Tom the Redhunter, Rongkirby, Kburi and Lurkers Tressa, Greg and Monti.

Come join us every Friday night between the hours of 6:30pm to approx 9:30pm.
---

If you can't get to D.C. to join us but would like to do something for the wounded, you can find a wealth of ideas by FReepmailing Tom the Redhunter, Cindy-True-Supporter, VAFlagwaver, or PleaDeal. Directions to our Walter Reed freep location from the Takoma metro station

BufordP's Walter Reed FReep archive

April 2, 2010 Photos, (courtesy of Mrs Trooprally)

MOAB – Strong Message to our Troops and their Families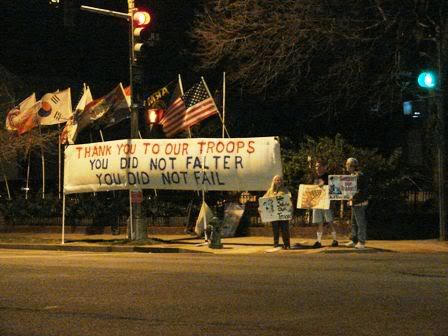 Fraxinus and Trooprally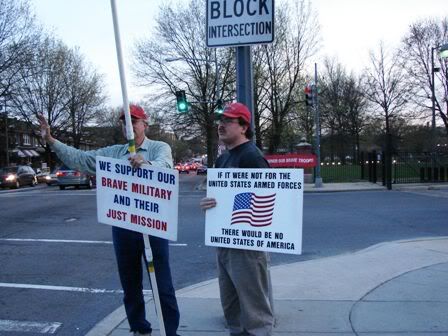 BufordP, Cindy True Supporter and Tom the Redhunter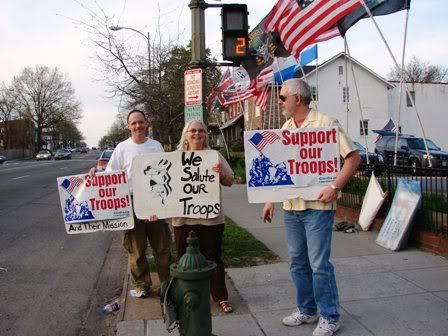 Greg, Tressa and Monti (Visiting Lurkers)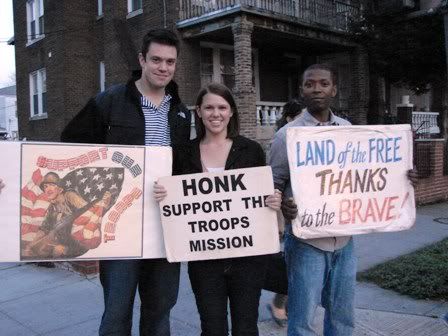 Cindy True Supporter, Victory NY and BufordP
Tolerance Sucks Rocks
Rongkirby, Kburi and Tom The Redhunter
---
TOPICS: Activism/Chapters; Free Republic; US: District of Columbia; US: Maryland
KEYWORDS: aar; dcchapter; military; moonbats; patriotism; rally; supportourtroops; walterreed; walterrreed; wia
---
Navigation: use the links below to view more comments.
first 1-20, 21-24 next last
---
---
---
---
---
---
---
---
---
---
---
---
---
---
---
---
---
---
---
---
---
Navigation: use the links below to view more comments.
first 1-20, 21-24 next last
---
---