---
Shock! Horror! National Enquirer wins a Pulitzer. Not
Guardian (Manchester, UK) ^ | April 13, 2010 | Ed Pilkington


Posted on 04/12/2010 8:03:28 PM PDT by Zakeet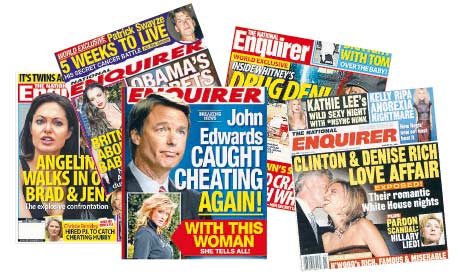 The announcement last night that the National Enquirer had won a Pulitzer Prize, America's most prestigious journalistic award, for its coverage of the Democratic presidential candidate John Edwards's extra-marital affair sent shockwaves through the media establishment.
Actually, that paragraph is entirely inaccurate, a charge often levelled at National Enquirer stories. In fact, the panel of Pulitzer judges, co-ordinated through New York's Columbia Journalism School, steered clear of rewarding the tabloid and opted instead for more conventional outlets including the New York Times and the Philadelphia Daily News.
The question of whether or not the Enquirer would take a Pulitzer has had New York's media world agog since it was announced that the prize-giving committee had decided to allow a nomination for the magazine to go ahead.
The Enquirer could not be ignored, having forced its way on to the political agenda by dint of its sustained campaign to expose Edwards's sexual indiscretions. While mainstream papers kept silent on the subject, the Enquirer ran a series of articles on the Democratic candidate's relationship with a video-maker, Rielle Hunter, revealing in December 2007 that they had had a child together.

(Excerpt) Read more at guardian.co.uk ...
---
TOPICS: Business/Economy; Culture/Society; News/Current Events
KEYWORDS: edwards; enquirer; msm; pulitzer
---
---
---
---
---
---
---
---
---
---
---