---
(Cartoon) SEIU & CTA to CA Taxpayers - "You're Just Gonna Have To Tighten Your Belt"
City-Journal ^ | Sean Delonas


Posted on 04/19/2010 6:11:54 PM PDT by DogByte6RER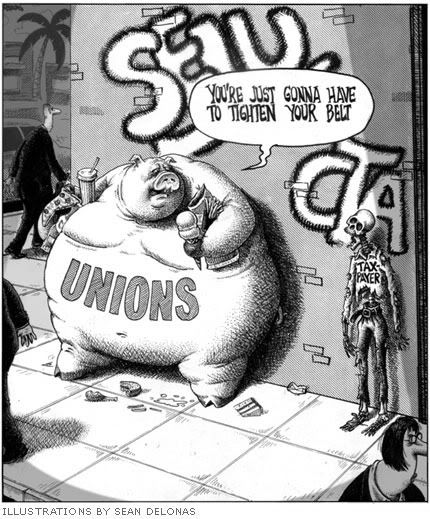 (Excerpt) Read more at city-journal.org ...
---
TOPICS: Business/Economy; Crime/Corruption; Culture/Society; Political Humor/Cartoons; US: California
KEYWORDS: biglabor; california; cta; laborunions; sei; taxed2death; taxedtodeath; taxes; unions

Also, read the related article "The Beholden State" at City-Journal.

---
2
posted on
04/19/2010 6:12:52 PM PDT
by
DogByte6RER
("Loose lips sink ships")
---
To: DogByte6RER
---
To: DogByte6RER
....goodbye Caly..porn-ya! You over-indulged the takers at the expense of the givers. Maybe these high brow liberal elitist don't know what the puck they're doing after-all!
Of course, I'm just a dumb a$$ hick from fly-over country. As John Kerry once explained; People like me just don't understand the nuances of liberalism. we're just too stupid. Golly gee-wiz, what these smart libby's gonna think of next...amesty to all the illegal people living here at my expense?
4
posted on
04/19/2010 6:33:24 PM PDT
by
Kryn-Man
(Self-righteous, gun-totin', military-lovin', redneck)
---
FreeRepublic.com is powered by software copyright 2000-2008 John Robinson