---
Walter Reed FReep #264 - May 7, 2010 - Nuke 'em till they glow
May 15, 2010 | Tom the Redhunter


Posted on 05/15/2010 7:03:37 AM PDT by Tom the Redhunter

As our president continues to degrade American military capabilities, the troop supporters of Free Republic continue to show up every Friday evening at Walter Reed Army Medical Center in northwest Washington DC. We have done this since early 2005 and will continue our efforts for as long as people show up. Our objectives are twofold:

1) Show support for the troops by displaying the American flag and those of military units, as well as patriotic flags

2) Keep the hate-America crowd of Code Pinkos away from the main entrance of the hospital.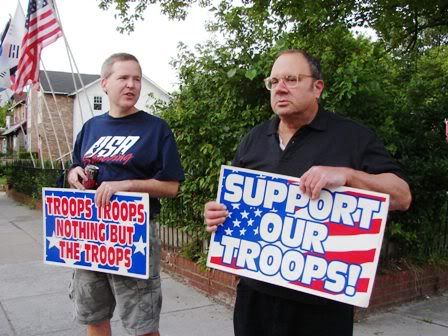 As with last week, the weather this Friday was beautiful. Not to hot, not to cold, just about right. There was a bit of a breeze, so we could not deploy the MOAB, but by the same token the flags looked good waving in the wind.
One of the reasons I like FReeping and participating on other conservative groups is that reading the national news can be all so very depressing. Associating with like-minded people lifts you up again.
Last week the Obama Administration revealed that we have 5,113 nuclear warheads in our arsenal. This was only the second time in U.S. history that the exact number has been released. While this number may sound impressive in a post-Cold War world, the truth is that only about half are usable, with the rest in various states of disrepair. Of the half that are ready to use, well, it gets complicated. John Noonan of the Weekly Standard explains:
And then there's the logistical and planning issues of the "ready to use" argument. Every launcher in our inventory would have to be alerted and fully armed with warheads, all 14 subs would have to be flushed out to launch boxes (we keep around 3-4 on alert), and all of our bombers would have to be fully swapped from conventional support roles, nuclear certified, and armed with a full complement of cruise missiles. Targeteers at U.S. Strategic Command would have to build an entire library of warplans to find aimpoints for the bombs, most of which haven't been operationally certified in years. Disposal plants and storage facilities would have to be emptied in the largest exodus of nuclear weapons in history, but not before thousands of warheads would need to be fitted with parts that no longer exist. Submarine and ground launched missiles would require new targeting data, additional fuel, and extra warheads. Thousands of pages of reference documents and target listings would have to be crafted, and all nuclear crews would have to be fully trained on the new procedures. And, if that string of miracles were to occur, we'd still come up short on launchers to actually deliver the bombs. That we have 5k nuclear warheads ready to be used, even in months, isn't just unlikely -- it's impossible.
Despite that our nuclear force has languished, in 2008 the Democrats in Congress cut funding for the Reliable Replacement Warhead and in 2009 President Obama canceled the program. The RRW had been started in 2004 by President Bush who saw and understood the need.
Mrs Trooprally was in her car listening to Mark Levin when the Walter Reed super- ambulance came in with some of our wounded warriors. How do I know who she was listing too? Because I was in there with her!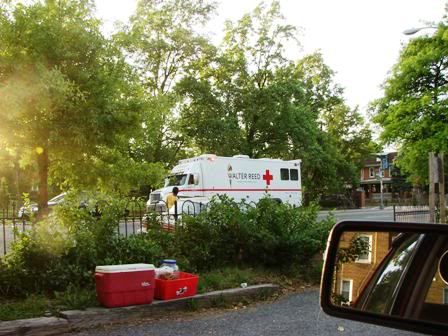 Mark Levin is one of my favorites. He is on WMAL 630AM here in Washington DC from 6 - 9pm, so I usually only catch some of him. But he tells it like it is.
It's not just our nuclear capabilities that are in danger, but our ability to project sea power may be in question as well. David Woods, writing in Politics Daily, explains that China and Iran are creating 'No-Go' zones to thwart U.S. military power:
The United States, Pentagon strategists say, is quickly losing its ability to barge in without permission. Potential target countries and even some lukewarm allies are figuring out ingenious ways to blunt American power without trying to meet it head-on, using a combination of high-tech and low-tech jujitsu..
Read the whole thing. We're down to 11 carrier battle groups, folks, and the F-35 Lightning II is still a few years away from deployment.
This super-ambulance is transporting our wounded warriors either from Andrews Air Force base, where they come in from Germany, or from Bethesda Naval Hospital.
And here I am, out and FReeping, alongside BufordP who is to my left.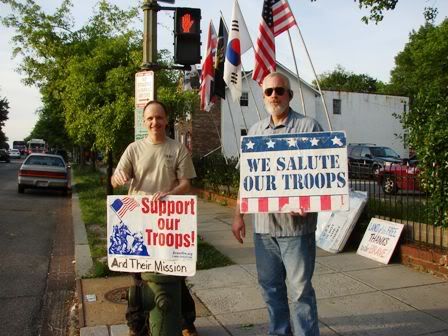 And of course we're all aware that Obama canceled the missile shield for Europe, pulling the rug out from under our allies. The system Obama canceled would have put a powerful radar in the Czech Republic and interceptor missiles in Poland. In case you think it's no big deal, Thomas Joscelyn, writing in The Weekly Standard, begs to differ:
First, note that the Obama administration, in its fact sheet on missile defense, does not currently intend to deploy a missile defense system capable of intercepting Iran's long-range missiles until 2020. Phase Four of Obama's plan, which is "in the 2020 timeframe," reads (emphasis added): "After development and testing are complete, deploy the SM-3 Block IIB to help better cope with medium- and intermediate-range missiles and the potential future ICBM (Inter-Continental Ballistic Missile) threat to the United States." All three of the previous phases deal with short to intermediate-range interceptors.

That is, Obama's plan does not envision the deployment of a missile defense capable of countering Iran's long-range missiles until the tail end of the current estimate of when the mullahs will have that capability. The current estimate is that Iran will have an ICBM capability between 2015 and 2020. Obama is therefore assuming the best-case scenario (for us) with respect to long-range missiles within that range. So, the current plan does not envision deploying long-range interceptors in 2015, 2016, 2017, 2018, or 2019, which are all possibilities in the current estimate. The Obama plan says things may change, of course, but for now they've assumed the best-case scenario from the West's perspective.
Sigh. Obama is Carter Part 2.
Adding to the misery, last July President Obama, aided by Senator John McCain, won their battle to halt production of the F-22 Raptor at 187 aircraft in a 58 - 40 vote in the Senate. 141 have been built so far. The Pentagon originally requested 750 F-22a, scaled that down to 442 in 1994, went down again to 339 in 1997, and in 2003 dropped it again to 223. We are told that the Pentagon opposed production of 187 aircraft, which will be used by opponents. Knowing people who have worked on this program, I don't believe for a second that's really true. A president can always find careerist officers who will promote whatever policy he chooses to implement.
The F-22 Raptor. Expensive but necessary
We have put all our eggs in the F-35 Lightning II basket, which is an airplane not yet in production, and until then we'll have to rely the fleet of 1970's vintage F-15s, F-16s, and F-18s.
In case you're not clear, the F-35 Lightning II is to the F-22 Raptor what the F-16 Falcon is to the F-15 Eagle; designed to be the back-up, less expensive, and second line fighter. Halting production of the F-22 and relying on the F-35 is like halting production of the F-15 in 1975 and deciding to rely on the F-16. The F-16 is good, but not having the F-15 would have severely hobbled our capabilities.
What It's All About
Here's the troopbus! Fortunately it came early again so we were able to leave not much after 9:00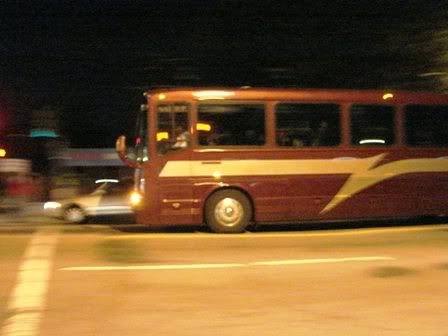 Come join us every Friday night between the hours of 6:30pm to approx 9:30pm.
Directions to our Walter Reed freep location from the Takoma Metro station
* You can find all of Mrs Trooprally's photos for this FReep on her Photobucket site here
* Thank you to BufordP for maintaining the BIG LIST of all Walter Reed FReeps.
* Thank you to all FReepers who transport and store our many signs and banners every week.
* Tom the Redhunter blogs at The Redhunter

---
TOPICS: Activism/Chapters
KEYWORDS: aar; freep; military; moonbats; pink; rally; reed; walter; walterreed
---
Navigation: use the links below to view more comments.
first 1-20, 21 next last
---
---
---
---
---
---
---
---
---
---
---
---
---
---
---
---
---
---
---
---
---
Navigation: use the links below to view more comments.
first 1-20, 21 next last
---
---