---
To: AJKauf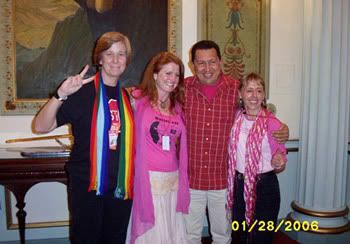 Cindy Sheehan, Jodie Evans, Hugo Chavez,
Medea Benjamin [co-founder Code Pink]
Code Pink 'Bundles' for Barack, 4/14/2008
"The co-founder of the radical anti-war group Code Pink [Jodie Evans] has "bundled" more than $50,000 for Sen. Barack Obama's presidential campaign, and pro-troops groups are demanding that he return the money."
http://www.humanevents.com/article.php?id=25997
______________________________________________________________
From National Public Radio (NPR):
August 29, 2006
"Venezuelan President Hugo Chavez has been visiting countries such as China, Iran and Russia as part of an effort to build a 'strategic alliance' of interests not beholden to the United States. He considers the United States his arch enemy.":
http://www.npr.org/templates/story/story.php?storyId=5729764
______________________________________________________________
From CBS-News, July 29, 2006:
Chavez Vows To 'Stand By Iran'
After Oil Talks In Tehran, Venezuelan Leader Called 'Brother' By Ahmedinejad
"Chavez pledged that his country would 'stay by Iran at any time and under any condition,' state television reported. Ahmadinejad said he saw in Chavez a kindred spirit." "'We do not have any limitation in cooperation,' Ahmadinejad was quoted as saying. 'Iran and Venezuela are next to each other and supporters of each other. Chavez is a source of a progressive and revolutionary current in South America and his stance in restricting imperialism is tangible.'":
http://www.cbsnews.com/stories/2006/07/29/world/main1847331.shtml
______________________________________________________________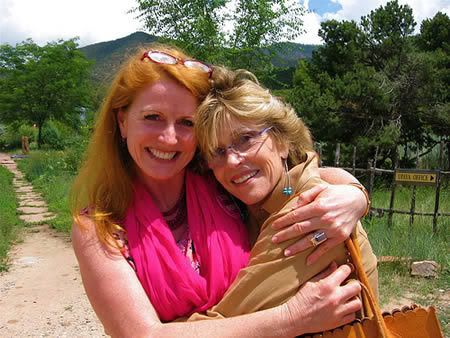 Code Pink co-founder Jodie Evans embraces commie traitor Jane Fonda

9
posted on
06/20/2010 6:00:50 PM PDT
by
ETL
(ALL (most?) of the Obama-commie connections at my FR Home page: http://www.freerepublic.com/~etl/)
---
11
posted on
06/20/2010 6:03:17 PM PDT
by
ETL
(ALL (most?) of the Obama-commie connections at my FR Home page: http://www.freerepublic.com/~etl/)
---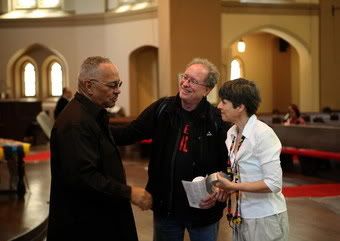 Rev. Dr. Jeremiah Wright
and
Dr. William Ayers
are greeted by Rebekah Levin with the
Committee
for a Just Peace in Israel and Palestine
.
(Chuck Berman/Chicago Tribune / May 17, 2009)
http://www.chicagotribune.com/news/local/chi-ayers_wrightmay18,0,6689521.story
____________________________________________
"Their founding document [the Weather Underground's] called for the establishment of a "white fighting force" to be allied with the "Black Liberation Movement" and other "anti-colonial" movements[1] to achieve "the destruction of US imperialism and the achievement of a classless world: world communism."..."-Berger, Dan (2006). Outlaws of America: The Weather Underground and the Politics of Solidarity. AK Press, 95.
http://en.wikipedia.org/wiki/Weatherman_Underground#cite_ref-Berger_0-0
Outlaws of America: The Weather Underground and the Politics of Solidarity (Paperback) by Dan Berger
http://www.amazon.com/Outlaws-America-Underground-Politics-Solidarity/dp/1904859410
____________________________________________
From the New York Times, August 24, 2003
"they [the Weather Underground] employed revolutionary jargon, advocated armed struggle and black liberation and began bombing buildings, taking responsibility for at least 20 attacks. Estimates of their number ranged at times from several dozen to several hundred."
Article: Quieter Lives for 60's Militants, but Intensity of Beliefs Hasn't Faded
http://query.nytimes.com/gst/fullpage.html?res=9F04E4DE1539F937A1575BC0A9659C8B63&sec=&spon=&pagewanted=2
____________________________________________
Obama's Church: Gospel of Hate
Kathy Shaidle, FrontPageMag.com
Monday, April 07, 2008
In March of 2007, FOX News host Sean Hannity had engaged Obama's pastor in a heated interview about his Church's teachings. For many viewers, the ensuing shouting match was their first exposure to "Black Liberation Theology"...
Like the pro-communist Liberation Theology that swept Central America in the 1980s and was repeatedly condemned by Pope John Paul II, Black Liberation Theology combines warmed-over 1960s vintage Marxism with carefully distorted biblical passages. However, in contrast to traditional Marxism, it emphasizes race rather than class. The Christian notion of "salvation" in the afterlife is superseded by "liberation" on earth, courtesy of the establishment of a socialist utopia.
http://www.frontpagemag.com/Articles/Read.aspx?GUID=30CD9E14-B0C9-4F8C-A0A6-A896F0F44F02
____________________________________________
Catholics for Marx [Liberation Theology]
By Fr. Robert Sirico
FrontPageMagazine.com | Thursday, June 03, 2004
In the days when the Superpowers were locked in a Cold War, Latin America seethed with revolution, and millions lived behind an iron curtain, a group of theologians concocted a novel idea within the history of Christianity. They proposed to combine the teachings of Jesus with the teachings of Marx as a way of justifying violent revolution to overthrow the economics of capitalism.
The Gospels were re-rendered not as doctrine impacting on the human soul but rather as windows into the historical dialectic of class struggle. These "liberation theologians" saw every biblical criticism of the rich as a mandate to expropriate the expropriating owners of capital, and every expression of compassion for the poor as a call for an uprising by the proletarian class of peasants and workers.
http://www.frontpagemag.com/Articles/Read.aspx?GUID=460782B7-35CC-4C9E-A2C5-93832067C7CD

16
posted on
06/20/2010 9:23:50 PM PDT
by
ETL
(ALL (most?) of the Obama-commie connections at my FR Home page: http://www.freerepublic.com/~etl/)
---
FreeRepublic.com is powered by software copyright 2000-2008 John Robinson