---
Walter Reed FReep #274 - July 16, 2010 - Back from Iraq
July 23, 2010 | Tom the Redhunter


Posted on 07/23/2010 5:21:19 AM PDT by Tom the Redhunter

One of our very own, FReeper PrezUSA222 is back from Iraq where he served with the U.S. Army. We knew his tour was up but weren't sure exactly when we'd see him again. It was therefore a pleasant surprise when he showed up to FReep with us for a few hours Friday night.

PrezUSA222 is the one in the black shirt, with your author at right.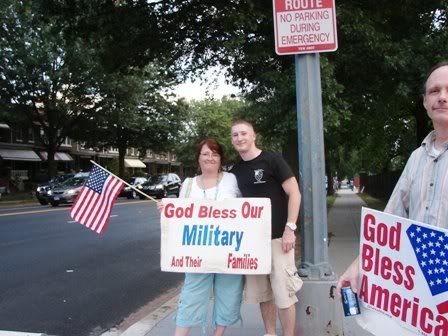 PrezUSA222 brought his friend and fellow veteran who was proud to be with us for awhile also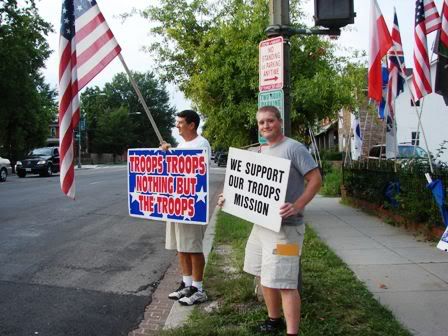 There presence made me think back on the past 7 years since the start of Operation Iraqi Freedom and what a long, hard journey it has been. We've seen many ups and downs in the war, and so many of our troops gave their lives to make our present success possible. We're not out of the woods yet, as there are many scenarios where Iraq could take a serious downturn, but the situation there is certainly better than it has been in decades.
Remember the "Battle of Baghdad" that was supposed to take place shortly after our invasion in March of 2003? We were told by one authority after another that the "elite" Iraqi Republican Guard would ring the city, turning it into an impregnable fortress and oh my how would the American troops ever break through? Surely the siege would last for months and would result in bloody street by street fighting reminiscent of Stalingrad.
But although the invasion went far better than anyone anticipated, the insurgency was a nasty surprise. Secretary of Defense Don Rumsfeld even refused to admit as much at first, which among other things resulted in a delay in addressing the matter.
Through 2004 and 2005 it seemed that the situation was spinning out of control. We seemed to get a hold on things for awhile, only to see it slip away again in 2006. By the end of that terrible year the country was either in or headed towards a multi-party civil war.
The Democrats claimed to support the invasion at first. Perhaps they were sincere (ok, I'm joking) and perhaps they remembered the Gulf War where many concluded later they were wrong to have opposed it. Either way, they quickly went from support to hostile opposition. Forgetting Saddam's atrocities, their battlecry became "Bush Lied, People Died." They encouraged and egged on odious anti-war groups such as Moveon.org, Code Pink, and International ANSWER. They resembled nothing so much as the Copperheads of American Civil War fame.
All this time the Democrats insisted that while Iraq was "the wrong war" Afghanistan was the right one. Yessiree, they couldn't wait to go fight there! "Iraq didn't attack us but Afghanistan did," and "where's bin Laden?" they would ask mockingly. Proclaiming themselves war hawks but for a different theater, they assured us that they were raring to go get bin Laden in Afghanistan.
Of course, now that they actually have the White House their war ardor has...cooled.
Then came the "surge"(which I sometimes see capitalized but mostly not). The Democrats of course opposed it, sticking to their playbook of "all is lost." "It will never work" as among the more polite criticisms. Moveon.org published their infamous "General Betrayus" ad in the major newspapers, and liberal Senators such as Hillary Clinton basically called General Petraeus a liar when he went to testify on Capitol Hill.
Although liberals have been loath to admit it, the surge worked brilliantly. The team of Generals Petraeus and Odierno, complemented with our excellent new ambassador to Iraq Ryan Crocker, formulated and executed a strategy that destroyed al Qaeda in Iraq and the various militia groups such as Jaysh al Mandi (aka the Mahdi Army or JAM) and the Iranian-trained Special Groups. The Iraqi government was given breathing space and for the most part made progress towards establishing itself as legitimate and trusted by a critical mass of the Iraqi people.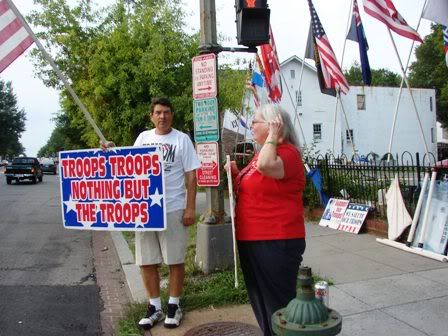 FReepers show their patriotism on all four corners outside of Walter Reed Army Medical Center in Washington DC. We do this every Friday evening, and have done so for over 5 years, as you can tell from the FReep number in the title.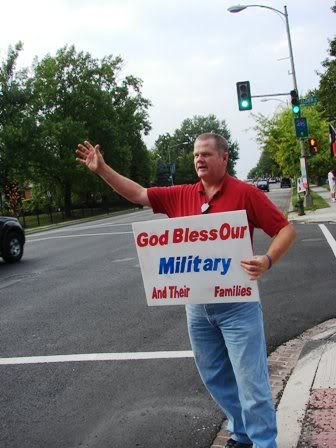 Here it is, the troop bus! Most Friday evenings a private group takes some of our wounded warriors and their families out to dinner. We make sure we are there at the entrance to greet them.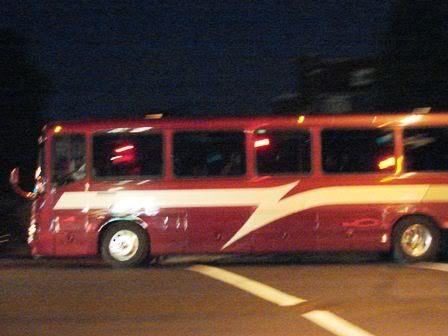 Come join us every Friday night between the hours of 6:30pm to approx 9:30pm.
Directions to our Walter Reed freep location from the Takoma Metro station
* You can find all of Mrs Trooprally's photos for this FReep on her Photobucket site here
* Thank you to BufordP for maintaining the BIG LIST of all Walter Reed FReeps.
* Thank you to all FReepers who transport and store our many signs and banners every week.
* Tom the Redhunter blogs at The Redhunter

---
TOPICS: Activism/Chapters; US: District of Columbia; US: Maryland; US: Virginia
KEYWORDS: codepink; walterreed
---
---
---
---
---
---
---
---
---
---
---
---
---
---
---
---
---
---
---