---
Pleasant Surprises Dominate Week 286, at Walter Reed, Friday, October 8, 2010
October 10, 2010 | kburi


Posted on 10/10/2010 4:52:58 AM PDT by kburi

FRONT GATE NOTES (from Ms Trooprally's notes)

This night's Support the Troops and their families started a little slow but picked up quickly with a helicopter landing close to the front gate. Followed in short order by the arrival of BufordP and TrueBlackMan.

BufordP has been a constant presence but had to take some time off and we welcome him back! TrueBlackMan is a legendary figure who confronts the left in the DC area at many counter protests and we are always pleased when he stands with us.

We had two visitors, FReeper Agreatper, from Pennsylvania, and Tammy Cat, from California. Tammy Cat lives close to Walter Reed and we hope to see her join us on Friday nights.

TrueBlackMan came with a video camera and is interviewing all of the participants at the front gates or Walter Reed and the moonbats down the street. Tonight he interviewed several moonbats, and then interviewed several FReepers. He also interviewed 3 Wounded Warriors.

The soldiers he interviewed were adamant that the DC Chapter's presence at the front gates on Friday nights has had a positive effect in contributing to the healing of the soldiers by knowing that Americans are visibly supporting them and their families. He will be back to continue his interviews with other Walter Reed participants.

The big bus came early and it is always a fine end to the evening to wave and salute the Wounded Warriors and their families as they return to Walter Reed from their dinner.

Walter Reed Anti - War Protester News

7 moonbats tonite.…Were interviewed by TrueBlackMan. See above for comment.

HONOR ROLL for October 8, 2010

Mr and Mrs Trooprally, ToleranceSucksRocks, Lurker Bill, VictoryNY, GunsAreOK, Fraxinus ,BufordP, TrueBlackMan, RonGKirby, Agreatper, Tammy Cat and Lurker Laurie.

The DC Chapter invites you to join us every Friday night between the hours of 6:30pm to approximately 9:30pm.
---

If you can't get to D.C. to join us but would like to do something for the wounded, you can find a wealth of ideas by FReepmailing Tom the Redhunter, Cindy-True-Supporter, VAFlagwaver, or PleaDeal. Directions to our Walter Reed freep location from the Takoma metro station

BufordP's Walter Reed FReep archive

October 8, 2010 Photos, (courtesy of Mrs Trooprally)

BufordP Returns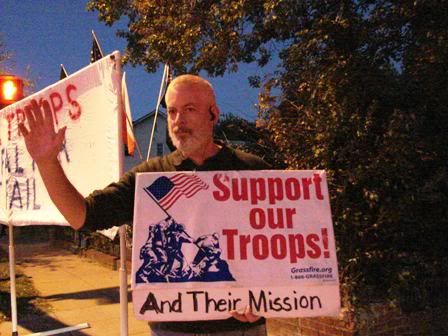 TrueBlackMan, BufordP and Agreatper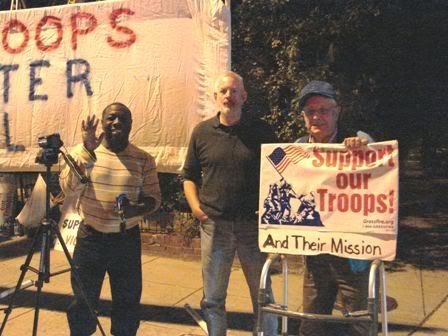 Helicopter Arrives On Pad
RonGKirby and Trooprally On Post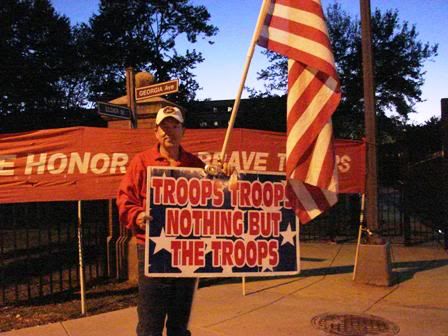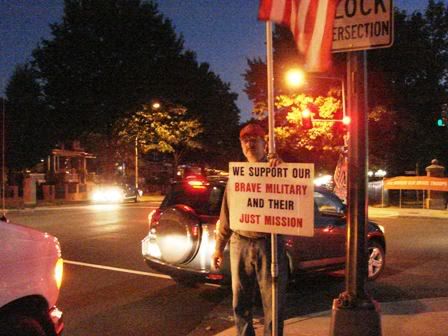 GunsAre OK and Fraxinus
ToleranceSucksRocks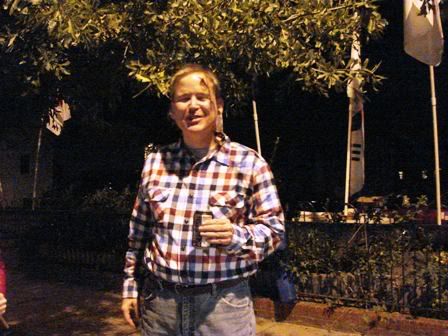 Laurie and Tammy Cat
Lurker Bill
Big Bus Ready to Turn into WRAMC with Blue Lights On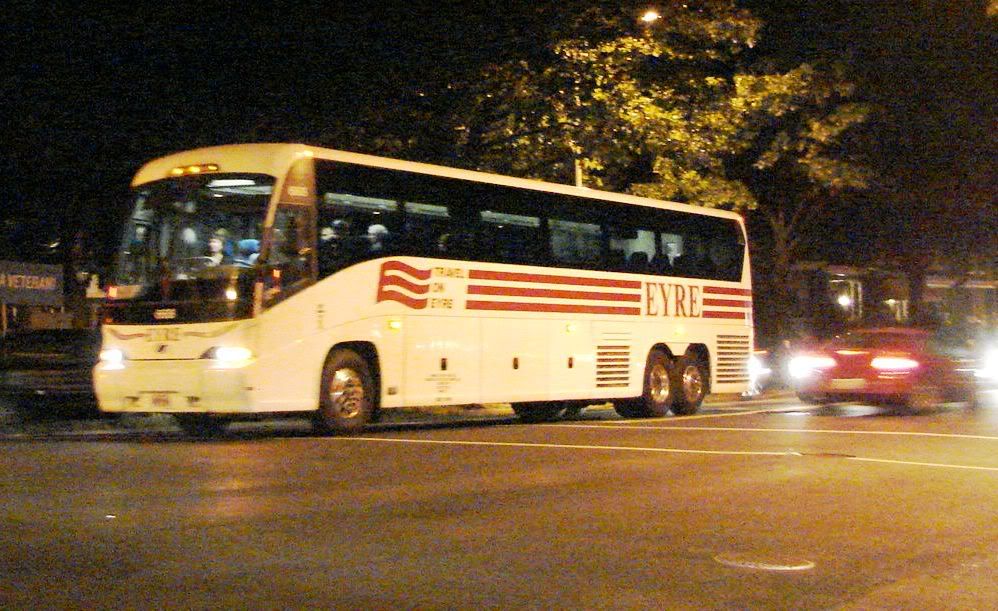 ---
TOPICS: Activism/Chapters; Free Republic; US: District of Columbia; US: Maryland
KEYWORDS: aar; military; moonbats; patriotism; walterreed
---
---
---
---
---
---
---
---
---
---
---
---
---
---
---
---