---
Walter Reed, Week 291, November 12, 2010, On Veterans Day Weekend….
November 14, 2010 | Kburi


Posted on 11/14/2010 9:32:00 AM PST by kburi

…..Many Wounded Warriors had left for the weekend and there was no bus. Margaret of the Aleethia Foundation brought us two surprises. The first was a recognition certificate and American flag sent by Electronic Attack Squadron 209 to the DC Chapter of Free Republic. The certificate and American flag were flown on a recent mission on a Navy EA-6B Prowler flying out of Bagram Air Base, Afghanistan. Both were received on behalf of the DC Chapter of Free Republic by Mr and Mrs Trooprally, and CindyTrueSupporter. (see photos)

Members of the DC Chapter of Free Republic Holding the Certificate and the American Flag
The DC Chapter greatly appreciates this recognition and thanks the Star Warriors of Squadron 209 for sending it. And we, in turn, also thank all the veterans and their families for their service, and all Americans who support our troops in any way.
But the Aleethia wasn't through with us yet. Since there was no wounded warrior dinner for them to sponsor tonight, they brought sandwiches and desserts. It was much appreciated. We thank Margaret for bringing the recognition certificate, American flag and food to us.
Aleethia Foundation thanks DC FREEPERS for Supporting the Troops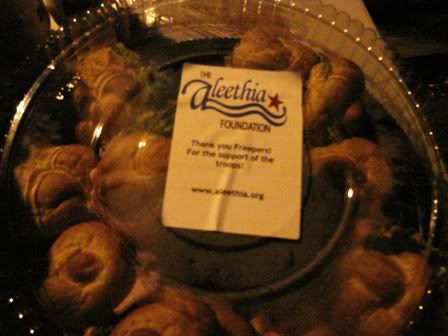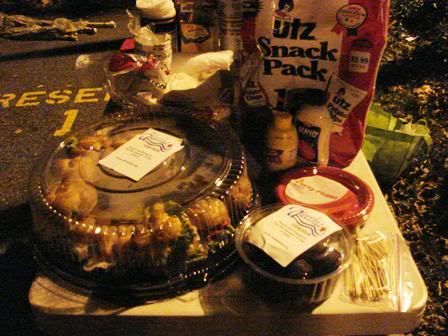 As many of you know, the Aleethia Foundation sponsors Friday night dinners around Washington DC for the Wounded Warriors and their families. They have been doing this for seven years, and about 75 wounded warriors and family members from Walter Reed and Bethesda Naval are taken to dinner each Friday night. For many, it is the first time they have left the hospital and this night is especially special to them and their families. The Aleethia Foundation and the sponsoring restaurants are an important part of the rehabilitation of these special Americans.
At one point tonight, a man driving a van coming out of Walter Reed pulled over, stopped by the MOAB, rolled down his window and said to us "Thanks for being everything that's right with this country". This comment drove home why we are there every Friday night.
And once again we say thanks, to all of you who show your support to the troops, by honking, waving or stopping to talk. The night was very enthusiastic thanks to Tammy Cat and VictoryNY who, on opposite sides of Georgia Ave, kept the banter at a very high level. The troops love it, we love it and passersby love it. Lurker Bill's patriotic music provided a terrific background.
HONOR ROLL for November 12, 2010
Mr and Mrs Trooprally, Lurker Bill, CindyTrueSupporter, Fraxinus , Tammy Cat with Idaho, GunsAreOK, VictoryNY, RonGKirby, Kburi, ToleranceSucksRocks, RLMoreland and visitors, Margaret (Aleethia Foundation), Nan (Freedom Works) and Elizabeth.
FOOTNOTES
• Members of the DC Chapter of Free Republic, led by Mr and Mrs Trooprally, stood tall on Veterans day overshadowing the westboro Baptist church's protest at Arlington National Cemetery. They and many others stood tall for the troops on this Day of Remembrance.
To see Trooprally's full report and photos:
Go to Free Republic's home page, use keyword " westboro" , then " title" , click search.
. • Two moonbats stood quietly until 8:30pm. Then 2 more arrived. And right after 9 pm, they disappeared.
The DC Chapter invites you to join us every Friday night between the hours of 6:30pm to approximately 9:30pm.
---

If you can't get to D.C. to join us but would like to do something for the wounded, you can find a wealth of ideas by FReepmailing Tom the Redhunter, Cindy-True-Supporter, VAFlagwaver, or PleaDeal. Directions to our Walter Reed freep location from the Takoma metro station

BufordP's Walter Reed FReep archive

November 12, 2010 Photos, (courtesy of Mrs Trooprally)

Trooprally and CindyTrueSupporter receiving the Recognition Certificate and American flag from Margaret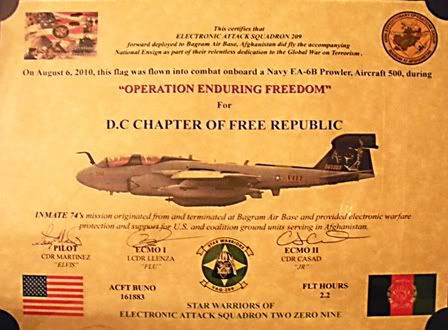 VictoryNY and TammyCat
Nan and Elizabeth
ToleranceSucksRocks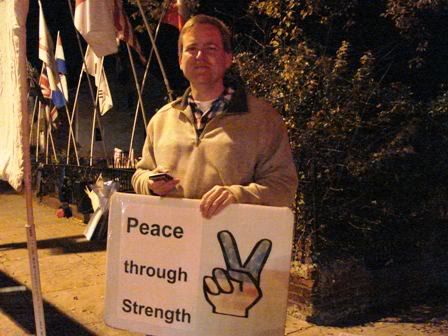 Lurker Bill and GunsAreOK discussing a Point
RonGKirby and Trooprally waving the flags
Margaret, Fraxinus and Trooprally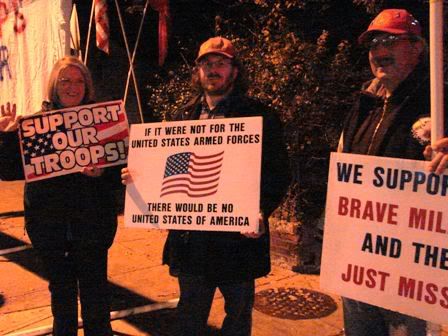 ---
TOPICS: Activism/Chapters; Free Republic; US: Maryland; US: Virginia
KEYWORDS: aar; military; walterreed
---
---
---
---
---
---
---
---
---
---
---
---
---
---
---
---
---