---
To: Conservative Vermont Vet
So you people of Alaska, how do you like you F'n RINO BEATCH (Mur-Cow-skee) now?
They couldn't help themselves.
How can a person say no to a diva such as Lisa after all?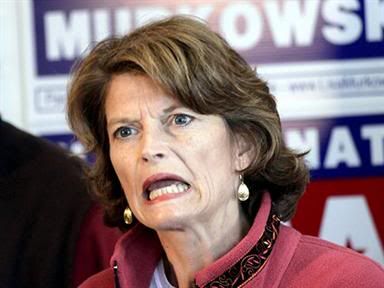 The expounded compassion got the best of the good voters of Alaska.

---
To: EGPWS
The reason 8 republicans voted yes was because they did not want anyone who opposed this to be able to single out a senator and point to them as the person who's vote changed the policy.
---
To: EGPWS
They did.
She lost the primary.
But Mookowski made a deal with the devil for her seat.
How do you think all those bad write ins happened?
Improperly filled out, mis-spelled name etc etc etc all being counted against Alaska law..
158
posted on
12/18/2010 1:49:26 PM PST
by
Darksheare
(I shook hands with Sheryl Crow and all I got was Typhus and a single sheet of toilet paper.)
---
To: EGPWS
Now there is a face that a little piece of leaded jewelry would work wonders for!
230
posted on
12/18/2010 2:24:41 PM PST
by
TCH
(DON'T BE AN "O-HOLE"! ... DEMAND YOUR STATE ENACT ITS SOVEREIGNTY !When a majority of the American)
---
To: EGPWS
---
FreeRepublic.com is powered by software copyright 2000-2008 John Robinson