---
To: dynachrome
As a matter of fact, a percentage of the elite rabble in D.C. do use Amtrak to get back and forth. As someone who used the Metro rail a bit back in the day, I can't understand how anyone would willingly do it over the long haul - how tedious. I can understand not wanting to pull up roots, especially given the price of housing in the the region, and if you're in a professional position that may not last beyond a month, a year, or an election, but jeez - getting up every day, getting your head and ass wired together for the daily grind, schlepping to a terminal, enduring a train ride sitting beside God-knows-who and not knowing if they're a nut case, if they have bad gas, if they even bathed that morning, etc., then having to catch a bus or slug in to your office, log an eight hour shift, then reverse the process just to return to your own personal toilet seat and warm bed.......no money is worth that. No amount of power is worth that. That isn't living; that's just
existing
.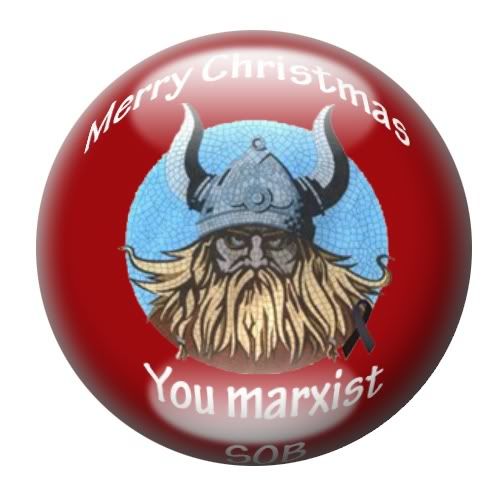 Props to cripplecreek for the graphics!
78
posted on
12/18/2010 6:28:26 PM PST
by
Viking2002
(2012 - NO PRISONERS! NO QUARTER!)
---
To: Viking2002
Check out #71 for a link to a pic of the reporter. The gaydar broke on that one!
80
posted on
12/18/2010 6:31:34 PM PST
by
dynachrome
("Our forefathers didn't bury their guns. They buried those that tried to take them.")
---
To: Viking2002
An excellent ornament!
A great animation it would be to see it smashing through that idiotic Mao ball hung from the WH 'Holiday' tree.
81
posted on
12/18/2010 6:32:34 PM PST
by
Gene Eric
(Your Hope has been redistributed. Here's your Change.)
---
To: Viking2002
I can.
I got a job by DC and I'm central MD. Luckily, not far from trains (the original US railroads).
DC is a NIGHTMARE for traffic. The signs stink, circles and all confusing road systems, and everyone and their brother is going in and around. I tried the natural route 1st, found there is GUARANTEED semi-truck turnover every afternoon at the 270 split, then tried the 295 route (having to drive thru town). Slow traffic and generally a massive accident every week or so somewhere there.
I tried the train. At least on the evil "public transport" you get to sleep. I had to get up earlier (my tracks had limited trains), but it was worth it. I didn't have to stay awake, or could do whatever I wanted while sitting there, reading, etc. I even put up with having to transfer to the Metro subway; about 1-1/2 hrs. Again, a small inconvenience compared to keeping eyes peeled for a full hour (or more, with accidents) each end. Rarely did I have "lateness" issues, certainly compared to the car.
141
posted on
12/19/2010 9:10:03 PM PST
by
the OlLine Rebel
(Common sense is an uncommon virtue./Technological progress cannot be legislated.)
---
FreeRepublic.com is powered by software copyright 2000-2008 John Robinson